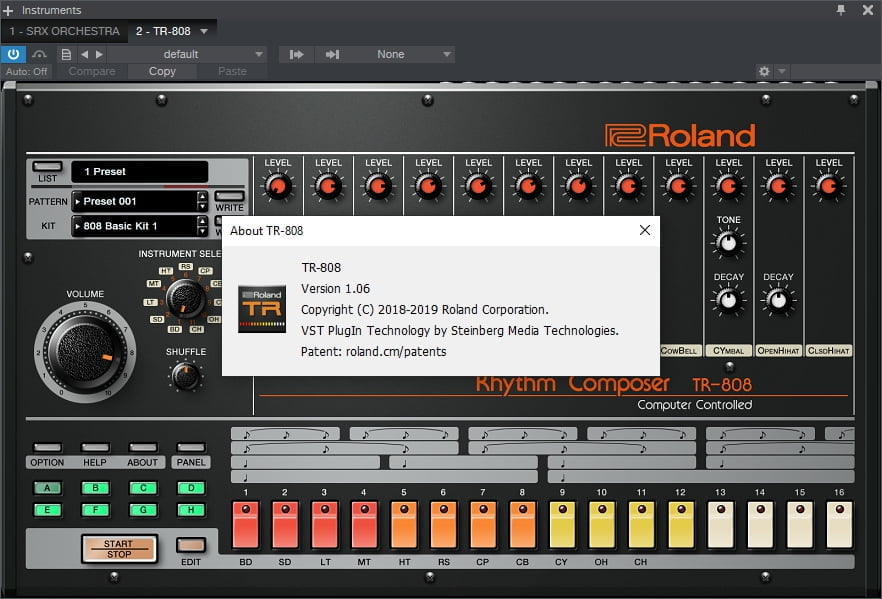 Year / Release Date : 01.2020
Version : 1.0.6
Developer : Roland
Developer's site : RolandCloud
Format : VSTi, VSTi3, AAX
Bit : 64bit
Tabletka : cured
System Requirements : Microsoft® Windows® 7 SP1
Microsoft® Windows® 8 / 8.1
Microsoft® Windows® 10 Intel® Core ™ 2 Duo or better 2 GB or more
---
Description : Following the announcement of the Roland TR-8S iron instrument with the ability to play the sounds of classic drum machines of the past, Roland 808 and 909, but also 707, 727, 606, the Japanese manufacturer introduced the Roland Cloud TR-808 Rhythm Composer virtual instrument.
Roland used Analog Circuit Behavior technology to transfer the analog circuitry of the device into program code to recreate the sound of the original TR-808 drum machine. Moreover, new features have been added.
The famous drum machine touched almost all areas of modern music, pretty much inheriting prints. "808-barrel" has become such an integral part of hip-hop that it is now impossible to imagine how the genre would sound today and how far behind the musical evolution of our realities. "808-dram" in the DNA of culture is the driving force behind its development and the ensuing directions. TR-808 is so ubiquitous over the years that its dramas seem to be an independent language of expression. Now the sound of "808th" is the basis of youth urban culture, in particular, the trill-fonka, trap, cloud, video, and other directions.
The Roland TR-808 is one of the most influential inventions in music that spawned the industry of clone machines and sample libraries. Almost every self-respecting producer has samples of her drummers. It is almost impossible to find a software synthesizer or drum machine that does not have digitally recreated versions of its sounds.
Indeed, this device should pay tribute to such an extensive contribution to music and to the impetus in the development of the musical equipment industry. It is safe to say that in our century there will still be many directions in which this tool from Roland will play one of the key roles, existing outside of time, but relentlessly moving into the future.
---