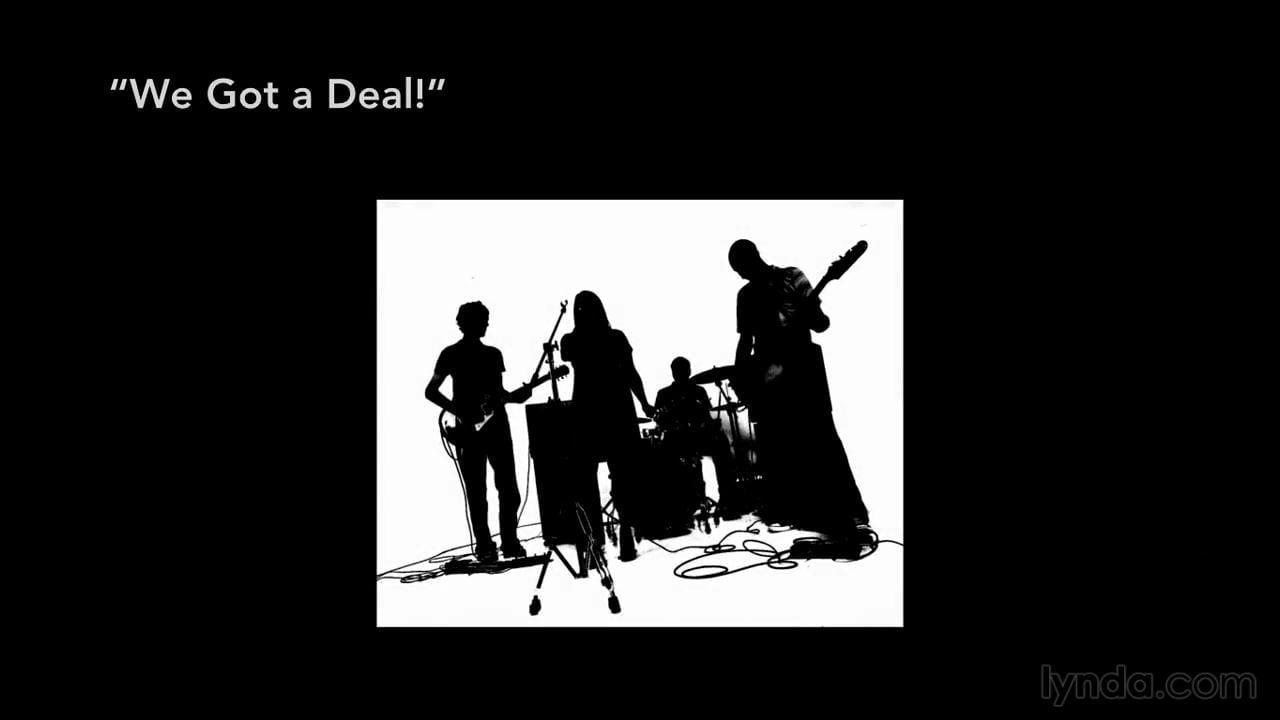 Year of release : 2014
Manufacturer : Lynda.com
Manufacturer site : www.lynda.com/Audio-Music-Live-Performance-tutorials/Music-Law-Recording-Management-Rights-Performance-Contracts/176622-2.html
Posted by : Richard Stim
Duration : 01:40:45
Type of handing out material : Video Tutorial
Language : English

Description : Musical contracts are not a simple matter, but for a successful career in muses. business needs to understand (and discuss) their conditions. In this course, lawyer Rich Steam covers the main language and conceptual concepts of the 4 main types of contracts: records, management, performance and copyright.
For example, when it comes to signing a contract, it is important to know what advances and fees are, how to maintain control over the creative process, and what to do if a participant leaves the group. Rich also reviews management contracts, describing what the manager is entitled to and what to do if a contract needs to be broken. Further, he explores the basic terms, riders (requirements), forms of payment in performance contracts.
You will learn about releases, permissions on the hood. registration, publishing and production agreements and other types of legal mechanisms. Rich translates the conversation into verbal agreements, court costs and roles, as well as the five basic rules in signing music contracts that must always be remembered.
You can understand and agree on their terms. In this course, it covers the main language, concepts, clauses, and rules.
For example, it's important to know how to use it. It's also a tackles management contract. He explores the basic terms and conditions. Then there will be information about legal arrangements. The rules are wrapped up in the course of the contract.
Content
Introduction 53s
Welcome 53s
1. Recording Contracts 42m 16s
Why bother?
2m 42s
The grant 3m 19s
Term and options 2m 1s
Advances and royalties 5m 2s
Deductions 4m 43s
Controlled composition 3m 56s
Creative control 4m 4s
Leaving members 2m 22s
Copublishing 3m 19s
Marketing provisions 4m 7s
Warranties and indemnity 2m 56s
One-offs 3m 45s
2. Management Contracts 14m 37s
Before you sign 2m 59s
What will your manager do for you?
2m 1s
Paying the manager 3m 31s
Post-term commissions 2m 33s
Terminating a manager 3m 33s
3. Performance Contracts 8m 1s
Basic terms 2m 54s
Liability and safety 1m 55s
Getting paid 3m 12s
4. Rights Agreements 8m 35s
Musician releases 1m 39s
Artwork permissions 3m 53s
Using samples 3m 3s
5. Other Agreements 13m 56s
Band partnership 2m 54s
Publishing 3m 56s
Record shopping 3m 8s
Producer agreements 3m 58s
6. Contract Basics 11m 24s
Oral agreements and record keeping 2m 10s
Boilerplate 3m 47s
Attorney fees, mediation, and arbitration 2m 57s
Five rules for all music contracts 2m 30s
Conclusion 46s
Next steps 46s
Example files : not provided
Video Format : MP4
Video : AVC, 1280×720, 16: 9, 15.000 fps, 38.9 Kbps
Audio : AAC, 48.0 KHz, 128 Kbps, 2 channels