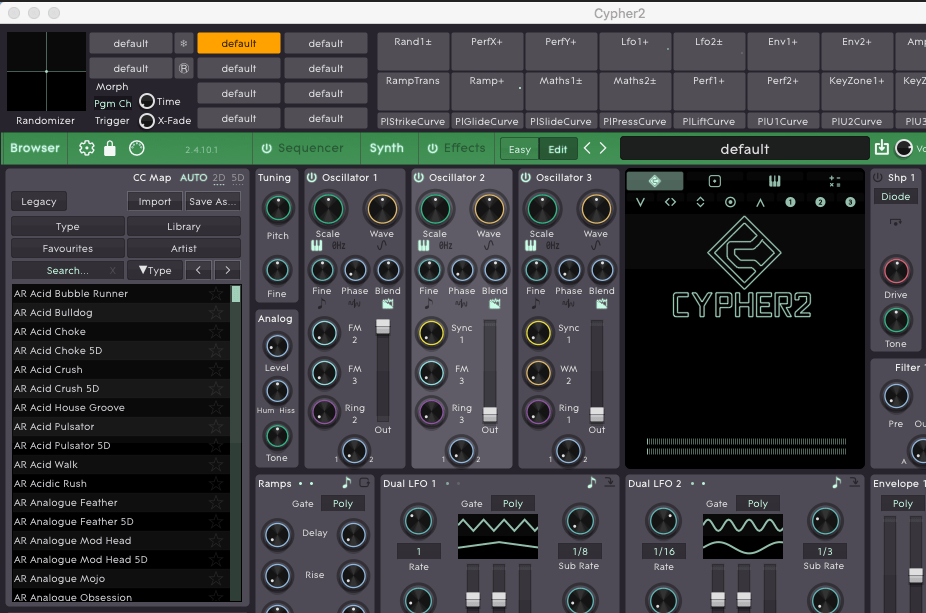 Year of release : 2018
Version : 2.4.10.1
Developer : FXpansion
Developer website : FXpansion
Platform : iNTEL
Format : STANDALONE, VSTi, AUi
Digit capacity : 64bit
Interface language : English
Tablet : Keigen (Windows emulator required)
System requirements : Mac OSX 10.11 or later (x64).
Intel Core i5-2400 or AMD (2011 or newer) processor with AVX instruction set (Intel Core i7 recommended).
4GB RAM (8GB RAM recommended).
Description : Cypher2 is a deep immersion in the world of sound and expressive characteristics. It is equipped with a wide range of sound creation tools and over 1,300 presets, including 500 optimized MPE presets. Experience an unprecedented level of expression using analog oscillator models, wave counting and FM synthesis. Our signature system TransMod, now updated for Cypher2, ensures that every session with this premium synthesizer is a whole adventure in creating sound.
Features:
• Modulate the master sequencer with 3 mods sequence
• Improved interface with real-time animated modulation, full signal flow and preset descriptions
• Default MIDI CC mappings for both 2D and 5D controller types
• 6 circuit-modelled filter types, including a combination of model responses
• Scalable interface for 4K / retina screens with a variety of themes
• LFOs are sub-LFOs for synchronization or free-running modulation.
• Updated envelope shapes for precise control
• Feed your creativity with preset morphing and randomisation
• Support for microtonal Scala .TUN files
Installation and Authorization:
Turn off internet.
0. Remove previous version
1. Run the Install Cypher2 installer and install.
2. Run the license manager installer LicenseManager_2_0_18
and install
3. Start Cypher2 and immediately close it.
4. Run the installed License Manager LicenseManager.exe and close it immediately.
5. Start Cypher2 again and click on the Unlock button.
In the window that appears, click Work Offline.
6. From the R2R distribution folder, launch Kijen and select Cypher 2 in the Product list and click Generate Serial Number.
7. In the authorization window of the synthesizer, click Next and enter the generated serial number into the empty fields and press 2 times Next
8. A window will appear asking you to save the special file.
Save it to your computer.
9. In the kijen, click on the Generate Auth File From Request File button and in the appeared window select the previously saved file on the computer.
10. At the same time, a window will appear in the kijen about saving the authorization file.
Save it to your desktop.
11. Navigate to the open license manager synthesizer and press NExt.
A window will appear where you need to specify and load the previously saved authorization file.
Everything, the tool is authorized.