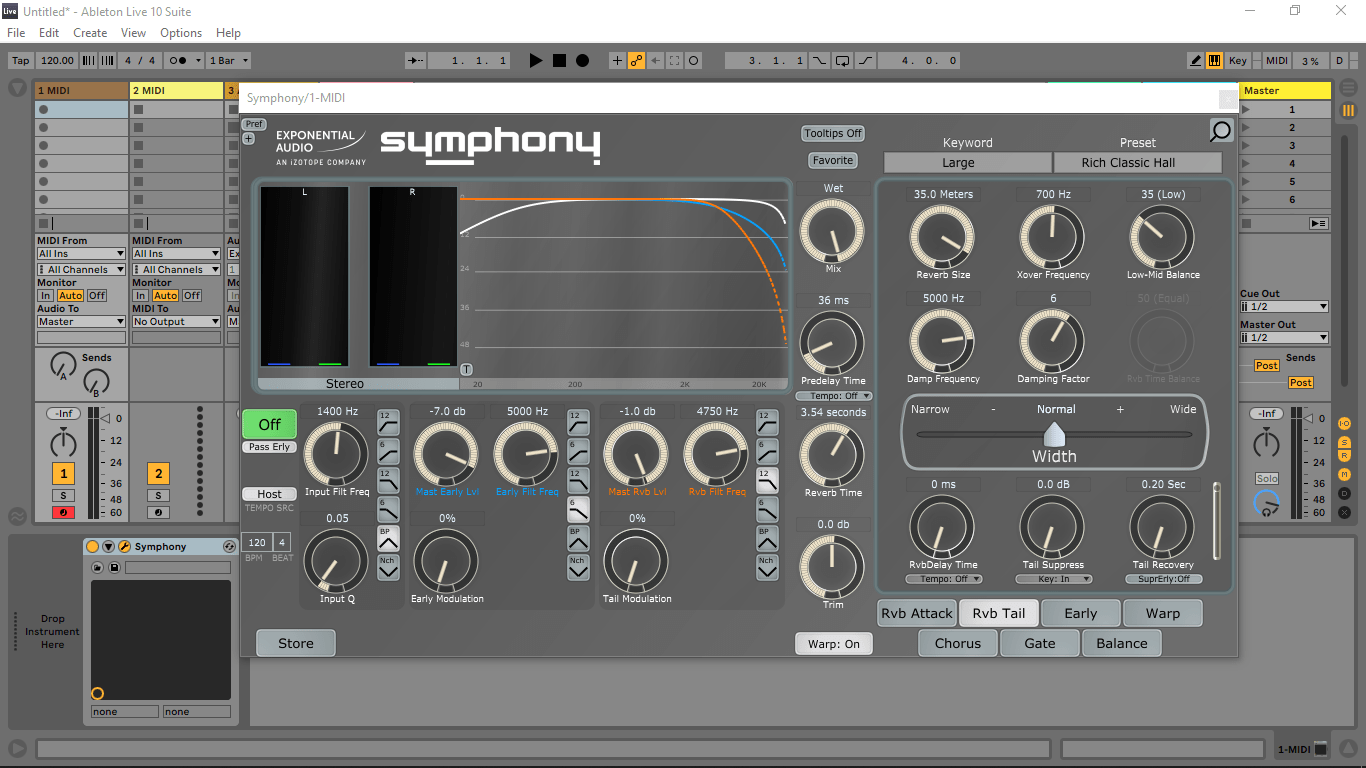 Year / Release Date : 04/20/2019
Developer : Exponential Audio
Developer website : Exponential Audio
Format : VST, VST3, AAX
Digit capacity : 64bit
Tablet : Ne Needed
System requirements : Windows 7 +
Description : Our lush, colorful reverb engine gets a multi-channel update to Symphony. Offering surround sound support up to 7.1, Symphony provides rich, character-filled reverb tone for any musical or post-production project. Thanks to special balance control channels and an extended warp section with Compression and Overdrive modules, Symphony leverages the creative features of R2 Surround and R4 and pushes them even further.
Separate, stretching multi-channel reflections
Symphony is the top of the Exponential Audio reverb processing. This character reverb mechanism is a complete solution for creating unique, exciting spatial effects for multi-channel music or post-projects. Thanks to independent parameter modules for attack, early reflections and the tail of your reverb signal, as well as separate controls for balance, creative modulation effects and dynamics, Symphony allows you to get the most out of your mix's reverberation. Try the symphony and hear for yourself!
---
Composition :
Exponential Audio – Excalibur 5.0.0 – multi-effect processor, with the possibility of organizing internal modulations,
including the LFO, by analogy with modular synthesis, based on the effects of Chorus,
Flanger, Phaser, Ring Modulator, Resonators, Distortion, Resonant Filter, Glide, Vintage Shifter, Reverb.
Exponential Audio – Nimbus 3.0.0 – algorithmic reverb based on the PhoenixVerb core, with user feedback.
Exponential Audio – PhoenixVerb Stereo Reverb 6.0.0 – algorithmic reverb.
Exponential Audio – R2 Surround v4.0.0 – algorithmic reverb, in the style of iron counterparts of the 80s and 90s. X64 only.
Exponential Audio – R2 v6.0.0 – presents a lush, colorful stereo reverb algorithm in a familiar design Exponential Audio
Exponential Audio – Symphony 3D v3.0.0 – Fluffy reverb for surround and immersive formats
Exponential Audio – Symphony v3.0.0
Exponential Audio – Stratus 3D v3.0.0 – Stunning Environments with Unsurpassed Clarity
Exponential Audio – Stratus v3.0.0
Exponential Audio – R4 v3.0.0 – provides the historical warmth of time-tested hardware reverb units with advanced
creative control