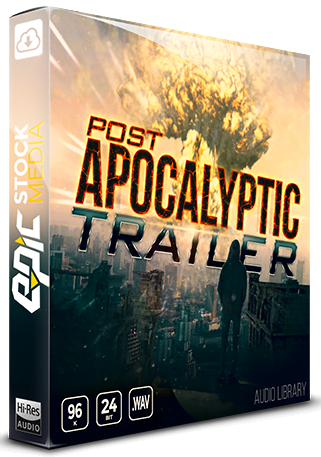 Publisher : Epic Stock Media
Website : Epic Stock Media
Format : WAV
Quality : 24 bit 96 kHz stereo
---
Description : Payback Day is here! Inspired by Hollywood box office hits such as Mad Max and The Book of Eli, we bring you the Post Apocalyptic Trailer, the latest collection of sound effects from the Epic Stock Media movie trailer. Includes over 500 stingers, big kicks, kicks, drones, Shepard tones and more. All recordings come with a frequency of 96 kHz / 24 bit, providing the best quality for intensive sound editing, pitch shifting and processing effects, while maintaining the highest level of clarity and accuracy.
---
Content:
Don't have time to design your own unique transition and trailer sound effects? This pack is ideal for hitting deadlines with pre-designed sounds for title screens, animation, transitions, reveals, logos, cinematic movements, cut-scenes, and fades. This is a collection that can instantly orchestrate huge sounding experiences, drive dramatic emotion, create riveting subsonics and euphoric soundscapes and push full-range dynamics.
Stand strong and face your next project by harnessing the power of the end of the world! With just the click of a button, Post Apocalyptic Trailer will be annihilating your next score, game or trailer with ease, laying waste to your competition. Join forces with Epic Stock Media for this new and exciting release! This handcrafted collection gives you a complete bank of bombastic sounds that are essential for pushing your project to the Hollywood hybrid trailer sound.
With Post Apocalyptic Trailer, you get to reek havoc, incite cataclysmic sound events, and lay down the law to almost any cinematic project or production. Annihilate with Post Apocalyptic Trailer. Now Available!

Product Details:
514 epic sound effect files
6.08GB of cinematic samples
All in 96k 24bit .wav
Over 2 hours and 53 minutes of high quality sound
Blockbuster Movie Trailer Sound Effects Library
Designed massive games, movie trailer and cinematic films
Includes embed Soundminer metadata
100 scene setting drones and soundscapes
99 brutal trailer impacts, slams, hits, and big booms
23 abstract tension musical elements, indents and cues
95 tension filled risers and selection of the infamous shepard tones
99 hard hitting stingers, explosive and designed
98 whooshes, stutters, and transitional sound effects