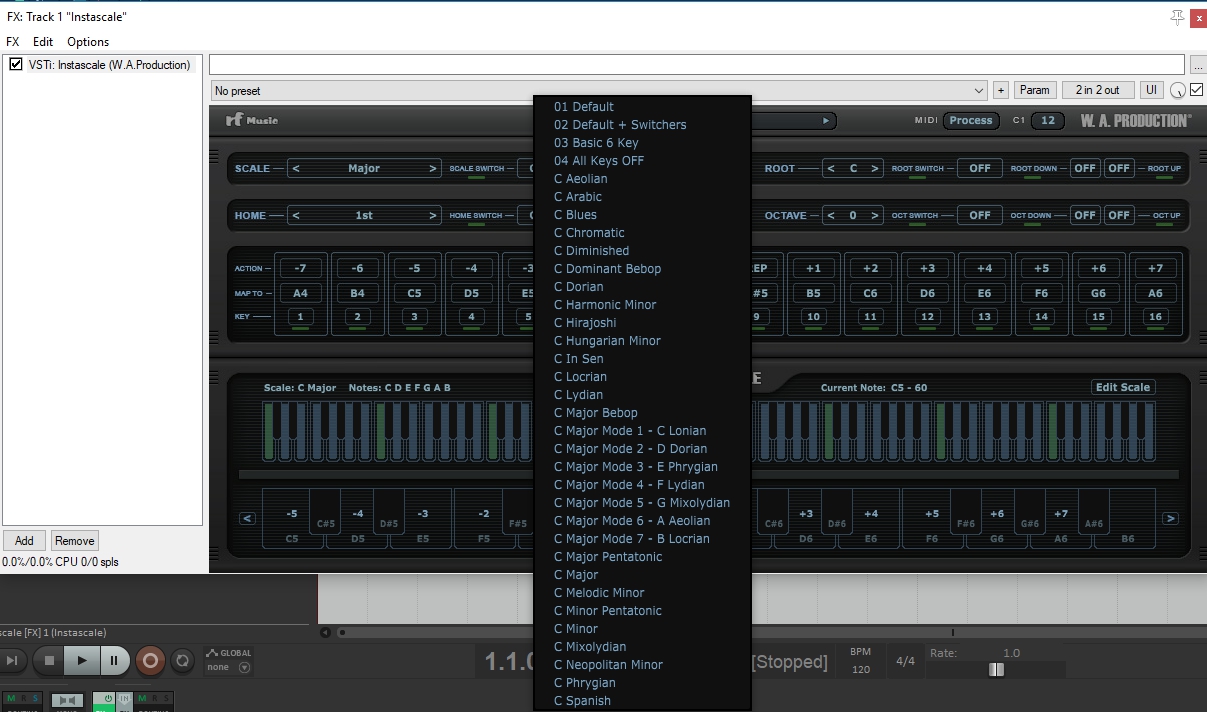 Year / Date of Issue : 05.2018
Version : 1.0.0 b3
Developer : WA Production
Developer's website : Pluginboutique
Format : VSTi, AU
Bit depth : 32bit, 64bit
Tabletka : cured
System requirements : Windows 7 and later (32/64 bit) OSX 10.7. and later (32/64 bit)
Description : Instascale is a newly created, gamma-oriented tool with 16 keys for the game. But wait, is this enough? It turns out that this is more than enough. Unlike standard keyboard instruments, in which each key can play only one note, Instascale has a set of smart keys, each of which is capable of playing different notes. The new note will be based on the specified scale, the position of the last note and the action of the assigned key.
Instascale is available as a plug-in MIDI processor that can be used in any DAW that supports plug-ins for VST instruments (with MIDI routing) or AU plug-in MIDI effects, and will work with any tool that you choose, without any restrictions with respect to sound and equipment.
Training : With all the gamuts included in the plugin and various information displayed in the interface, Instascale can be a valuable source for learning different scales, tonalities and frets very quickly.
Hearing development : Familiarize yourself with gamma in different keys, not knowing how to play them. Train your ears to quickly recognize intervals and distances. Using the tonic function, you can stop on a certain note and see what feelings it causes in comparison with other notes of this scale.
Complex game : At first Instascale may seem strange and unfamiliar tool, but do not be scared. With enough practice and perseverance, you can create some really complicated music that you would never be able to do with any other instrument.
Experimentation and inspiration : Given that you can never make a mistake with Instascale, just play random notes and get inspiration from unpredictable but quite musical results. You do not even need to use your MIDI keyboard, you can use your drum pad, assign it some keys and start playing. You'll be surprised how great it sounds!
Violation of rules : The plugin is based on doing things differently, using rules, and then breaking them. So let it inspire you to go even further and find new ways of creating music, without limiting your imagination with black and white keys and minor / major gamut. The plugin, of course, follows the rules, but allows you to change them, maneuver or violate them. This allows you to change the scale, tonality and tonic note on the fly, make crazy passages, even allows you to create your own experimental scales.
We are sure that you will find Instascale easy to use, regardless of whether it will be a learning tool for learning the scales or expanding your current knowledge as a free way of your creativity, or it will be used as a brief reference or for application to your live performance. Like creating music, the possibilities within Instascale are endless and they are all at your fingertips.
Features:
Relative Playing.
Experience the idea of ​​relative notes and new possibilities to play musical instruments.
Scales.
A list of commonly known and used scales such as Major, Minor, Melodic Minor, Harmonic Minor, Spanish, Arabic, Major Pentatonic, Minor Pentatonic, Blues, In Sen, Hirajoshi and more.
User friendly Interface: There are a lot of elements on the interface such as different readouts, virtual keyboards and graphics which help the user have a better experience and get the most out of the plugin.
Edit or Add Scales.
Users can edit existing scales or add their own scales (Full version only).
Home Note.
The home note can be changed from the root to any other note on the scale making it possible to play different modes or accompany chord changes.
Playing Keys with lots of options.
For each of the 16 playing keys, there are two menus.
The mapping menu, and the action menu.
First one determines where the key is placed on the controller, and includes a list of MIDI notes.
The second menu determines what the key is and includes some static and some relative options like 'Home', 'Repeat', '+1', etc.
You can read more about the playing keys in the manual.
Control Keys.
There are several control keys that can be set and used to improve live performance.
These keys provide an easy access to control and change the scale, octave, root and home parameters using midi notes on the controller.
Root – / +, Scale – / +, Home – / +, Octave – / +.
When assigned to a midi note, these keys can be used to change the Key (root), Scale, Home Note and Octave by switching up or down the values.
Scale, Root, Home, Octave Switch keys.
These assign a series of midi notes to be used to switch between specific values.
For example by setting Root Switch to 'C2-B2', C2 on the controller will set the key to C, C # will set the key to C # and so on.
Poly: Multiple notes can be played simultaneously.
Same notes can be stacked on top of each other to build chords.
For example in C major, Home key plus two stacked +2 key will produce C major chord (C + E + G).
The order of notes are important.
So even if you're using MIDI editor in your DAW and placing them at the same point in time or even on top of each other ones.
Octave Shifter: Shifts the output octave up and down.
Input octave can also be shifted to a more preferable playing position or to match the host's labels using the 'C2' menu.
Pass through mode.
Map Playing and Control Keys: Instascale allows users to change the default settings and map all the keys to desired midi notes.
Different keys can have the same offset value.
User's manual, online tutorials and support.
To get started and learn more about the plugin you can check out the manual and video tutorials.
You can always contact us if you had any questions.
Sponsored Links
Tested Known Issues:
Tested OK on :
Windows
FL Studio 12
Cubase 9.5
Studio One 3
Ableton Live 9
Mac
Cubase 9.5
Studio One 3
Ableton Live 9
Logic Pro X
Incompatible
Maschine 2 (Win / Mac) No MIDI routing
Reason (Win / Mac) No MIDI routing