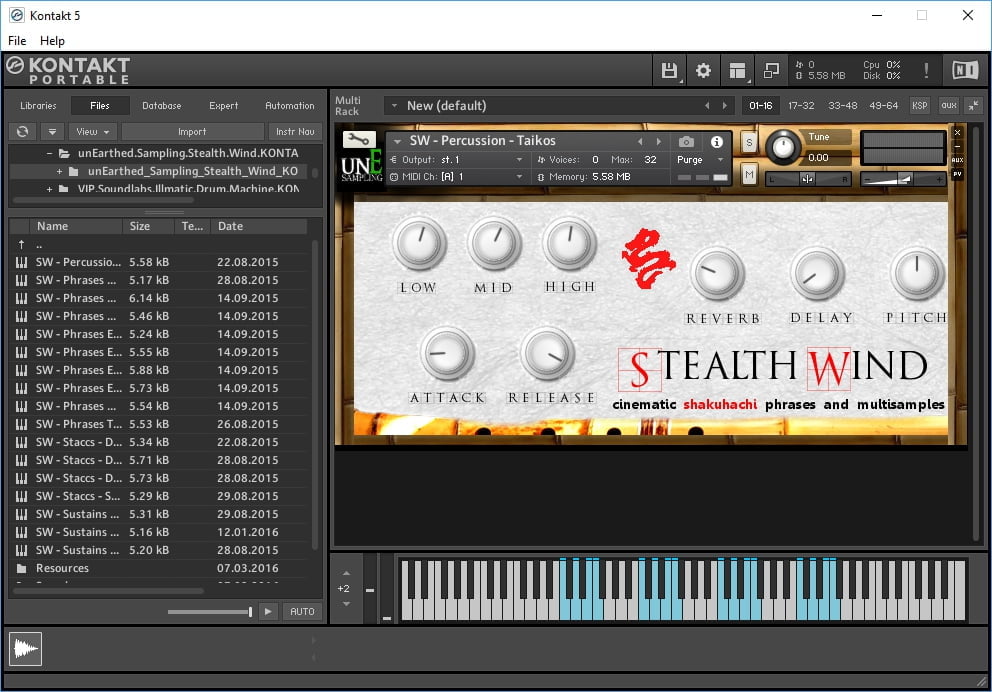 Publisher : unEarthed Sampling
Website : unEarthed Sampling
Format : KONTAKT 5.5.1.451+
Quality : 24 bit 44.1 kHz stereo
Description : The Shakuhachi flute was originally transported from China to Japan in the 8th century and underwent changes in the early Edo period. Traditionally, the flute was made of bamboo, but then it was made of hardwood. It was used by the monks of Zen Buddhism at the Fouquet School. It was a favorite instrument of the composer James Horner and was used in countless films.
Stealth Wind offers to capture the cinematic scene of James Horner and uses carefully selected / recorded phrases (both ethnic and cinematic) along with some multi-sampled staccato and sustain. While the basic atmosphere of sound is centered around the stealthiness of the stealing ninjas, there are also a lot of ethnic phrases and motifs that are on the more traditional side of things.
In addition to two separate cinematographic phrases and two ethnic patches, there are also various staccato patches and several low "Elephant Calls" and "Enigma Calls", which were widely used by the Enigma group.
The purpose of the library is NOT to load it with legato articulations, but to focus on its ethnic side for your games and films. This library was written with the help of the most amazing players on the Shakuhachi, which we could find – John Johnston and Jonathan McCallum.
The end result is an amazing tool that will add a cinematic ethno-flash to almost any track.
Content:
17 Kontakt Instruments
SW – Percussion – Taikos
SW – Phrases Accents
SW – Phrases Cinematic A
SW – Phrases Cinematic B
SW – Phrases Elephant Calls
SW – Phrases Enigma Calls
SW – Phrases Ethnic A
SW – Phrases Ethnic B
SW – Phrases Hi
SW – Phrases Trills
SW – Staccs – Dual 1
SW – Staccs – Dual 2
SW – Staccs – Dual 3
SW – Staccs – Stealthy
SW – Sustains – Rane Man
SW – Sustains 1
SW – Sustains 2
Sponsored Links