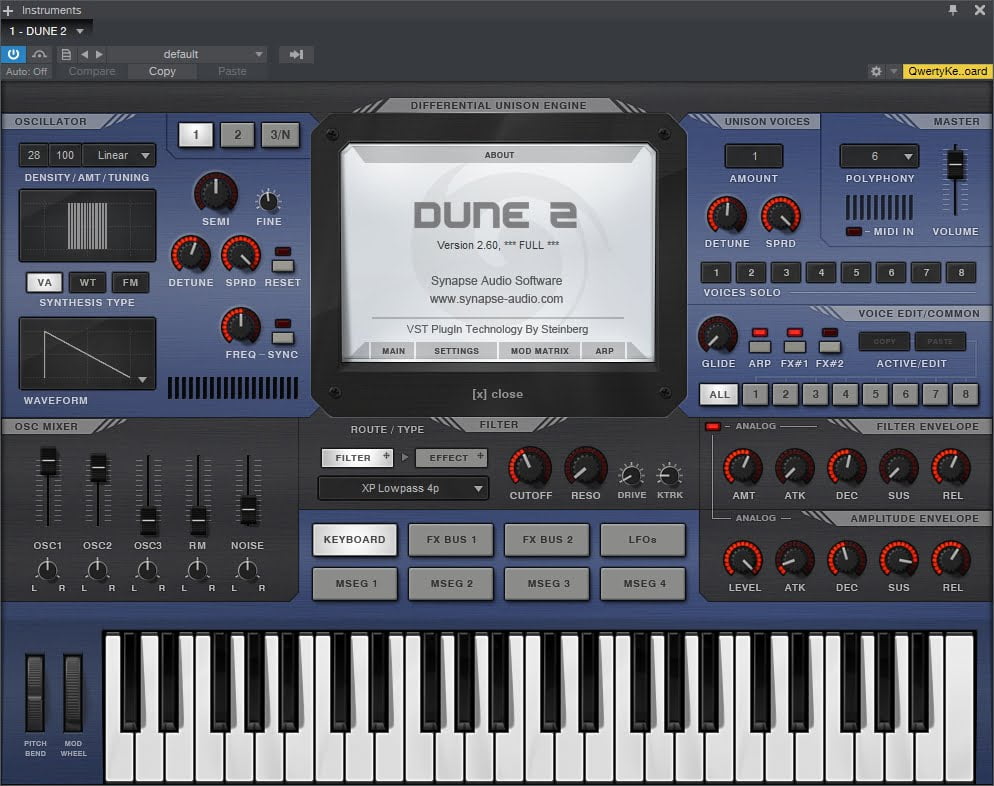 Year / Release Date : 12.2019
Version : v2.6.0
Developer : Synapse Audio
Developer's site : synapse-audio
Format : VSTi, AAX, AU
Bit : 32bit, 64bit
Tabletka : present
System requirements : VST / AU: Intel iCore i5 with 2ghz or better, 2gb ram, VST2 or AU compatible host software, Windows XP or higher, OS X 10.6 or above.
Both 32- and 64-bit versions are provided.
AAX: Intel iCore i5 with 2ghz or better, 4gb ram, ProTools 11 or higher, Windows or OS X.
Only 64-bit version is provided.
---
Description :
A software synthesizer that combines traditional methods of generating sound with some innovative features.
The new VST synthesizer has an even wider range of sounds.
With Dune 2, you get a maximum of 8320 oscillators in full polyphony. Thus, the plugin provides huge potential for creating unique sounds.
Types of synthesis: VA, Wavetable and FM
Two oscillator stacks of 32 oscillators each
Third Oscillator and Noise Generator
8x Unison – up to 520 oscillators per note
16-voice polyphony – i.e. total 8320 oscillators
Zero-delay feedback filters
Four Graphic Envelopes (MSEG)
Modulation matrix for synthesizer parameters and effects
Two Master FX buses, each with nine high-quality effects
Innovative Arpeggiator with the ability to import MIDI files
Release note :

HAPPY NEW YEAR !!!
OSX v2.6.0 R2: Updated in Oct 2019
Every rencet Synapse Audio product has different protection and you need to
disassemble them one by one. No problem, we did it
SYNAPSE-VM: Virtual Machine which runs custom byte code. To make keygen,
you need to understand how the VM works and need to decompile the byte codes.
This is implemented in DUNE2, DUNE3, TheLegend. This VM is used for content
decryption Without running VM correctly, app does not work correctly. (For
your interests: VR bypassed this VM and put pre-decrypted content generated
by legit serial number). We coded SYNAPSE-VM emulation and code decryption
support tools to make valid kegen!
You also need to decompile the PASCAL script and understand the serial
checksum validation part integrated into Inno installer.