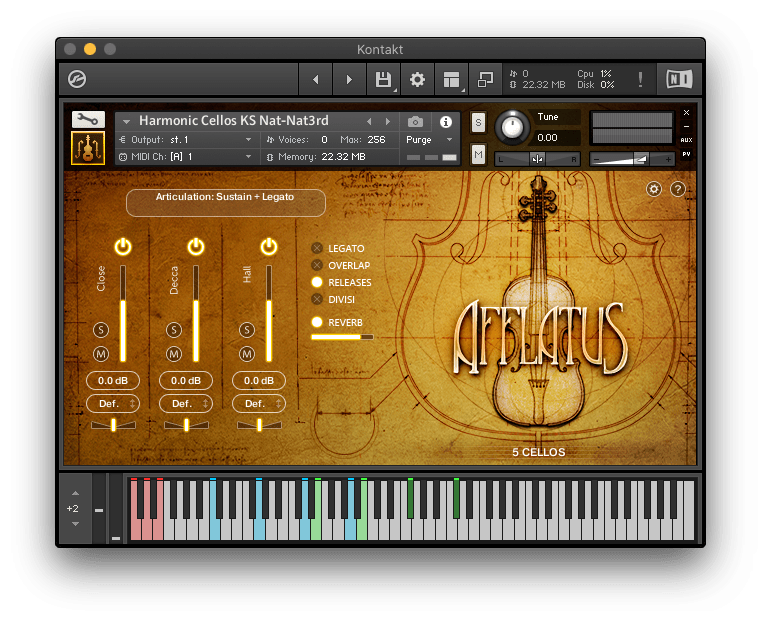 Year of issue : 2020
Publisher : Strezov Sampling
Website : Strezov Sampling
Format : KONTAKT
Version : 5.7.1 Player & Full +
Quality : 24 bit 48 kHz stereo
This distribution is an UPDATE of the previous version.Strezov Sampling – AFFLATUS Chapter I Strings v1.1 (KONTAKT)
Strezov Sampling – AFFLATUS Chapter I Strings v1.2 (KONTAKT)
---
---
Description : Inspired by icons of film and classical music, this collection pushes the boundaries of traditional sampling techniques, offering revolutionary features such as Auto Divisi combined with the next generation of Polyphonic True Legato from a series of choirs and a thematic approach to playing technique. By capturing controlled music samples rather than static ones, Afflatus Chapter I features several specially created articulation groups that can easily portray one specific style per group. This approach provides the user with highly specialized and inspiring virtual instruments that can perform music masterly – the days of soulless sampling are gone.
The styles / moods featured in the first chapter of Afflatus range from classical to contemporary film scores. Some of the craftsmen who inspired the design of this collection are Henry Mancini, Sergei Prokofiev, Bernard Herrmann, John Williams and Arvo Pärt. …
The sounds and styles featured in Afflatus are vast in terms of color and technique. From contemporary minimalism to the golden age and lush epic string ensembles, it's all in just one collection, making Afflatus a great addition to other string libraries.
Afflatus gives you complete control over the sections as you play your music. Pressing the sustain pedal controls whether polyphonic lines should be reproduced for ultra-realistic concert sound, or across the entire section for a thick, lush tone suitable for modern movies, television and video games. Combined with intelligent voice guidance powered by the Polyphonic True Legato engine, it's now easier than ever to create string arrangements the way you want them to be right in your DAW.

---
You don't know our names, but you know who we are!
We don't sign our releases, but you know who provided them!
We're keep going deeper underground … to provide you the best stuff!
And still no one can stop us! True legends stays in history!

Many thanks for the release provided!
---
What's inside
– Boutique String collection including over 7 different thematic string libraries
– Auto Divisi combined with Polyphonic True Legato
– NEW Round Robin True Legato
– NEW True Legato harmonica
– NEW Tenuto Swells
– Various sizes of strings and mixed ensembles from 50 performers to chamber, quartet and the first chairs.
– Specially designed themed ensembles suitable for movie soundtracks from modern to golden ages, television, video games and pop music
– 25 True Legato polyphonic bows
– Special organic sound design section with separate blending elements
– In-game aleatory articulations
– Three microphone positions – Close, Decca, Hall (two on mixed ensembles)
– Over 200 game patches
– Powered by the free Kontakt Player from Native Instruments and compatible with NKS
– Velocity Dynamic Influencer for additional control of polyphonic legato voices
How to install?
We save this distribution in a separate folder
Go to the previous version of the library and delete the

Instruments

folder
Going back – Copy the new

Instruments

folder to the previous version of the library
Going back – Open the

Samples

folder and copy and paste all the contents

(WITH REPLACEMENT)

into the previous version of the library
Going back – Copy the

Afflatus Chapter I Strings.nicnt

file and paste it into the previous version of the library

(WITH REPLACEMENT)

Done
---