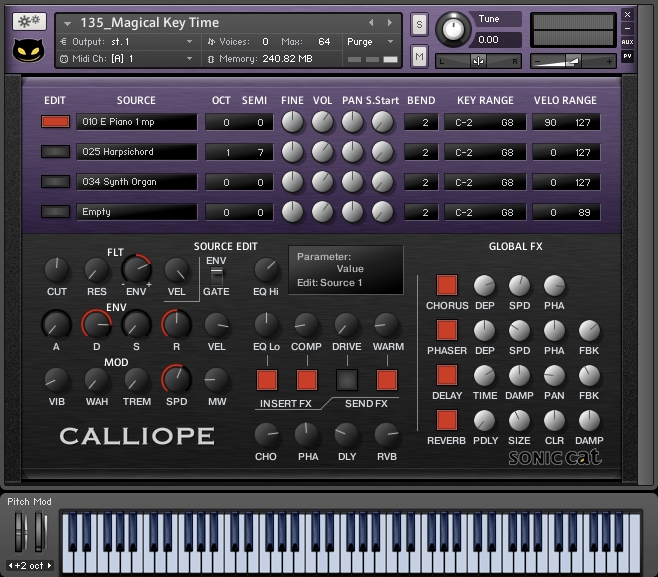 CALLIOPE is Universal Sound Module virtual instrument. It contains many instruments for all musical genres like a hardware sound module, ROMpler or music workstation. There are over 1,000 preset sounds in these categories: Keyboard, Bass, Guitar, Lead, Brass, Wind, String, Pad, Synth, Percussion and Drum.
ACHIEVE LOW SIZE HYBRID SOUND BY NHCL™
Natural Harmonic Crossfade Loop (NHCL™) technology is to adjust accurate looping point on the recorded samples for natural harmonic.
We applied this NHCL technology, CALLIOPE can be played natural and real sounds although its sample size is smaller than other tens of GB size products.
HYBRID SOUND?
We claims to support Hybrid Natural Sound. This has taken all the good point of real instruments and sound module, so CALLIOPE will be mixed well naturally in enire sounds of your project.
Along with good point of this sound, small size virtual instrument by NHCL accomplished to load preset sound more quickly and has become convenient.
TWO SEPARATED STYLE MODULES
CALLIOPE's two seperated modules were designed to express strong features of synth and drums.
SYNTH MODULE
Synth module, by quad engine which is possible quad samples mixing, has melodic instruments as piano, guitar and synth.
DRUM MODULE
Drum module has percussive instrument kits with 18 pads, and can combine as various kits.
EASY TO USE & SIMPLE UI
Easy and simple UI will help to make your own sounds.
INDEPENDENT QUAD MIX
Synth Module can blend up to 4 sound sources, can make various and beautiful sounds. It can edit independently each source and can mix each volume and pan. Because all sources was processed by NHCL, 189 sound sources can be loaded super fast on each engine.
DOUBLE KICKS & SNARES
For more powerful rhythm in rock or dance music, you can often make strong kick & snare by special mixing techniques. CALLIOPE's drum module can make easy powerful kick & snare by doubling. So you can make powerful and special rhythm.
18 PADS / INSTRUMENTS
You can make your own various rhythm sets by 18 pads. This system can change each drum (kick, snare, tom, hat and cymbal) by musical genre and style. In addition, it can construct you want percussions end of drum kit.
MULTI CHANNELS
You can multi channel set as music workstation by only one KONTAKT / KONTAKT PLAYER loading in sequencer. From piano track to drum track, do sequencing easy and convenient after make channels as needed.
FEATURES
– Universal Sound Module
– All genre, All round player
– Powered by the KONTAKT Engine. Free KONTAKT PLAYER available
– Low sample size / High quality sounds by NHCL™ technology
– Hybrid Natural Sounds for mixing
– Over 1,000 preset sounds (view preset chart)
– Installed only about 830MB
– Two separated module
– Synth module by Independent Quad Engine / Mixing system
– Drum module by 18 Pads / Instruments system
– Double combine main Kicks & Snares
– Can easily make unique user sounds
– Easy to use GUI
– Sooo , many presetz …. you will cry & need beer !!!

TECHNICAL
– 1,002 preset sounds (view preset chart)
– About 830 MB installed
– 189 sound sources
– 192 percussive sources
– 1,354 mapping samples
– Various velocity layers in each instrument
: SYSTEM REQUIREMENTS
– KONTAKT 5 full or free KONTAKT 5 PLAYER 5.3.1+ version required
– 2 GB free disk space
– 4 GB RAM (6 GB recommended)