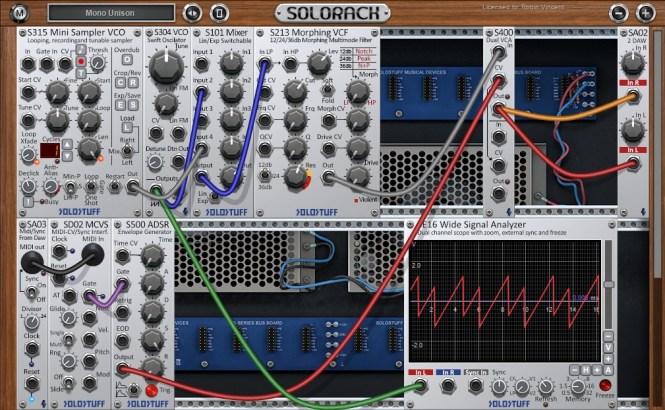 Year / Date of Issue: 10/12/2021
Version: v2.0
Developer: SoloStuff
Developer site: www.solostuff.net/solorack/
Format: VSTi
Bit depth: 32bit, 64bit
Tabletka: present
System requirements:
Current PC running Windows XP / 7/10
At least 1 GB of RAM
32-bit or 64-bit VST compatible host (DAW).
---
Description:
SoloRack is a modular synthesizer that simulates the usability and functionality of Eurorack hardware modular systems. Whether you are an experienced Eurorack user or just a software user, you are likely to find something new in almost all the modules available. A wide variety of modules are available, designed with attention to detail. Maintain closeness and affinity to Eurorack for ease of use and seamless integration into Eurorack systems if desired.
Add. information:
There are practically no restrictions on the number of added modules and rows of racks.
The system is currently supplied with various modules.
Including oscillator modules, filters, amplifiers, mixers, panning, ADSR, VCLFO, random sample and hold, noise module,
delay module, chorus module, reverb module, ring modulators, CV sequencer, trigger sequencer and many other utilities such as I / O modules,
MIDI to CV, tempo from DAW, clock divider, logic instrument, switch and CV instruments ..
Can work as an effect with multiple inputs and outputs.
Both 14-bit and 7-bit MIDI are supported. (currently used by LSB / MSB).
Polyphony is possible with manual patching, as it is done in hardware. Or via sequencer modules.
Multichannel MIDI support. Can be used to produce multi-timbral voices.
MIDI hotspots and routing MIDI cables between modules work at the speed of sound !!
Support for bi-directional patch points, which can work both inputs and outputs at the same time. As in some Eurorack modules, for example switches.
Offers a ridiculous amount of oversampling (up to X256). This is NOT a zero-fill or interpolation method.
This is the actual increase in the internal sampling rate within the synthesizer.
This means that it can process ultrasonic sound. I provide functions like this for people who care about quality.
Not that any current processor can handle this !!.
Sound velocity modulation of any CV input. The system even allows for ultrasonic modulation when oversampling.
The smallest internal sample block size (1 sample), this gives the smallest possible delay between modules.
Designed from the ground up to improve CPU efficiency. Optimization is done at every level of development, not just at the end.
Supports connectivity to modular equipment (including but not limited to Eurorack). With 10 audio / CV inputs, 12 audio / CV outputs.
---

Related