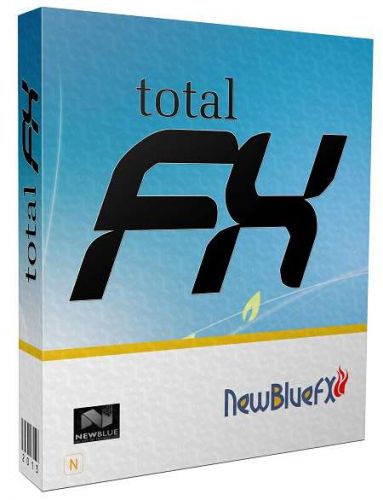 ================
[INFO:]
================
NewBlue TotalFX 3.0 Build 151014 | 256 Mb
NewBlue TotalFX 3.0 this all-encompassing series of software plugins work natively with your NLE of choice and includes all of our creative, transition, and essential collections, plus our titling and color correcting tools. NewBlue TotalFX delivers over 1400 presets in 129 plugins in most comprehensive collection of titling, transitions and video effects. Includes the fully-featured Ultimate versions of Elements, Essentials, Filters, Stylizers, Transitions and Titling lines. TotalFX delivers it all for the serious video editor….
TotalFX includes:
Elements 3 Ultimate: More than 250 presets in 21 video effects that simplify multi-step compositing tasks.
Essentials 3 Ultimate: Over 275 presets in 24 workflow-enhancing video effects that stabilize, correct and sharpen.
Filters 3 Ultimate: More than 250 presets in 22 video effects to instantly enhance video through an array of distinctive looks.
Stylizers 3 Ultimate: Over 250 presets in 23 imaginative video plugins that provide a range of light, paint and art effects.
Bundled Products
Elements 3 Ultimate
Elements 3 Ultimate presents a complete set 21 tools to accelerate compositing tasks
——————–
Essentials 3 Ultimate
Essentials 3 Ultimate brings a full set of 24 essential video plugins to perfect your video.
——————–
Filters 3 Ultimate
Filters 3 Ultimate includes the complete set of 24 innovative video filters for the perfect look.
——————–
Stylizers 3 Ultimate
Stylizers 3 Ultimate delivers the optimal set of 23 stylistic video effects for your own style.
——————–
Titler Pro 3 Ultimate
Titler Pro 3 Ultimate delivers templates and features exclusive to After Effects.
——————–
Transitions 3 Ultimate
Transitions 3 Ultimate brings a comprehensive set of 37 premium wipes & transitions.
Recommended System Requirements
2 GHz processor (multicore or multiprocessor CPU recommended for HD)
2 GB RAM (4 GB RAM or greater recommended for HD)
250 MB hard-disk space for installation
OpenGL 2.1-capable graphics card and minimum 256MB VRAM
512MB VRAM or higher recommended for HD
Microsoft® Windows® XP (SP 3 or later), Vista® (SP 2 or later), Windows 7 or later
Supports 64-bit video editing applications only
Video Editing Host Compatibility:
Adobe After Effects 5.0+
Adobe Premiere CS6/6.5, CC
Apple Final Cut Pro X
Avid Media Composer & Symphony 6+
Black Magic DaVinci Resolve 11+
Grass Valley EDIUS 7+
Sony Vegas Pro 10+ (64-bit OpenX)
Titler Standalone Host
================
[INSTALL NOTES]
================
(1): Please use 7Zip/WinRAR/Universal Extractor to EXTRACT FILES
(2): run the setup
(3): Use the given patch to activate (recommend to copy and paste the patch into the installed directory and run as admin and do the patch)
(4): Enjoy and Support Developers, Buy It, They Deserved It!
=============
NOTE
=============
Keygens, patches, Activators, Cracks, Loaders etc. are always scanned with Kaspersky Internet Security 2015 Latest Version to Avoid Virus Issues. Different Anti-viruses may give different results
If You Like This Torrent Support the Developers by Purchasing It!.. Thanx

Size: 333.76 MB