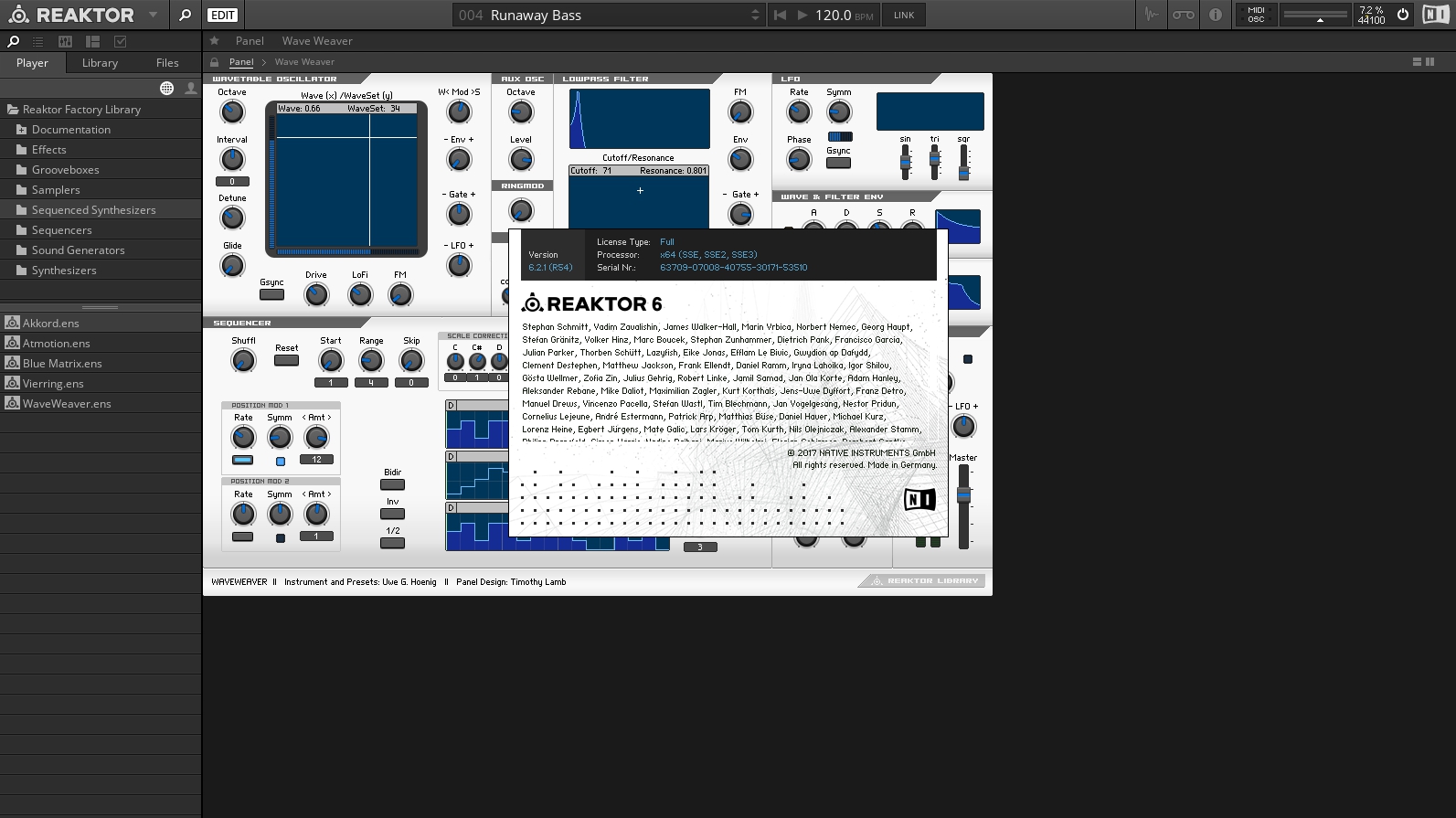 Year of manufacture : 2017
Version : 6.2.1
Developer : Native Instruments
Developer's website : Native Instruments
Format : STANDALONE, VSTi, AU
Bit depth : 64bit
Platform : Intel
Language : English
Tablet : Replacement of files
System requirements : Mac OS X 10.7 | 10.8 | 10.9 | 10.10 | 10.11 | macOS Sierra
Description : Native Instruments Reaktor is a popular software for music production, combining many audio applications to create a truly universal and extremely powerful tool. The widest range of instruments and sounds NI Reaktor will suit absolutely everything: musicians, producers and sound engineers. Native Instruments claims that the open engine architecture of its own design makes the potential for creating its own tools endless.
NI Reaktor can be used as a plug-in inside any DAW, and as a stand-alone application.

Sponsored Links
Installation
Run NI Reaktor 6 v6.2.1 .dmg and install Reaktor 6. Extract the file Reaktor 6.2.1 FULL OSX .7z from NI Reaktor 6 v6.2.1 .dmg – there are 3 files that need to be copied with the replacement from … to. ..:
1. from the distribution of Reaktor 6.component to / Library (or Libraries) / Audio / Plug-Ins / Components
2. from distributing Reaktor 6.vst to / Library (or Libraries) / Audio / Plug-Ins / VST
3. from the distribution of Reaktor 6.app in / Applications (or Programs) / Native Instruments / Reaktor 6
For Logic dial in the terminal:
sudo codesign -f -s – / Library / Audio / Plug-Ins / Components / Reaktor 6.component
Install Reaktor Blocks Wired v1.0.2 and Reaktor Factory Library v1.1.0, which are located in the Instruments for NI Reaktor 6 folder