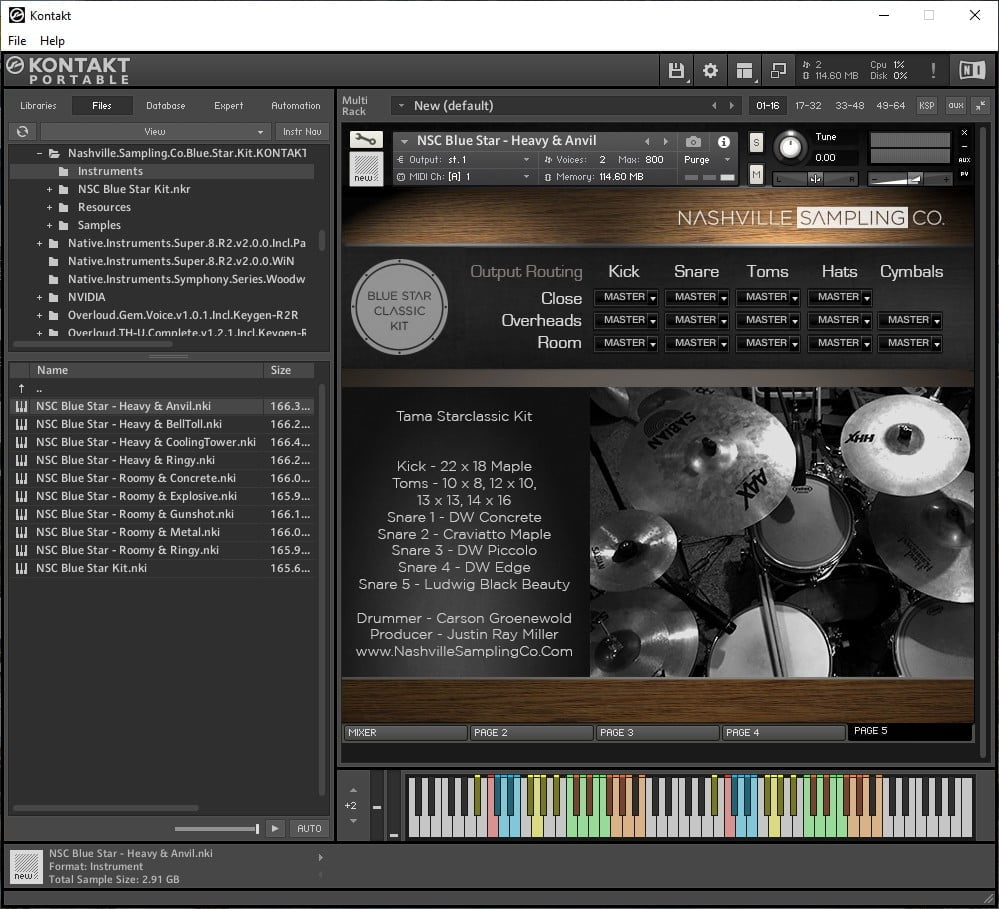 Publisher: Nashville Sampling Co.
Website: nashvillesamplingco
Format: KONTAKT 5+
Quality: 24 bit 44.1 kHz stereo
---
Description: Blue Star Kit consists of a maple drum kit Tama and five of the brightest snare drums.
The installation is controlled through a very intuitive interface that gives the user the feeling of being "behind the console".
We want you to feel like working in an A-class studio when making music with this library.
Characteristics :
MIX YOUR WHOLE KIT AS IF YOU WERE USING AN ANALOG CONSOLE
CONTROL THE KIT AND MIXING WITH AN IPAD / IPHONE (WITH TOUCH OSC)
3 CLOSE SNARE MICS, 3 CLOSE KICK MICS, CLOSE TOMS, OVERHEADS, ROOMS (both versions)
EASILY TURN ON OR OFF THE "SNARE BUZZ" IN YOUR KICK DRUM SAMPLES
INTELLIGENT SNARE ROLL CONTROL ALLOWS FOR MORE CREATIVE LOOPS
EASILY SEE EVERY CHANNEL EQ AT THE SAME TIME (LIKE A REAL CONSOLE)
"BRI-VERB" REVERB IMPULSES MODEL "ROLLS-ROYCE OF REVERBS"
RACK OF GEAR INSIDE OF PLUGIN (1176 COMPRESSORS, TAPE SAT, ETC)
---