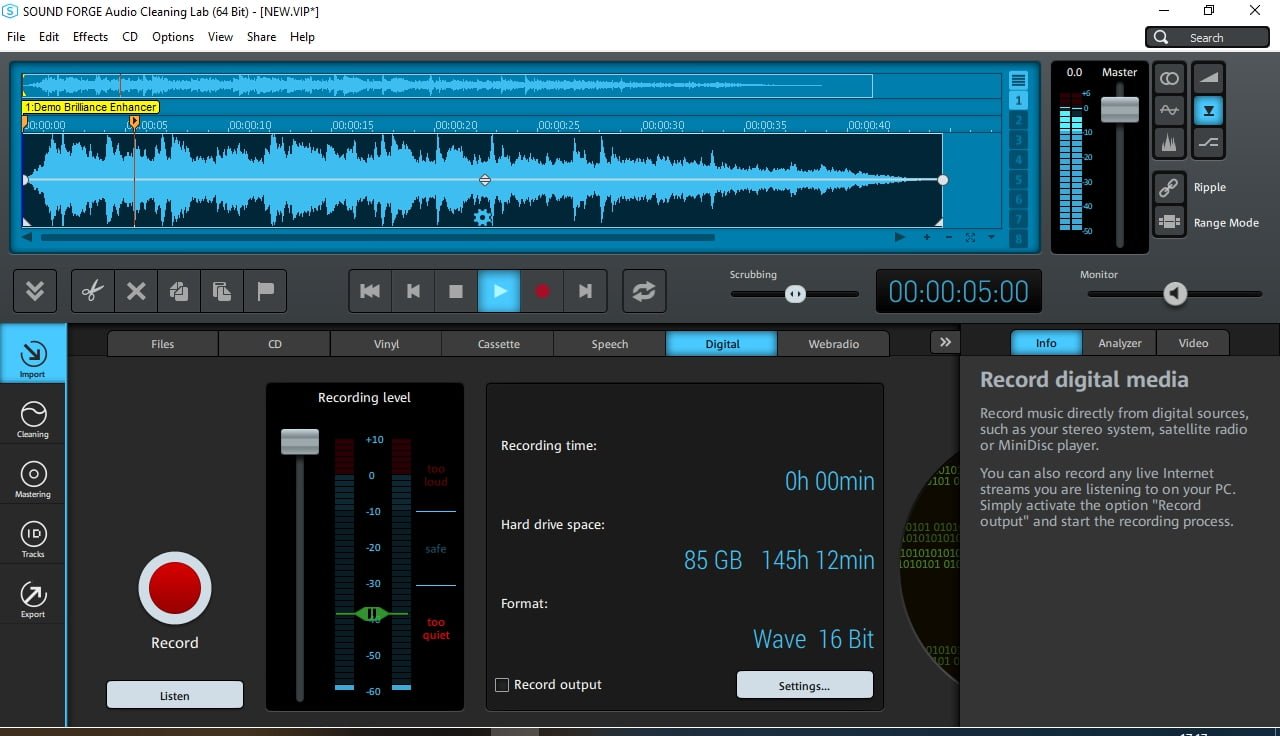 Year / Release Date : 01.2019
Version : 23.0.0.19
Developer : MAGIX
Developer site : magix
Digit capacity : 64bit
Interface Language A : English, German
Tabletka : present
System requirements : Windows 7+
1 GHz processor 2 GB RAM Integrated graphics card with support for min. Resolution. 1280×768 Built-in sound card
Description : MAGIX Audio Cleaning Lab is ideal for digitizing records and other analog media, as well as for recovering damaged records. Thanks to the convenience and ease of operation, but at the same time, the presence of the most powerful professional functions (such as, for example, spectral mapping) you can quickly and effectively solve problems of any complexity.
Great sound quality – By eliminating noise and interference from the material, you return to the musical beauty and grace. The user-friendly interface, sound settings, taking into account various musical styles and innovative software algorithms make this program an ideal option for all those who appreciate high-quality, beautiful sound.
Sound Recording – Sound Quality: You can quickly and conveniently transfer high quality recordings from records and cassettes to your hard drive.
Effective noise removal – More than 290 settings: Eliminate and reduce overmodulation, noises, clicks, hissing, rustling, crackling and other unwanted noise.
Storing audio files – you can quickly convert recordings to almost any format, write the results to disk or transfer to a smartphone.
Detailed presentation of the project – With one click of the mouse, you can stretch the track for the entire monitor size, getting maximum access to the material. This allows you to process any material in the smallest detail, which is very convenient, in particular, when spectral editing.
File manager sorting function – Always full control over the project! You can directly in the file manager carefully sort the material contained in the project according to any signs.
Pre-listening in the file manager – Now you have the opportunity to immediately move to the desired material! All files can now be listened directly to the file manager before adding to the track.
Automatic recovery of corrupted recordings – The "Auto Cleaning" function allows you to analyze and automatically improve the quality of music or other audio material. After the changes you made, you can immediately listen to the result and compare it with the original. Of course, it is not forbidden to perform any additional effect settings manually (you can cancel the action with one click of the mouse).
Smart search function – Audio Cleaning Lab knows what you want! Just enter in the search field, for example, "EQ" – and you will get all the available effects, auxiliary texts and templates. You can open the found material with one click of the mouse.
Always one effect ahead – In Audio Cleaning Lab, you can change effects without having to spend a lot of time on it. Any, even the most voluminous projects can be completed in the shortest possible time.
Always full control over the project – The ability to use quick call allows you to change the interface with one keystroke. This allows you to quickly move tracks, effects, or general visualization to the foreground. In this case, you will not need to "sacrifice" permission.
Ease of use – Audio Cleaning Product will become more and more familiar to you with each click of the mouse. Spectral cleaning with an additional preview function, custom effects, various display modes and competent sorting – this and much more is at your service. Sound processing has never been easier.