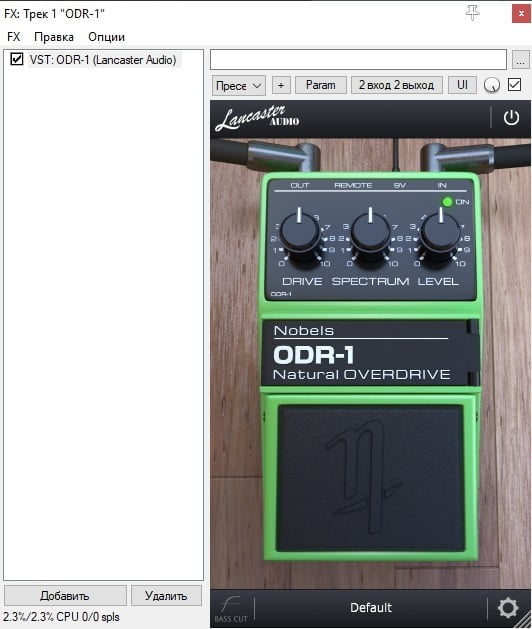 Year / Release Date: 2021
Developer: Lancaster Audio
Developer site: lancasteraudio
Format: VST, VST3, AAX
Bit depth: 64bit
Tabletka: present | JustFun598
System requirements: • CPU – Intel Core 2 or newer
• OS – Windows Vista or later
• DAW – VST compatible or Pro Tools 11
• RAM – 2 GB DDR3
---
Description: The legendary ODR-1 Overdrive pedal is finally available as a plug-in! Along with the classic ODR-1 sound, we've added a ton of new features such as: Adjustable voltage (5V to 18V) and switchable bass cut, giving you even more options than a hardware pedal!
✔️ Flawless digital recreation of the legendary Nobels ODR-1
✔️ Preserves the dynamics of the guitar while maintaining an overdriven tone
✔️ AC voltage with automatic level control
✔️ Bass cut
✔️ Mono or Stereo
✔️ Low CPU usage
✔️ Classic tones by Jerry Donahue, Guthrie Trapp, Tim Pierce and more!
✔️ Save presets
• Drive – Adjusts the degree of overload.
• Spectrum – Turning the knob clockwise increases both low and high frequencies at the same time. The mid-range remains intact in any direction to provide transparency with a little warmth.
• Level – Adjusts the overall output volume of the pedal.
• Bass Cut – Applies a low pass filter at 80 Hz.
• Bypass – allows you to enable or disable the plugin.
• Modeling tolerances – allows you to introduce tolerance differences between multiple instances of the plug-in, similar to the tolerance deviations that occur during the production of Nobels ODR-1.
• Voltage – allows you to be able to give your soundtrack less headroom or more headroom for overdrive.
FIXed
NOTE: Patch installer had a bug where VST2 and VST3 locations where installed in incorrect places.
Its fixed now!
Sorry!
---