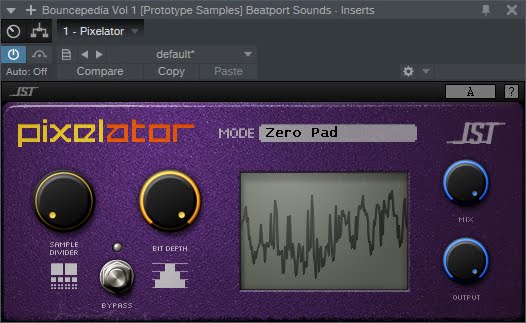 Year / Release Date : 2018.09
Developer : Joey Sturgis Tones
Developer site : Joey Sturgis Tones
Format : VST, VST3, AAX
Digit capacity : 64bit, 32bit
Tablet : Ne Needed
System requirements : Windows 7 +
Description : Pixelator is an audio resolution manipulator for sound design and destruction. This plugin will allow you to create low-resolution sound and bit-crash effects using several modes, each with different sound characteristics. This plugin is perfect for adding 8-bit sound to your drums and synthesizers.

Composition :
Joey Sturgis Tones – TONEFORGE Ben Bruce 1.1.1
Joey Sturgis Tones – Ultimate Producer's Bundle
Joey Sturgis Tones – BG Drums Special Edition v1.0.1
Joey Sturgis Tones – Bus.Glue.Bundle.v1.0.0
Joey Sturgis Tones – Bus Glue – Joel Wanasek Bundle V1.0.0
Joey Sturgis Tones – SideWidener CM v1.0
Joey Sturgis Tones – Gain Reduction 1.0.2
Joey Sturgis Tones – Finality Advanced v1.0.6
Joey Sturgis Tones – Pixelator 1.0.6
Joey Sturgis Tones – Toneforge Jason Richardson 1.1.0
Joey Sturgis Tones – Toneforge Misha Mansoor Advanced v 1.0.2
Joey Sturgis Tones – Toneforge.Menace.v1.3
Joey Sturgis Tones – Tominator.v1.0.1
Joey Sturgis Tones – Toneforge.Guilty.Pleasure.v1.0
Joey Sturgis Tones – Transify v1.3
Joey Sturgis Tones – Soar 1.0.0
Joey Sturgis Tones – Toneforge Jason Richardson v1.1.0