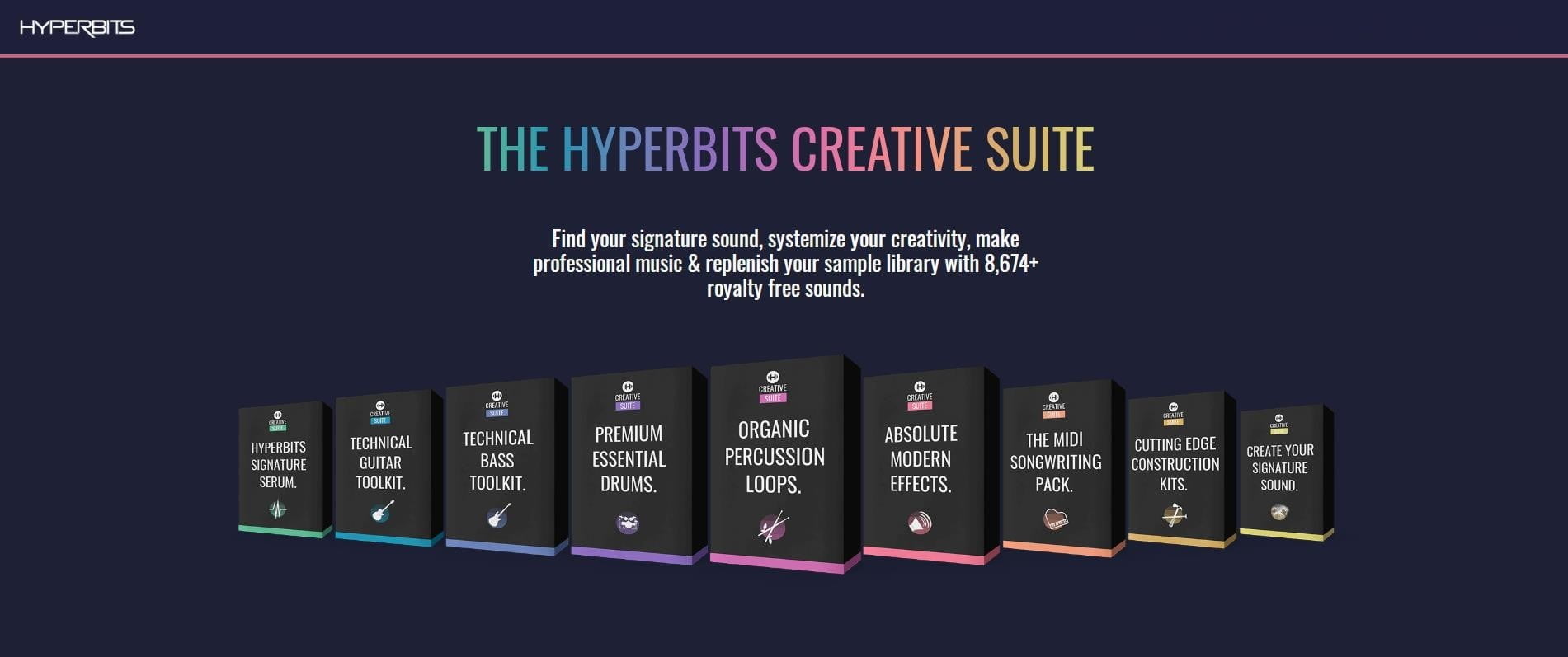 The Hyperbits Creative Suite
Release year: 2019
Publisher: Hyperbits Music
Official website: Hyperbits Music
Format: MIDI, WAV, SERUM
Quality: 24 bit 44.1 kHz stereo
---
Description:
Find your signature sound, organize your creativity,
make professional music and replenish your library with a large package of samples
(more than 8,674+ royalty free sounds).
We focused on original, unique and extremely high quality sounds,
who not only work now, but will also be with you for many years.
Everyone will find something to their liking. Many will appreciate it.
What we get at the Output with this package:
– SIGNATURE SERUM SOUNDBANK
– TECHNICAL GUITAR TOOLKIT
– TECHNICAL BASS TOOLKIT
– PREMIUM ESSENTIAL DRUMS
– ORGANIC PERCUSSION LOOPS
– ABSOLUTE MODERN EFFECTS
– HYPERBITS MIDI SONGWRITING PACK
– CUTTING EDGE CONSTRUCTIONS
– CREATE YOUR SIGNATURE SOUND
Features of this pack:
– Tweak, edit and create unique patches for Serum with access to 4 macros on every preset for ultimate customization, automation and malleability.
– Replenish and refuel your creativity with an entire library of original, unique and royalty free sounds – we're talking 8,674+ professional sounds.
– Create and produce music of the highest commercial calibur with access to the first ever creative suite of professional sounds created by and for music producers in 2019 & beyond.
– Achieve customizable, playable guitar and bass without having to hiring a studio musician with the Technical Guitar and Bass Toolkits.
– Systemize your creative flow, song-starting & melodic compositions with over 500+ song-starting melodies, chord progressions and leads.
– Get inspired with professional construction kits on a calibur normally not heard in a sample pack – complete with complete stems & every isolated sample.
– Everything you've ever needed to know about creating your signature sound through 7 in-depth video lessons, spanning 1+ hour.
– Use high-end drum sounds made for the future of electronic music production, processed to reflect the highest standards in music production in 2019 & beyond
The material is provided solely for educational purposes.
There is also a big (huge) request to everyone – this material should not be re-uploaded to other resources. Hope for understanding.
All materials are intended for personal use and informational purposes only. All rights to audio tracks belong to their respective owners.
If you liked something (whether you want to use it for commercial purposes, or post your home video on YouTube, etc.), you must buy a licensed version of this material!
This package includes libraries:
Hyperbits Signature Serum Soundbank:
Technical Guitar Toolkit:
Technical Bass Toolkit:
Premium Essential Drums:
Organic Percussion Loops:
Absolute Modern Effects:
Midi Songwriting Pack:
Cutting Edge Construction Kits:
Create Your Signature Sound:
BONUS # 1: The Vocal Toolkit:
BONUS # 2: The Ultimate Guide to Serum:
BONUS # 3: 14 Signature Sound Artist Breakdowns:
Bonus # 4: Hyperbits Sampling & Sound Design Workshops:
---