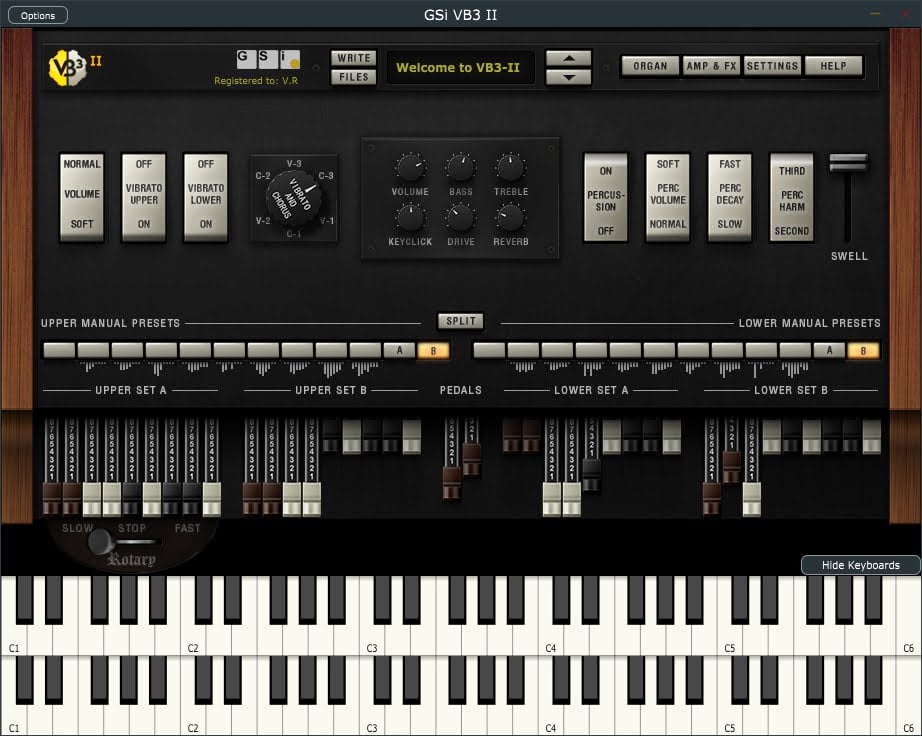 Year / Release Date : 10/12/2018
Version : 1.1.1
Developer : GSi
Developer Website : GenuineSoundWare
Format : STANDALONE, VSTi, VSTi3
Digit capacity : 64bit
Tabletka : cured
System requirements : – any windows computer manufactured after 2010 running windows 7 x64 or greater
– ASIO compatible sound card for low latency performance
Description : GSi VB3-II is the result of nearly 15 years of research, research, experimentation, and the development of Hammond B3 vintage organ modeling. This is the evolution of GSi VB3 1.4 with a new sound, a new set of parameters, an infinite ability to customize the sound.
VB3-II has a deep editing of all parameters of the body and rotation dynamics, organized in separate windows. Parameters are organized into sections and presented as drop-down menus, if they consist of lists of elements to choose from, checkboxes, if they consist of options for switching or horizontal sliders, if they are responsible for the range of values ​​ranging from 0 to 127.
New in version:
– Organ model: Improved the keyclick and the cross-talk, introduced the "complex cross-talk on upper manual"
– Organ model: Modified "OLD" resistor
– Organ model: Added to the foldback (Spinet style)
– Rotary Speaker: Hz and Seconds
– Can you work now?
– The CC # 64 Pedal Speed ​​functions now
– The CC # 64 Pedal function can now be completely disabled, letting the CC # 64 to be freely assigned
– The Settings Panel now creates a new pop-up window.
– Updated the PDF Manual with new informations, please have a look at it.
– minor optimizations
Specifications:
Full polyphony (61 upper + 61 lower + 25 pedals = 147 notes)
91 modeled tonewheels with accurate phase synchronization
Adjustable leakage noise and cross modulation between tonewheels
A total of 22 different tonewheel generators to choose from
Generator shaping for a total of 154 generator combinations
Adjustable global tuning from 430 to 450 Hz
Foldback on 16 "deactivatable
Complex wheels
Resistor wiring with multiple options
Realistic "run" motor wow & flutter
Busbars and 9 key contact simulation
Two separate sets of drawbars per manual
Full "inverted octave" presets
String Bass with adjustable release time
Loudness "robbing" effect
Single triggered percussion with natural capacitor discharge / recharge
Adjustable Percussion Level & Decay
Vibrato / Chorus virtual scanner
Adjustable Vibrato Scanner depth & mix
Separated Upper and Lower V / C tablets with smooth switching
Dynamic tube overdrive simulation
Digital stereo reverb
Rotary speaker simulation with virtual microphone positioning
Rotors "Front Stop" brake position
Very low CPU consumption
Advanced MIDI Learn function with custom mappings
SPLIT with adjustable split point
Adjustable output level
Supports pedal sustain
Custom programmer with import / export of Programs and Banks
… and many more.