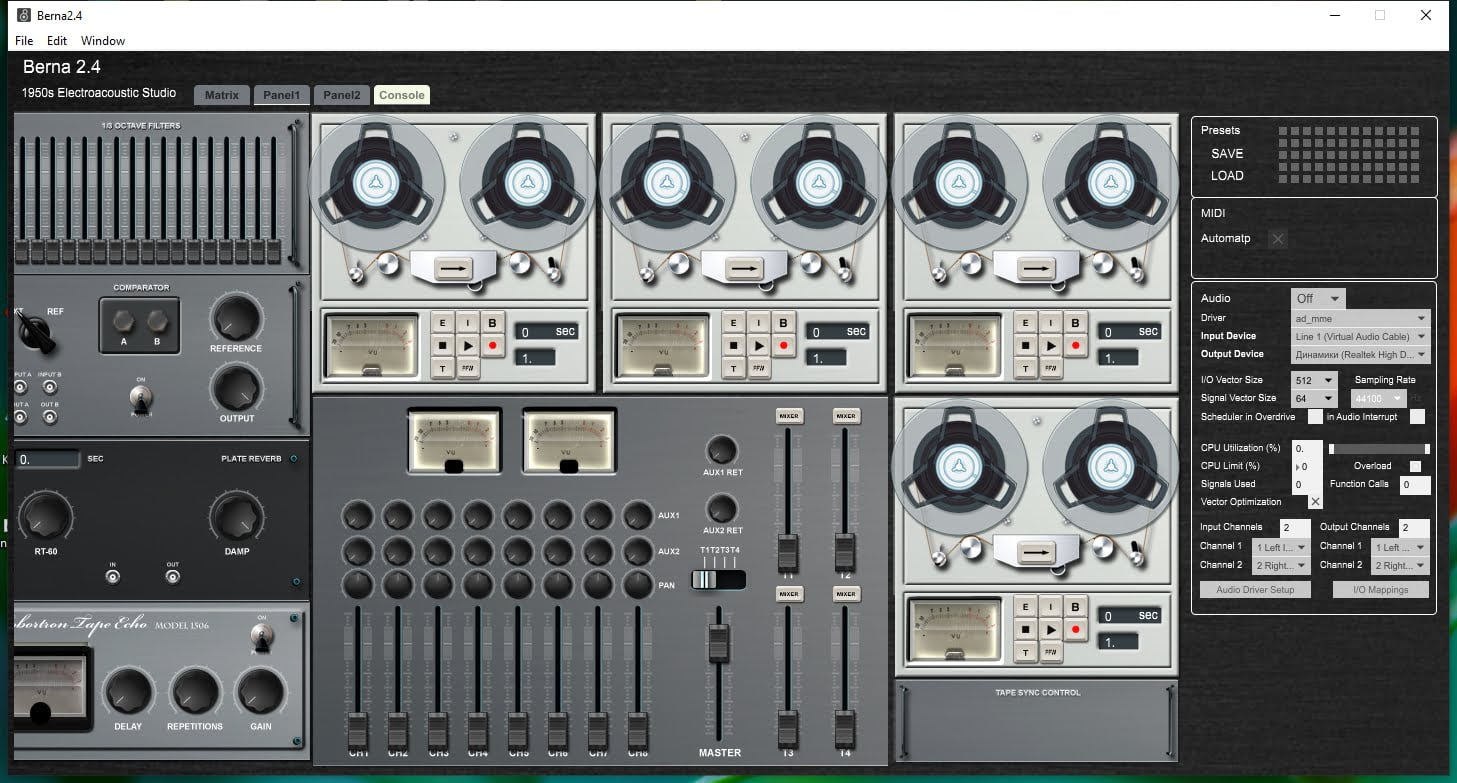 Year / Release Date : 04.2019
Version : 2.4
Developer : Giorgio Sancristoforo
Developer site : giorgiosancristoforo
Digit capacity : 64bit
Interface Language : English
Tabletka : present
System requirements : Windows 7, Windows 8 or Windows 10, 64-bit Intel® or AMD multi-core processor. Intel® Core ™ i5 processor or 8 GB or more recommended.
Description : Between the 1950s and the mid-1960s, long before Robert Moog and Wendy Carlos introduced electronics to pop music (with some exceptions, such as Barrons and Raymond Scott), electro-acoustic music was first introduced by European radio labs , in US universities and recording centers. Writing with magnetic tapes and electronics was a serious, painstaking and expensive endeavor, the prerogative of a limited music elite and adventurous sound producers. At that time there was no market for electronic musical instruments, in fact, most of the equipment was adapted from scientific instruments belonging to radio engineering departments.
Sometimes equipment was created from scratch, everything that had wires and lamps was used less often studios used several commercial tools available on those days, such as Melchord, Trautonium and Theremin. Contrary to what is happening today, then electronic music was not at all quick and easy to create. A few minutes of electronic writing could take months of work. Everything was done manually, from complex timbres with the help of several sinusoidal generators to tape mounting with scissors and tape. Even the sound curves were made by hand by cutting the edges of the tapes with varying degrees of inclination. ADSR Usachevsky has yet to invent!
BERNA is a software simulator of an electroacoustic music studio of the late 1950s. Generators, filters, modulators, tape recorders, mixers — all packed into an easy-to-use interface with historical accuracy.
Explore tape music or create strange new sound worlds with instruments inspired by the greatest studios of the early days of electronic music. Berna 2.0 not only has a new, stunning, realistic user interface, but also includes new processors such as the Comparator, 18-band 1/3 octave FilterBank and 18-band vocoder, plus a new tone generator, two dynamic modulators, a new reverb, a new frequency a shifter (with modulator input), a new FM generator (with modulator input) and 8 new complex generators!
Are you ready to meet the synth grandfather?