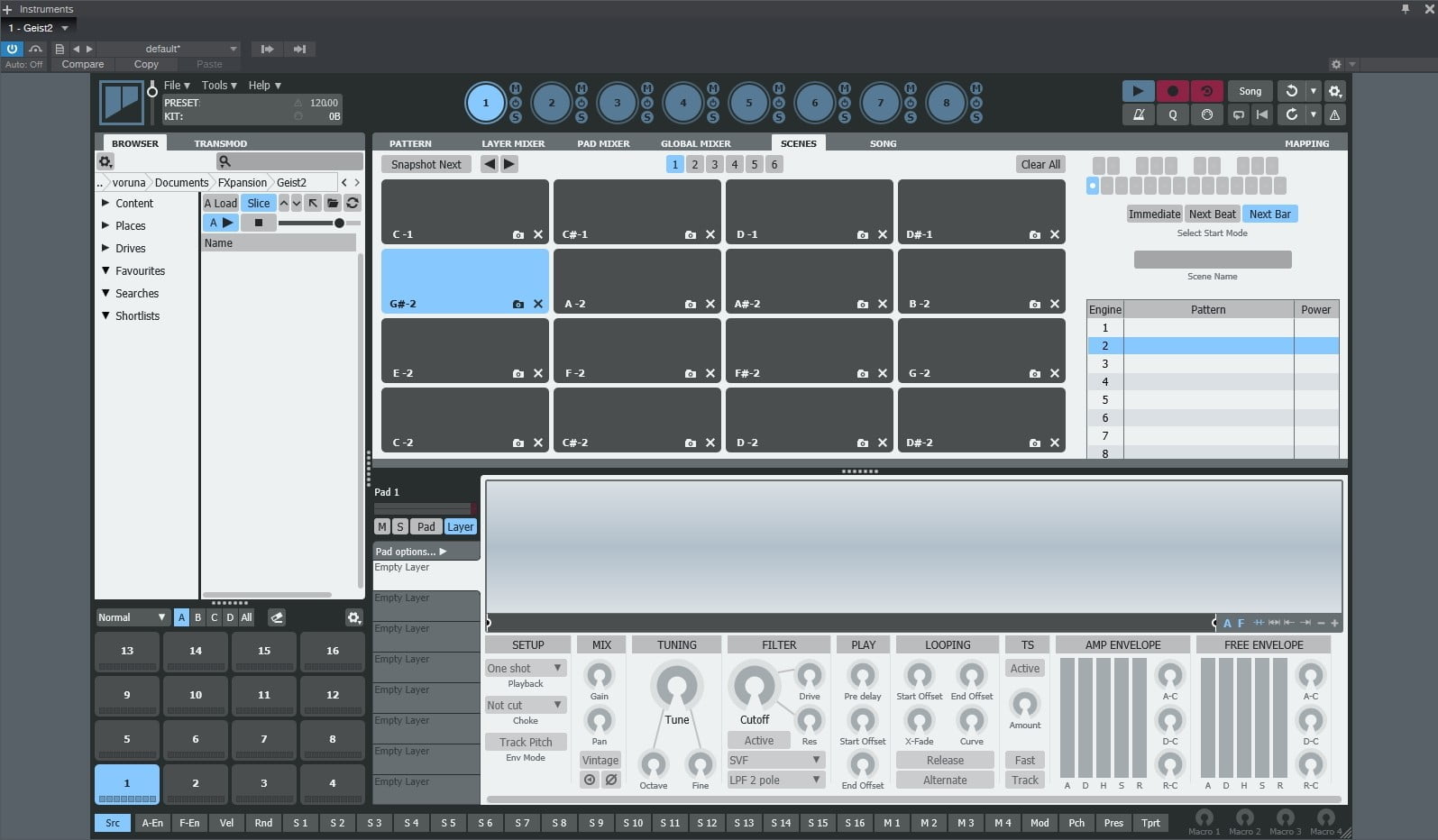 Year / Release Date : 10/30/2019
Version : 2.1.2.10
Developer : FXpansion
Developer's site : FXpansion
Format : STANDALONE, VSTi, AAX * (* MOD.)
Bit : 32bit, 64bit
Tabletka : cured
System Requirements : Windows 7 (Windows)
Intel Core 2 Duo 1.86ghz (minimum)
2GB DDR2 RAM (minimum)
Intel Core 2 Duo 2.53ghz and higher (recommended)
2GB DDR3 RAM (recommended)
---
Description : Geist is a new generation drum machine from FXpansion for sampling, designed to create advanced beats and grooves, freeing you from the restriction of pre-packaged loops and super complex DAWs.
Geist melts creative instrument samples with fast step sequencing and arrangement. Browse the sounds at lightning speed, and assign loops to the pads with a single click; sample, resample, and beat creation in a collaborative environment. Geist does difficult tasks with multiple applications a thing of the past.
FXpansion Geist works as a plugin and as a standalone program, great for creating bits. Exporting created audio clips or loading back to the resample plugin, reverse part, remix, rebuilds and transforms your beats in a new way. Geist is a complete, integrated rhythm production station for the studio!
Specifications :

Sampling rhythm production environment
Streamlined slicing, sampling & resampling
Use existing samples or record in direct to pads
Pattern and scene sequencing
Integrated song mode
Real-time record & retro capture
Powerful sample layering and sculpting
Diverse high-quality built-in effects
New algorithms from Bloom and Maul
Zynaptiq ZTX time-stretch / pitch-shift
Intuitive TransMod modulation
Parameter step-automation
Intelligent built-in browser
Full MIDI and audio export
Retina / 4K-compatible scalable interface
Sound library by Splice Sounds
AAX (64-bit only), 32/64-bit VST, AU and Standalone versions.
New in Version :

Resolved issues in Geist2 v2.1.2.10 (from v2.1.2.9):
[2.1.2.9] Fix a crash on Windows when saving.
[2.1.2.9] Fix dragging logic causing a crash in Geist2 when dragging files from external sources into Geist pads.
[2.1.2.9] Fix pad name not updating when loading a new sample onto a pad.
[2.1.2.9] Add information page to Geist installer about ending 32-bit VST support.
[2.1.1.3] Fix the window title in standalone changing from Geist2 to Geist when loading a preset.
[2.1.1.3] Fix typos in Windows installer.
Resolved issues in Geist2 v2.1.2.9 (from v2.1.1.3):
[2.0.2.4] When dragging notes in remix mode you cannot drag back to the original step
[2.0.7.45] Window size is not scaled correctly on Sierra clean install
[2.0.7.53] Audio not updated when exporting pattern for a second time
[2.1.1.2] Focus mode always enabled between layers
[2.1.1.2] Rearranging effects with CC mappings changes mapped parameter
[2.1.1.3] Broken application drawing after changing UI scale on Windows.
[2.1.1.3] Crash in Ableton Live when looping around 4 bars
[2.1.1.3] Crash when loading specific .wav files
[2.1.1.3] Pattern audio export can occasionally contain blocks of silence
[2.1.1.3] Metronome pre-roll doesn't work correctly when used as a plug-in
[2.1.1.3] Loading a sample with Auto load and ALT key pressed always picks the first layer
[2.1.1.3] Incorrect UI size after rejecting scale change
[2.1.1.3] Minimum window size is not scaled when changing UI scale
[2.1.1.3] OS Help menu not working on Mac
[2.1.1.3] Tooltip of "Show scene bank" button can be out of sync
[2.1.1.3] OS tab bar obscures UI on macOS

New features / changes in Geist2 v2.1.2.9 (from v2.1.1.3):
– Improved audio engine and GUI drawing efficiency
– Added ability to reset UI scale to 100% (plus a dedicated keyboard shortcut added)
– Added keyboard shortcut for reseting UI size to default
– Changed default number of undo steps from 1 to 20
– Updated license information in Installer
– Updated code signatures for Mac and Windows
– Update minimum Windows and Mac OS versions