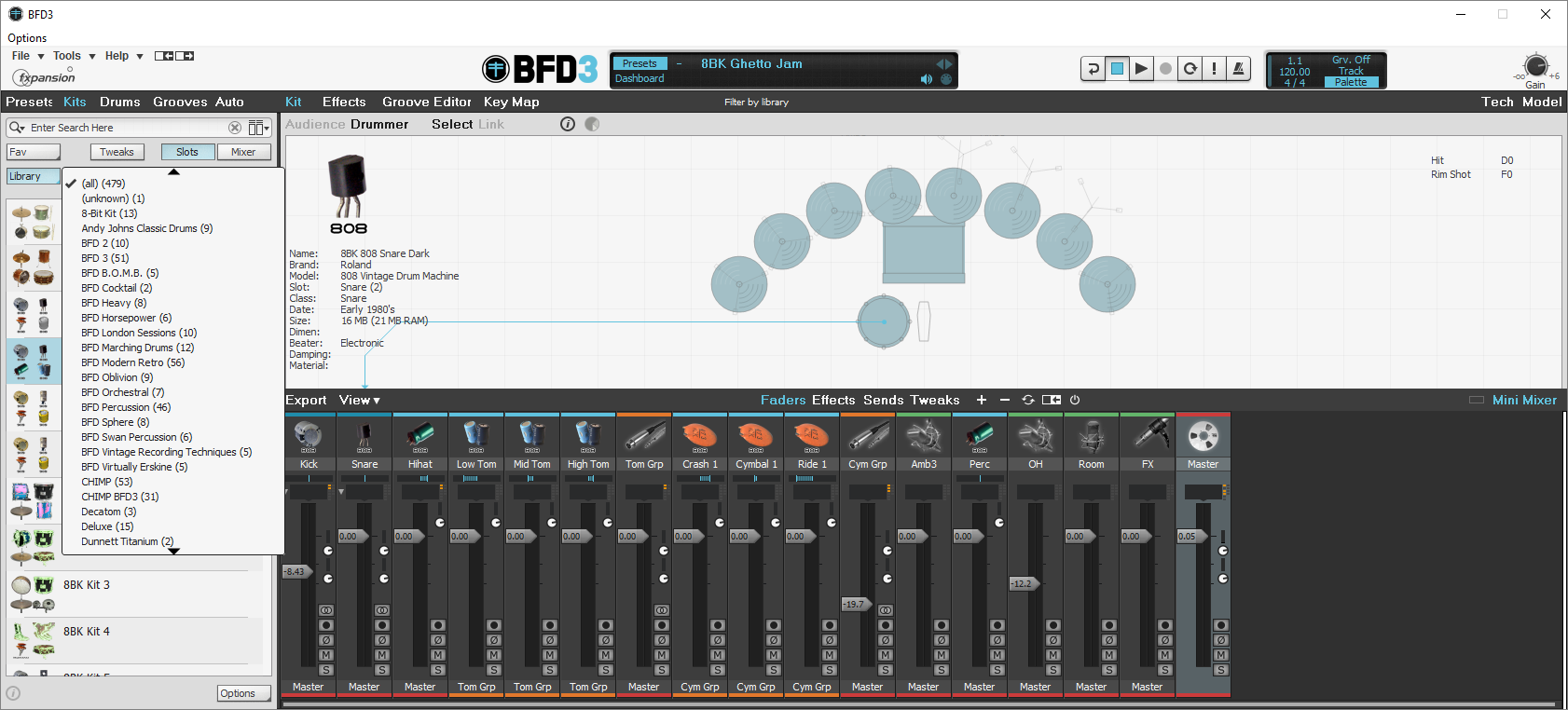 Publisher : FXpansion
Website : FXpansion
Format : SOUNDBANK
Quality : 24 bit 48 kHz stereo

---

Virtual drum kit. Unprecedentedly powerful and flexible environment for creating parts of acoustic drums on your computer. Ultimate realism and sound quality, quick and easy setup, full plug-in integration with your digital workstation This distribution includes 50+ libraries for the BFD3 drum module, namely 2355 Drums (40 processed), 684 Presets, 479 Kits, 4094 Grooves
All libraries were converted from .wav format to .bfdlac format (compression without loss of quality) with a bit capacity of 24 bits and have a maximum number of dynamic layers (velocity) from 127 to 256.
---

Some libraries require other installed libraries for full functionality.
The full size of all libraries is 552 Gb
******************************************** *******************************************
8 Bit Kit
Andy Johns Classic Drums
BFD2 Library (London Sessions)
BFD3 Core Library
Big Orchestral & Marching Band
Cocktail
Decatom
Deluxe Collection
Dunnett ti
Eldorado
Gretsch rock legends
Heavy
Horsepower
Imperial drums
Japanese Taiko Percussion
Jazz & funk collection
Jazz maple
Jazz maple bonus cymbals
Jex
Jim Scott Rock Drums Vol. 1
Jim Scott Rock Drums Vol. 2
Joe Barresi Evil Drums
Joe Barresi Evil Glamouflage Kit
Kabuki & Noh Percussion
London sessions
Manu Katche Signature Snare
Marching drums
Metal snares
Modern Drummer Snare Selects
Modern retro
Neil peart drums
Nick mason kit
Oblivion
Orchestral
Percussion
Rock tambourine
Sabian Digital Vault
Signature Snares Vol.1
Signature Snares Vol.2
Sleishman drums
Sleishman snares
Sphere
Stanton moore cymbals
Swan percussion
Black album drums
Vintage Recording Techniques
Virtually Erskine
Xfl
Yamaha Cases
Yamaha Maple Custom Absolute
Yamaha Oak Custom
Zildjian Digital Vault Vol. 1
Zildjian Digital Vault Vol.2
---

Installation:
1. First, create a folder, for example, the BFD Library and copy all the folders from the images into it and also copy 4 folders from the distribution: ~ Grooves ~ ~ Kits ~ ~ Maps ~ ~ Presets ~

2. With a fully downloaded distribution, everything should look like this: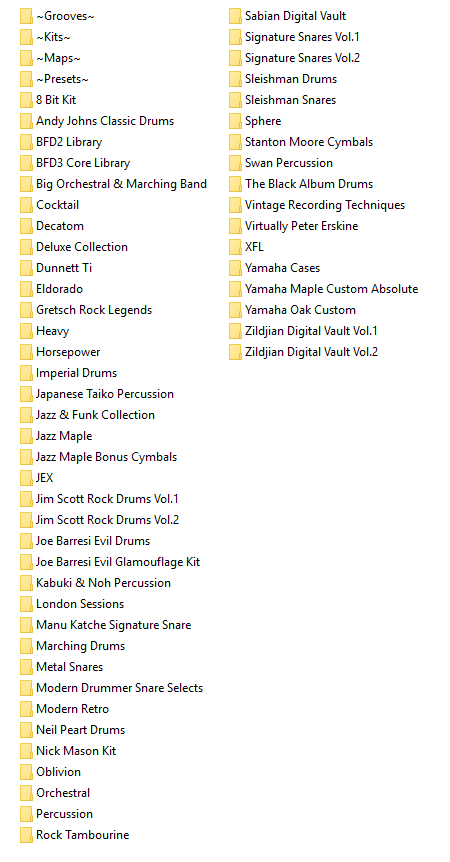 3. Next, you need to download the BFD3 module itself from another distribution (if you do not have one)

4. Run the file: BFD3 Installer Win.exe and install it.

5. Then run the file: LicenseManager 2.0.18.exe and install.

6. Go to the folder on the drive C: Program Files (x86) FXpansion LicenseManager and run LicenseManager.exe. In the window that appears, select Work Offline.

7. Next, in the Products that need authorization window, the line BFD3 appears. Click NEXT. The following window will appear in which you need to enter the serial number. Run KeyGen.exe and select BFD3 in it and click Generate Serial Number. The code that needs to be copied and pasted into the Serial Number Requested window is generated. KeyGen is not closing! Press NEXT twice and then NEXT again and select the desktop and save the file for subsequent authorization.

8. Click Cancel then OK in the Products that need authorization window.

9. Then click in KeyGen: Generate Auth file from Request File and select the file saved on the desktop (it will be in the FXpansion Authorization Request folder). Next, save the proposed file with the extension .auth to the desktop

10. Click on the Import tab in the LicenseManager and select the file from the desktop and open it. A window about successful activation will appear. Click OK and close LicenseManager and KeyGen

11. Launch the BFD3 plugin from the desktop or from the start menu. The BFD3 Content Locations window appears. Click the Search Folder … button and specify the folder with all the BFD libraries (the one into which all the images of the BFD libraries were unpacked)

12. Next, the scanning of all libraries will begin, you must wait until it is completed. To use.

---
NOTE :
Libraries no longer require activation! Activation requires only one BFD3 Core Library and all other libraries are linked to it automatically.
The BFD2 Library has only a few folders, all the rest have been deleted since there is a newer library called London Sessions
The distribution also contains the following extensions:
Vintage rock grooves
Dan Foord Polyrhythmic Metal
Heavy Rock Classics
Virtually Erskine Grooves
Stanton moore grooves
Japanese Taiko Grooves
JM Essentials Vol. 1
JM Essentials Vol.2
Platinum samples
Groove monkee
other
Duplicate tools have been removed, so it makes sense to download the distribution completely. Some libraries in the original contained whales and presets for both BFD2 and BFD3. Partially presets and whales from BFD2 were added.
The distribution was created from scratch and it fixed all the shortcomings that I made earlier.
---