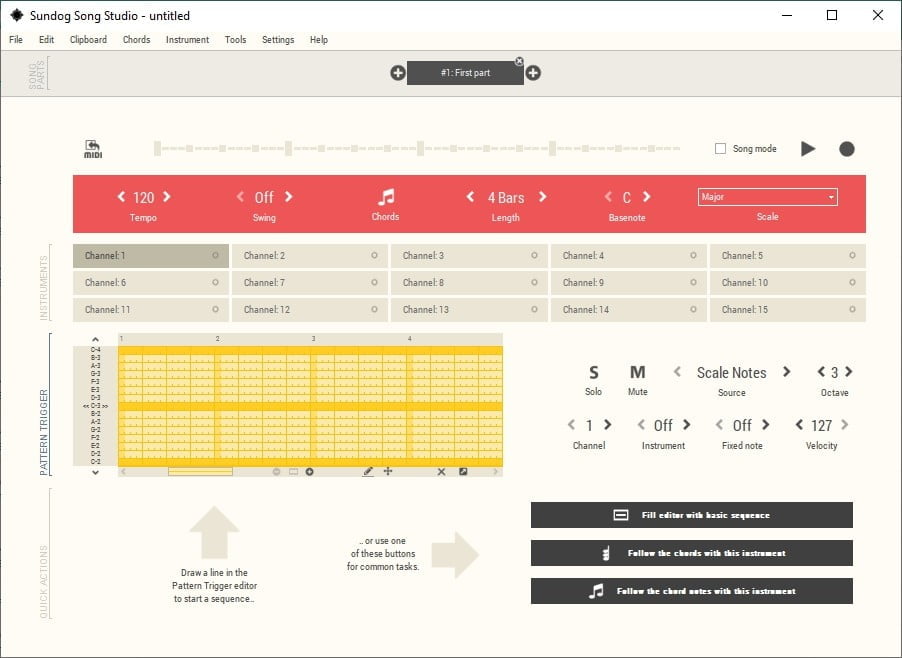 Year / Date of Issue: 08.2020
Version: 3.6.0
Developer: FeelYourSound
Developer site: feelyoursound
Bit depth: 32bit
Interface language: English
Tabletka: cured
System requirements: Windows Vista / 7/8/10.
32 bit bit supported.
---
Description: Get rid of creative exhaustion and lack of inspiration once and for all. Easily experiment with new scales, harmonies and melodies!
Use Sundog to playfully manipulate chords and base notes in one go. From calm, flowing, relaxing styles to energetic and upbeat tunes in seconds. We promise!
4 things that can make songwriting painful – Every song needs a good harmonic base. Once you have the chords, tweak the bass line and add some nice background melodies and you know for sure if it's going to be great – or just fuu …
But here's the catch … – Finding the essence of a song is like finding gold. It's a lot of work, often boring and annoying. Are you familiar with the following?
– You have all the instruments for the song, but you cannot find good chord progressions.
– You wrote all the chords and background melodies, but now you want to try different chords with suitable melodic patterns.
– You always use the same familiar keys and scales.
– You know exactly how the melody / arpeggio / bass line should be structured, and you get annoyed entering note by note to match the chords.
Wouldn't it be great if you could skip what's holding you back to experiment more? This is why we created a program that could help reduce friction between creativity and technical issues.
How can Sundog help you? – Sundog is designed to work with all major DAWs. All notes are output via MIDI. Once you've set up a virtual MIDI cable between Sundog and your DAW, you're ready to go. But even without a virtual MIDI cable, you can create new songs and phrases as Sundog contains its own factory set of sounds with over 100 instruments. And it can export MIDI files directly to other programs. The first thing you need to do is choose a scale and tonic. Take, for example, C major if you want to write a funny song, or E minor if you are writing a sad ballad. Just pick a scale and play a few notes. You will quickly sense the mood of the tonality.
In the second step, you switch to a dedicated chord view. You can listen to chords by simply pressing the buttons – and they will all match the scale you choose! Once you find some good chords, you can create a sequence. This will be the harmonic foundation of your song. Back at the main window, the real magic begins. You can use your mouse, MIDI keyboard, or computer keyboard to create new tunes. Anything you enter can be mapped to scale notes – great for leads! – or to the current notes of the chord.
Thus, your tunes will always sound harmonious! Now if you go back to the chord view and change some chords, all your melodies will be updated at once.
---