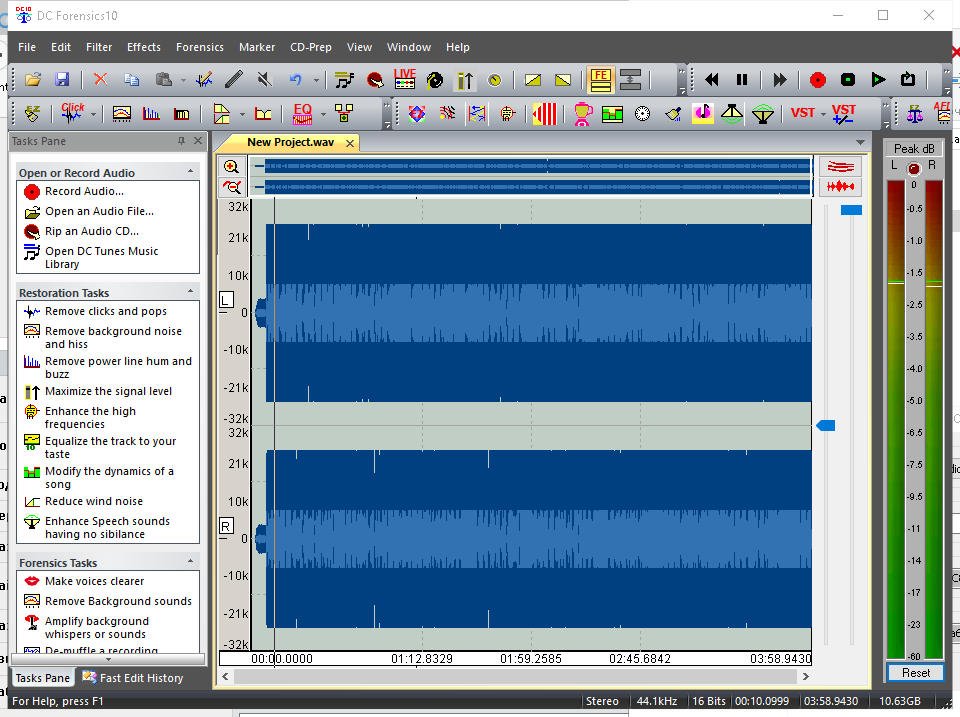 The field of Forensics Audio is complex from many perspectives.  The software programs required to address the needs in this field are quite complex in terms of the science and terminology involved.  It is also complex in terms of the experience required to obtain the desired results.  So, in a sense, Forensics Audio is both a science and an art-form.   Diamond Cut Productions, Inc. is pleased to announce their latest offering in this field called DCForensics10 Audio Laboratory which combines both the Science and Art of Forensics Audio.
DCForensics10 not only adds many new tools to the legacy product line, but focuses on ease of use.  A new Graphical User Interface provides a very intuitive way to interact with the power of the classic Diamond Cut Forensics Filters and Analysis Suites.   A new set of task panes steers the user to the correct solution based on their forensics audio goal or task.  Additionally, it incorporates many new descriptive presets for the various filters.  Tasks that may have been difficult to accomplish in the past are now easily approachable with new features (e.g. the Whisper Enhancer).
New Forensics Features
Forensics Audio Whisper Enhancer Filter (including 15 factory presets)
Spectral Frequency Tracking to aid in Audio Authentication
Audio Statistics Feature (Peak, RMS, Avg, pk-pk…)
Auto "Remove Silence" function for easier transcription of long surveillance files.
Forensics Histogram vs Time display added for analyzing entire files in a histogram domain.
Comparative Histogram allows comparison of statistical distribution of two areas of a file.
Subsonic Explorer feature to help find sub-audible events
Set a file Time offset for tracking time in multipart files.
  Direct Access to the Adaptive Frequency Domain Filter (AFDF)
Ease of use
Tasks Pane feature guides you to the correct filter
Updated GUI Appearance
Waveform Overview for quickly getting around in a file
One-Click Switch between Fast & Classic Edit Mode.
Paste Interpolate Icon button for easy waveform interpolation when working with tablet computers.
Larger Toolbar Icons
User configurable toolbars
Goto specific file locations
Customizable Keyboard Accelerators
Added docking windows for History Dialog box, VU Meter and File Information dialog boxes
Customizable Application Look
Quick access to Spectrogram or Histogram views from the main window
Changed the software application to follow various flavors of Windows.
Additions and Improvements to existing features
VST Hosting (Up to 6 VST Plug-ins Support) Added
AAC (Advanced Audio Coding) compressed audio file support for file extensions such as .aac, .m4a.
Over 1,950 Descriptive Factory Presets are now provided for ease in "getting started" with any given function.
Improved the audio quality of the Stretch and Squish (pitch and tempo change) system
Sampling Rate support extended from 192 kHz up to as high as 210 kHz providing up to 100 kHz Bandwidth capability.
32 New Paragraphic EQ Factory Presets Added
Added Hr. indicator to record time display
Low Frequency Shelf option added to the .Paragraphic EQ.