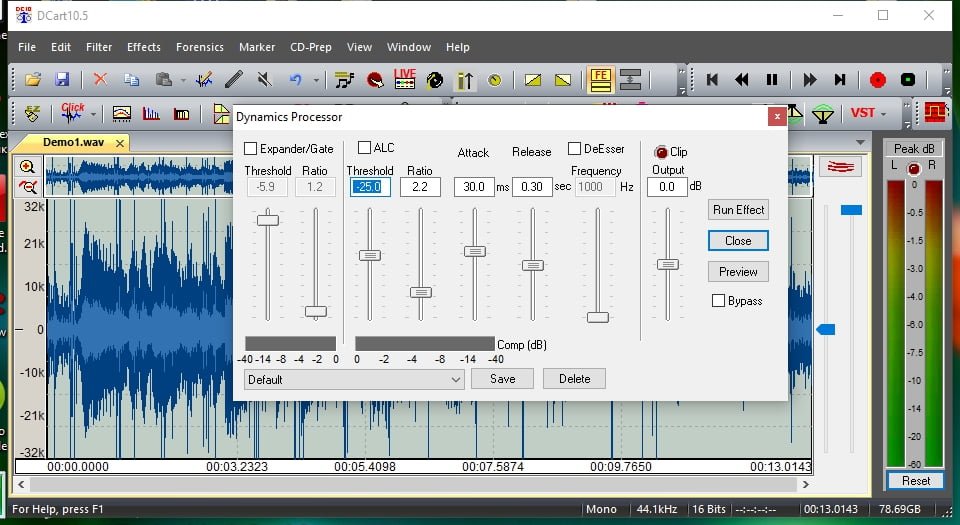 Year / Release Date : 04.2019
Version : 10.51
Developer : Diamond Cut
Developer site : diamondcut
Digit capacity : 32bit
Interface Language : English
Tabletka : present
System requirements : Microsoft Windows XP / Vista / 7/8 / 8.1 / 10
Description : Diamond Cut Audio Restoration Tools is a comprehensive set of tools designed specifically for restoring, improving and archiving sound. This extensive toolkit allows you to remove extraneous noise, as well as improve the sound from any source without degrading the contents of the original. Taking into account the balance between the level of removed noise from the source and the accuracy of sound reproduction, while maintaining amplitude-frequency and transient characteristics, the developers sought to provide the highest level of user control, while maintaining ease of use of parameters that affect the restoration process and improve sound.
Professional sound engineers, audio archivaries, radio amateurs and lovers of good sound reproducing equipment use Diamond Cut Productions solutions for remastering, editing, removing noise and analyzing sound signals in their work. It is also used by many local, state, and federal government agencies, including for examination during military intelligence operations, often under surveillance. Forensic engineers in the private sector use forensic voice records and tapes with recordings of intercepted audio information. Radio and television networks liked the real-time signal processing function (Live Mode). In addition, this software is used in many technical colleges and universities as part of the laboratory work of some coursework related to digital signal processing (DSP) applied methods.
Specifications:
Ease of Use
• Green Zones to guide filter slider settings
• Tasks Pane feature guides you to the correct filter
• Updated GUI Appearance
• VST Hosting (VST Plug-in Support)
• Waveform Overview
• Tabbed display or traditional multi window view
• Larger and completely configurable toolbar Icons
• One-Click Switch between Fast & Classic Edit Mode
• Edit mode.
• Quick access to Spectrogram or Histogram views from the main window
• Changed the software application "look" to follow various flavors of Windows
• Paste Interpolate interpolation when working with tablet computers.
• Easy check for updates from the help menu
• Customizable Keyboard Accelerators
• Customizable Application Look
Additions and Improvements to existing features
• Wind Noise Filter
• VST Hosting (Up to 6 VST Plug-ins at a time)
• AAC (Advanced Audio Coding) compressed audio file support for file extensions such as .aac, .m4a, etc.
• Vertical setting for Virtual Phono Preamp
• Improved audio quality of the Stretch and Squish (pitch and tempo change) system.
• Low Frequency Shelf option added to the Paragraphic EQ.
• Over 2,000 Descriptive Factory Presets are provided.
• Provides up to 100 kHz Bandwidth capability.
• Set New Start Time for File feature added.
• Set a file for multipart files.
• Added offset capability for a more natural sound.
• Added "Delete All Filters" right menu option to the Multifilter