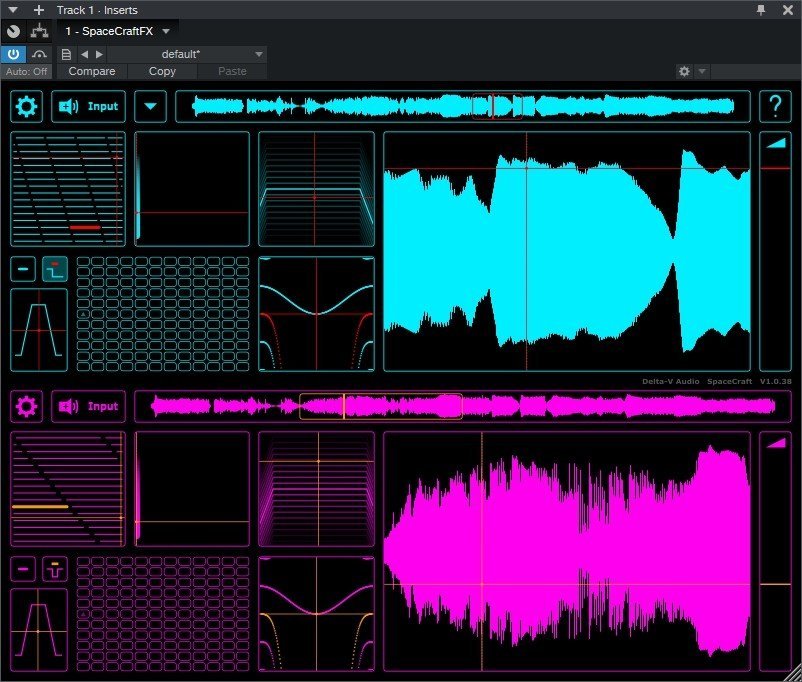 Year / Release Date: 09.2019
Version: 1.0.38
Developer: Delta-V Audio
Developer site: deltavaudio
Format: VSTi, VSTi3, AUi
Bit depth: 64bit
Tabletka: present | R2R
System requirements: Windows 7, 8, 10 macOS 10.11 or Later
64-bit Intel Core 2 Duo 2GHz Processor 2GB RAM (4GB Recommended)
Distribution updated: replaced with release from R2R, added version for macOS.
---
Description: Easy to use, powerful in sound!
Delta-V Audio's hugely popular iOS app has arrived for the computer! SpaceCraft Granular Synth is well known for inspiring creative flight. Two parallel granular slides provide frequency / bead length control, LFO position, stereo reverb / filter, and pitch modulation / ring modulation. An innovative pitch sequencer, MIDI / MPE and real-time sampling capabilities open up new depths of performance and expression.
Innovative Granular Engine – The pitch of the audio cuts is controlled by a unique note / granule sequencer arpeggiated grid that contains a wide range of Styles covering classic granular effects, lush sample layering and organic rhythmic effects. More than 24 scales provide many melodic possibilities. With the XY granule control, you can seamlessly transition from granular chords and drones to arpeggiated rhythmic sequences.
Elegant One-Page Graphical Interface – The focusing graphical interface encourages a creative, interactive experience. With carefully selected components presented in a single page layout, the user can quickly immerse themselves in sound design without the need for lengthy settings and displays – all in front of you. Interactive visualization with a choice of fifteen color themes provides a captivating audiovisual experience.
MIDI and MPE – Any sample loaded or recorded in SpaceCraft instantly becomes a playable MIDI or MPE instrument without the need for mapping configuration. When connected to an MPE device, SpaceCraft becomes a tactile, exploratory experience that allows you to create expressive pads and melodies: 16-note polyphony provides pressure control on each note, pitch bend (Glide), and granule position modulation (Slide). Modulating the position of the bead above the sample (using a slide) allows you to express the timbre caused by the timbre changes in the sample itself.
---