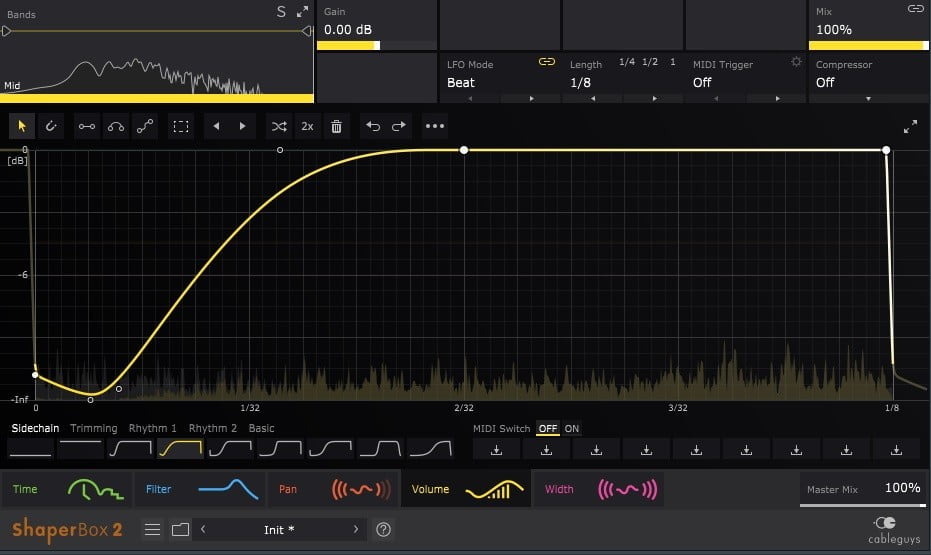 Year / Release Date: 09/23/2019
Version: v2.0
Developer: CableGuys
Developer's site: www.cableguys.com/
Format: VST
Bit: 32bit, 64bit
Tabletka: cured
System requirements: Windows 7, 8 or 10 VST host sequencer 32- or 64-bit
---
Description: Five powerful Cableguys effects in one plugin. For modern mixes and endless inspiration.
With five powerful Cableguys effects – TimeShaper 2, VolumeShaper 6, FilterShaper Core 2, PanShaper 3 and WidthShaper 2 – ShaperBox 2 creates amazing musical, rhythmic effects and helps solve complex mixing problems. Explore over 1,000 professional presets and share patches through the Cableguys cloud.
Add. information:
• New! Retina / HiDPI support for sharper graphics.
• On-line help – hover over any control for a description.
• Extensible LFO for detailed editing.
• Set the LFO length in measures and hertz or by MIDI note.
• LFO loop length from 1/128 to 32 measures with synchronization accurate to the sample.
• Modulation of sound speed up to 5.24 kHz for extreme sound design
• Start LFO in any rhythm using MIDI notes.
• New! Smoothing the trigger to reduce clicks when MIDI is triggered.
• Large, accurate oscilloscope with the Freeze option.
• New! Oscilloscope Amplitude mode for easy envelope adjustment.
• New! A smoother and more accurate view of the spectrum.
• New! Special selection tool for multi-node editing.
• New! 2x / 3x button – double / triple pattern in a click.
• Flip / resize / move / randomize a wave or selection.
• Copy / paste waves between any shapers.
• Unlimited undo / redo for editing LFO waves.
• 9 slots for storing custom waves saved with the patch.
• Switching user waves through MIDI.
• Dry / wet mix in each shaper to balance effect.
• Band solo and sidechain solo, for easy tuning.
• New! Increased multi-band separation range, now from 20 Hz to 20 kHz.
• New! External side entry for envelopes / compressors.
• New! Envelope / compressor input filters for frequency-sensitive response.
• New! The envelope threshold is therefore only loud signals cause the envelope.
• New! Depth x2 / x4 / x8 for envelopes, to enhance the modulation strength.
• New! Adaptive release mode for envelopes / compressor.
---