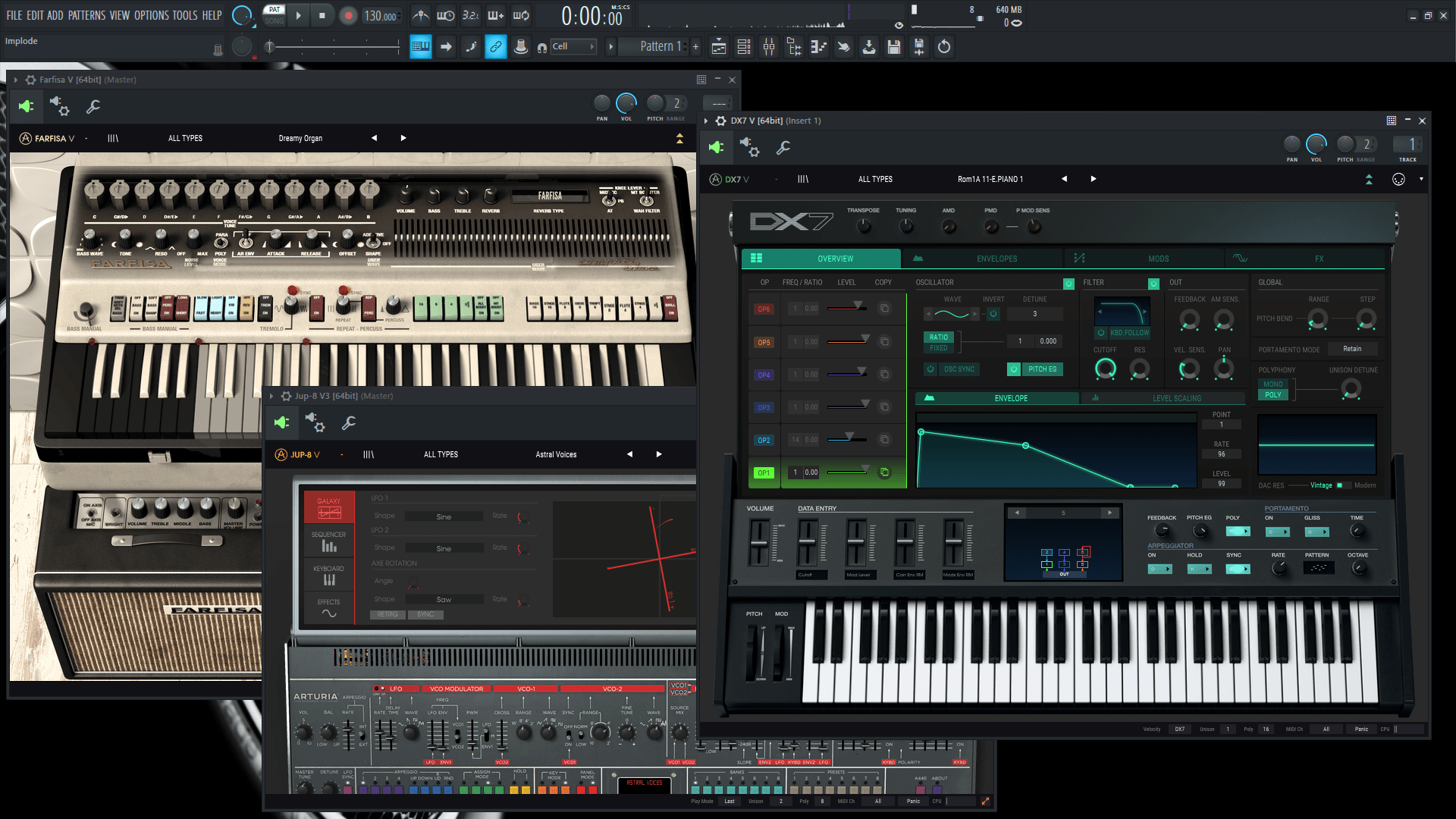 Year of release: 2018
Version: 6.2
Address of. Website: Arturia
Build author :
Interface Language: English
Treatment: not required (the installer has already been treated)
System requirements:
Windows 7, Windows 8, Windows 8.1, Windows 10
Processor: 2.0 GHz
RAM: 4 GB
Hard Disk Space: 8GB
---
Description:
More than 6,000 keyboard sounds, 170 drum kits, 17 software instruments, considered a milestone in the music industry, V Collection is a solution for professional musicians who value quality and time.
You will find synthesizers, organ, electric pianos and string machines in this amazing collection of 12 instruments.
You will receive not only the precisely recreated character of the sound of these legendary instruments, but also a similar user interface that has been making and making them leaders in the studio and on the stage for many years.
Composition and additional information:
Analog Lab 3 v3.2.1.1819
ARP 2600 V3 v3.3.1.1782
B-3 V v1.3.1.1782
Buchla Easel V v1.2.1.1782
Clavinet V v1.2.1.1782
CMI V v1.2.1.1782
CS-80 V3 v3.3.1.1785
DX7 V v1.2.1.1797
Farfisa V v1.3.1.1782
Jup-8 V3 v3.3.1.1782
Matrix-12 V2 v2.3.1.1784
Mini V3 v3.3.1.1782
Modular V3 v3.3.1.1782
Piano V2 v2.1.1.1786
Prophet V3 v3.3.1.1782
SEM V2 v2.3.1.1782
Solina V2 v2.3.1.1782
Stage-73 V v1.3.1.1782
Synclavier V v2.0.1.1815
VOX Continental V2 v2.3.1.1782
Wurli V2 v2.3.1.1782
Synclavier V is a tool that accurately recreates and enhances the capabilities of a digital synthesizer that participated in the creation of the biggest hits and soundtracks for films of the early 80s.
Its unique blend of additive and FM synthesis technologies is created for a stunning variety and unique universe of cinematographic linings and evolving timbres.
Piano V presents nine world-class pianos to you, ranging from a concert grand piano to a studio piano and unconventional designs.
All instruments are based on modeling technology applied to sound and mechanics – string, hammers, mixer, microphone positions and much more.
B-3 V presents you the king of electronic organs, the richly sounding B-3, which was the basis of jazz, gospel, hard rock and reggae, and has stood in every professional studio around the world – for more than half a century.
His electromagnetic tonewheel design gave him strong qualities that the later transistor organs no longer had.
Farfisa V is lighter than Hammond and sharper than Vox, this transistor organ has helped to amplify the sparkling sounds of the top 40 hits of the 60s and has been supporting a boil of optimistic genres so far.
This virtual analog has grown to a synthesizer, and can use custom waveforms, synchronized tremolo / repeat, has more envelope control and built-in effects.
Stage-73 V is an electric pianos of the 60s and 70s with a rounded sound and a long core, which has always been favorably distinguished by the Wurlitzer.
This instrument was popular with almost every keyboard player, especially in jazz, funk and ballads.
The Stage-73 V accurately models the Stage 73 and Suitcase 73 models, all up to a clove, a pickup and a circuit, and also includes an extra tube amplifier and classic effects.
DX7 V offers you authentic 1983 FM digital synthesizer emulation, which earned an honorable place in keyboard history.
This software version expands the capabilities of the hardware brother with new waves of operators, advanced modulation, arpeggiator and built-in effects.
Buchla Easel is an emulation of the 1973 analog synthesizer that changed the way you create sounds with parameters focused on performance, focusing on the art of being a recording artist.
Clavinet V is perhaps the most famous electric keyboard instrument of all time, the legacy of clavinet everywhere.
Released by Hohner in the mid-60s, its funky energetic timbre gave birth to countless genres for decades, from disco and R & B to progressive rock and pop music.
CMI V is known, above all, as the progenitor of all samplers and the innovative additive synthesizer.
Fairlight CMI really redefined the production of pop music after its release in 1979.
Analog Lab 3 includes the classic sounds of all V Collection instruments in one convenient interface, this is the perfect launch pad for your creativity.
Thanks to the new browser, new modes and maximum integration of the keyboard with the controller, searching for the perfect sound from more than 6000 presets has never been easier and more fun.
Piano V 2 is the second version of the piano based on physical modeling, which has undergone a complete revision.
The new version contains three additional piano models, including the Japanese Grand, Plucked Grand, Tack Upright, improved microphone positioning, an improved equalizer, and a new juicy stereo delay and compressor.
What's new in 6.2:
The collection of the next step in terms of features, stability, and integration.
Synclavier V?
There was no need for more software, but it was also the most reliable collection.
Huge Synclavier V update
Collection of the Vision 6.2 is the most exciting overhaul of the Vision 5 Collection, the version of the Vision 5
• RESYNTHESIS: Synclavier V 2, now contains a resynthesis engine.
Sounds complicated to use, but it couldn't be simpler.
This will be a synchro-sounding pattern.
It can be augmented and processed.
• SAMPLE PLAYBACK: It's possible to use it.
A great way to make retro "hit" sounds, big textural pads, and quirky vocal hooks.
• The NEW PRESETS & SAMPLES: not only does it.
• INTERFACE REFINEMENTS: Ensure that you have been able to ensure that you have been able to make the most of your experience.
KeyLab MkII integration
The Collection 6.2 of the next generation controller keyboards.
A few handy shortcuts to KeyLab MkII.
For example, clicking "Clear All" on the preset browser list.
Presets refined
Sound Banks have been approved.
RIP headphone users?
Not anymore.
You have been informed that you're informed of preset choices on tone, rather than an impressive volume.
Bug fixes
Arturia 's developers are always working in the V 6.2 Collection.
Since the last update, we have resolved hundreds of issues.
Here are some of the key issues in this update:
• Komplete Kontrol / Maschine NKS performance improved
• No more crashes when a "Song Select" MIDI message is received
• No more cracks and glitches when modifying the effect of dry / wet parameters
• Live 10 doesn't crash anymore when browsing presets from the AU version
• FL Studio on Mac OS
• Preset navigation using KeyLab Essential now works correctly in Studio One
• Faster sample loading times for CMI and Synclavier V sounds in Analog Lab
• You can no longer save in the purchased Sound Banks.
• No more audio peaks when switching preset while playing
For collection, check out the V Collection 6.2 release notes, found here.
For the void, it is the flagship of the 21 series.
For music and entertainment.
Arturia's skilled developers then use their award-winning hardware.
A classic 70s monosynth can be transformed into a touch of a button;
can be turned to glass;
A complex modulation matrix can be seamingly simple instrument.
All this, with world-class interfaces, amazing integration, and drop-dead gorgeous GUIs.
Sponsored Links
Difference from the official version:
Installer is treated with TEAM VR