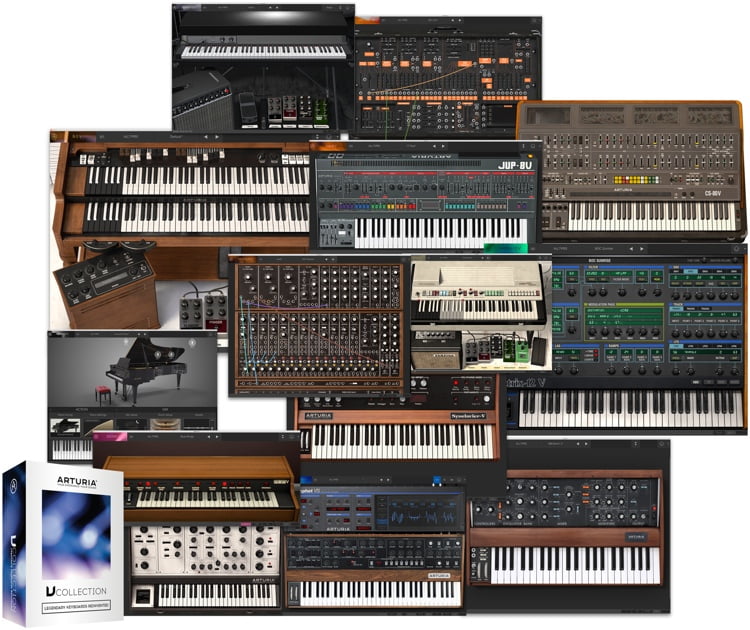 V Collection 5
LEGENDARY KEYBOARDS REINVENTED
17 authentic recreations of the legendary synths, organs, electric pianos and more that made music history—enhanced to help you make tomorrow's music.
V Collection 5 is your one-stop dream collection of the legendary keyboards behind many of the hits ranging from 60 years ago to 6 minutes ago. Our award-winning modeling technology faithfully reproduces the way the original components behaved, delivering the very soul of these instruments in a way that samples simply can't.
We also took giant leaps in augmenting them with features the hardware inventors never dreamed of—like bringing polyphony to the mono synths you've always loved. With over 5000 designer presets, the included Analog Lab 2 makes it easy to harness all that power to find just the right sounds for your sessions and gigs.
All-star keyboard lineup
V Collection 5 gives you every classic keyboard you've ever dreamed of owning.
Do you prefer a Stage 73 or a Wurli? Did that classic song have a B3, Continental or Farfisa? Would a Mini, 2600, Modular or Matrix sit better in this track? Now you don't have to choose, because V Collection 5 puts every major keyboard you've ever lusted after right at your fingertips, all with faithful realism. Each one of them has inspired countless hits—and we can't wait to see what you do with 17 of them.
With V Collection 5, you own a complete stable of the greatest thoroughbred keyboards of all time.
Main Features
● Includes 17 software titles: Analog Lab, Synclavier V, B-3 V, Mini V, Piano V, Stage-73 V, Matrix-12 V, Farfisa V, Solina V, SEM V, Wurli V, Jup-8 V, ARP 2600 V, CS-80 V, Prophet V, VOX Continental V, Modular V
● Each virtual instrument in the V Collection can be used as a stand-alone application or as a VST, AU or AAX plug-in
● Redesigned browser for fast access to sounds
● High resolution graphic interfaces, compatible with very large displays
● All instruments share a common interface for browsing, editing (save, import, export, …)
● Easy MIDI mapping to any keyboard controller.
● Easy install and licence manager : Arturia Software Center.
● More than 5000 high-quality and innovative sound presets.
● Analog Lab 2 – All presets of the V Collection 5 can be browsed and edited from a single interface
● Arturia's proprietary technology, TAE®, ensures that each analog modeling instrument sounds and behaves exactly like the original.
● Manuals in English, Japanese and French
Includes:
Analog Lab 2.2.0.0.871
ARP 2600 V 3.3.0.0.865
B-3 V 1.0.0.865
CS-80 V 3.3.0.0.865
Farfisa V 1.0.0.865
Jup-8 V 3.3.0.0.866
Matrix-12 V 2.2.0.0.866
Mini V 3.3.0.0.865
Modular V 3.3.0.0.865
Piano V 1.0.0.867
Prophet V 3.3.0.0.870
SEM V 2.2.0.0.866
Solina V 2.2.0.0.865
Stage-73 V 1.0.0.867
Synclavier V 1.0.0.865
VOX Continental V 2.2.0.0.866
Wurli V 2.2.0.0.865
INSTALLATION:
1. Remove the previous version
2. Create a virtual disk from ARTURIAV500.iso
3. Before installation, copy the folder to the Arturia "% PROGRAMDATA%" (usually "C: \ ProgramData \ Arturia \"). It will take some time, for 350,000 files.
4. You can then run the installer.