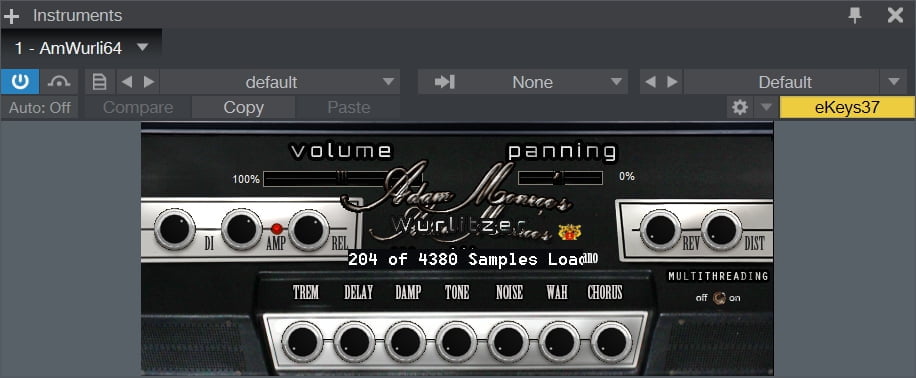 Year / Release Date : 09.2019
Version : 2.0
Developer : Adam Monroe Music
Developer's site : adammonroemusic
Format : VSTi, AAX, AUi, KONTAKT
Bit : 32bit, 64bit
Tabletka : cured
System Requirements : 32 or 64 Bit Windows Vista or higher / OS X 10.8+
(64 Bit Windows 7/8/10 or OS X 10.9+ recommended)
4 gigabytes of ram
(8 Gigabytes recommended)
Intel Core 2 DUO @ 3GHZ or higher recommended.
Firewire or PCI-based Audio Interface recommended
Protools 11/12
---
Description : Adam Monroe's Wurlitzer is a virtual instrument, an early 1970s model of the Wurlitzer 200A. The process began with a subset of the Wurlitzer's built-in piano speakers using the Beyerdynamic MC930 condenser microphone and the AEA R84 tape microphone via the line output via Reverb Amp Fender Deluxe. These signals were applied to the Grace M101 and AEA TRP preamps. The signals from the wurlitzer amplifier and preamplifier were summed, in an attempt to maintain gain. But about halfway through the sampling process, the amplifier died, which ultimately killed the power transformer. The preamplifier, amplifier, and power transformer were replaced and sampling continued. When the sampling of bass notes began, it became apparent that the Wurlitzer's built-in speakers also needed to be replaced.
When sampling, low frequencies strongly dominated, so the samples were processed with an equalizer, so that later it would be possible to better place them in the mix. It was the most temperamental instrument we have ever sampled!
Simple linear distortion was added to some samples, and some also have built-in reverb.
---