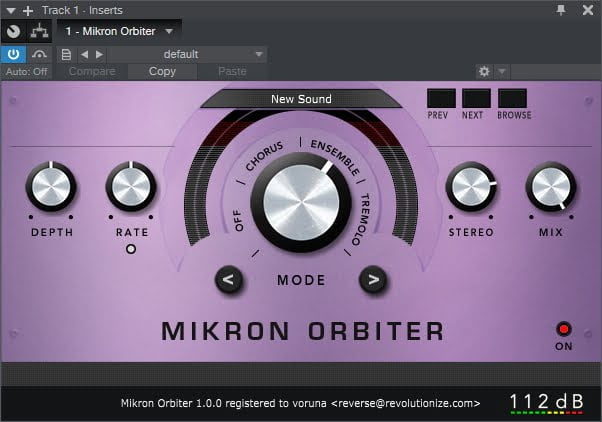 Year / Release Date : 01.2020
Version : 1.0.0
Developer : 112dB
Developer's site : 112db
Format : VST, VST3, AAX
Bit : 32bit, 64bit
Tabletka : present
System Requirements : Windows: 7, 8, 10 | Mikron Phaser supports Native Instruments' NKS format.
---
Description : A plugin that simulates the effects processors of string synthesizers Eminent Solina and Unique 310
Mikron Orbiter was modeled after the unique electronic organ Eminent 310: chorus, tremolo and ensemble. Of these, the effect of the ensemble is by far the most famous, in large part because it is not only used by Eminent. The strings of the outstanding Eminent organ were so popular among musicians at the time that the ensemble section was reused to form the core of the string Solina (renamed the USA as ARP String Ensemble).
This affordable and easily transported synthesizer has become so popular that it was used in almost every group in the seventies, from Pink Floyd to Herbie Hancock. And not only the seventies, in subsequent decades it can also be heard in many albums. The Cure, Kim Wilde, Abba, Brian Eno, Air and Gorillaz are just a few of its famous users.
While we tried to recreate the sound of the original effects as accurately as possible, we added a few knobs to make them more versatile. You can control the width of the stereo field and mix between the raw and the processed signal. In addition, you can change the depth and range.
When you leave the Depth and Rate controls in their default settings, you get a close approximation to the original Eminent / Solina sound. However, changing these values ​​can be useful to create a small variation for the different instruments through which you will effect. In the end, you are not limited to a few basic sounds that came with the organ.
You can make a smooth transition between different modes, for example, the transition of effects in the speaker Leslie. This feature is so convenient that it makes you wonder why the creators of Eminent did not add it.
---