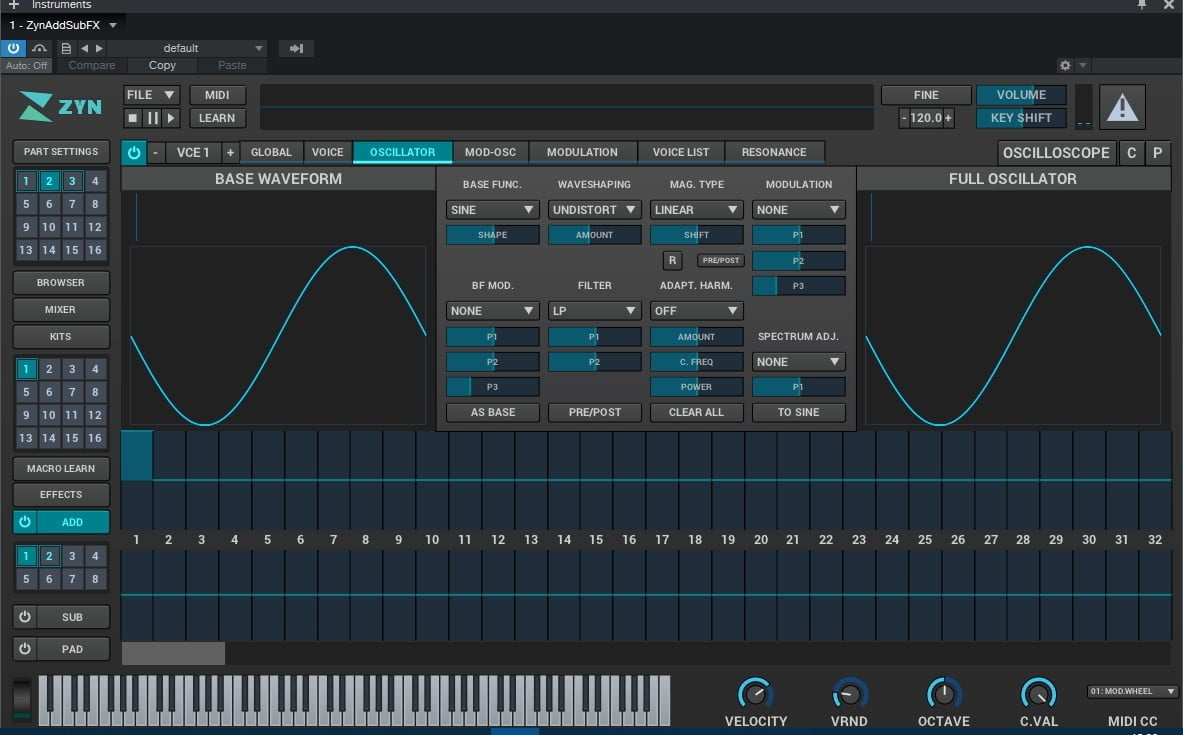 Year / Date of Issue: 09.2021
Version: 3.0.6
Developer: ZynAddSubFX
Developer site: zynaddsubfx
Format: STANDALONE, VSTi
Bit depth: 64bit
Tabletka: cured | P2P
System requirements: Host with support for VST x64 plugins
---
Description: ZynAddSubFX is a full-featured software synthesizer capable of creating countless instruments, from some commonly found on expensive equipment to interesting sounds that you will turn into an amazing sound universe.
Combining years of meticulous sound design heritage with an all-new interactive user interface. More stable than ever, the audio-powered nuclear power plant is paired with a redesigned, reimagined interface that extends total control over sound design. ZynAddSubFX 3.0 is ready to create the sounds you want.
The ZynAddSubFX synthesizer project was first released almost 15 years ago by Paul Nazca Octavia with such an incredible feature set (warm analog sound, powerful modulation and a complete set of onboard effects) that it has quickly become the benchmark for what such software is capable of. Add to that the fact that it was free and open source and you can see why Zyn is still relevant a decade and a half later. With years of active maintenance and refactoring completed for version 3.0, Zyn-Fusion is a modern, classic sound workstation.
Zyn was plagued by a difficult to use interface and unstable unofficial plugin versions. Fusion addresses these issues by completely rewriting and rewriting it. With a new set of customizable windows, Zyn is now ready for any platform. By completely decoupling the UI from the synthesis engine, Zyn-Fusion provides powerful features such as a new officially supported version of the VST plugin, remote control of a standalone processor using a touchscreen UI, even multiple UI windows controlling a single sound engine. … By combining 28 control windows into one, Zyn is now managed through a single tabbed window for a consistent and navigable interface. You think you've heard these sounds before, but you've never had such precise control as in Fusion.
Specifications :
Polyphonic with support for legato and mono playing modes
Three synthesizer engines:
Additive Synthesis for classic synth sounds composed of a variety of voices with powerful modulation. This exposes modulators ranging from LFOs and envelopes to oscillator modulators for FM, PM, and AM.
Subtractive Synthesis for creating variable bandwidth harmonics from filtered white noise
PAD synthesis for creating beautiful pads and other instruments
Powerful waveform generator with up to 128 sine / non-sine harmonics
A variety of filters including analogue modeled filters, formant filters, and state variable filters.
Envelopes can have ADSR (or ASR, etc ..) modes or can be free modes (with any shape)
Effects for Reverb, Echo, Chorus / Flange, Phasing, Wave-shaping, Equalizing, Dynamic Filtering with flexible signal routing
Instruments can be organized in kits, which allows you to make drum kits or layered instruments; this makes possible to use more than one instrument for a single part. It is possible to choose what items from the kit should be processed by the Part's effects.
Randomness settings to create subtle differences in each sound to help create that familiar analogue warmth.
Microtonal capabilities with any scale, up to 128 notes per octave, and key mapping
Extensive MIDI / Audio driver support including JACK, ALSA, OSS, and PortAudio
A built-in Virtual Keyboard which can be used even if you don't have a physical midi keyboard
The graphical user interface can be completely disabled if the user need so
Session Management Support via LASH / NSM
Plugin Support via DSSI / LV2 / VST
Over 1100 high quality instruments included
---