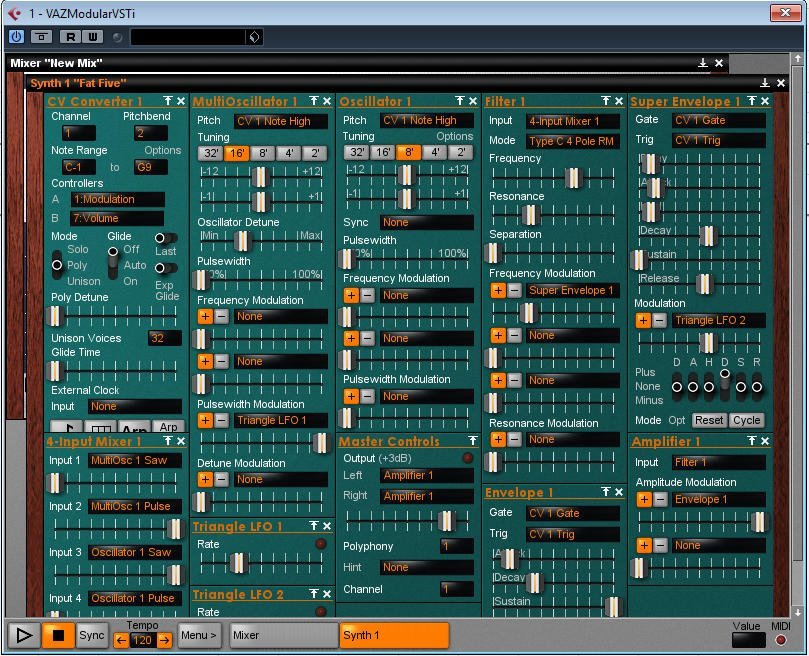 VAZ Modular is a VA modular softsynth designed to allow an immediate workflow similar to an analogue modular, but with the additional ability to add and swap around modules on the fly. Over 120 modules are included, covering a broad range of VA features but also digital emulations such as phase modulation and phase distortion oscillators, sample, wavetable and granular timestretch playback. Recent additions include a series of West Coast-style modulators including Slope, Stepped and Smooth.
Features:
Virtual modular synth with immediate, single-layer interface for rapid experimentation.
Pure audio-rate synth engine: connect any output to any input.
Over 120 different modules.
VA analogue emulation modules including Filter K and Filter R "character" modules.
Sample playback with multi-samples, wavetable, granular timestretch.
Sine Oscillator (PM), Cosmo Oscillators (PD) digital synth emulations.
Process external audio inputs.
Mixer to combine 16 synths and process with both integrated and plug-in effects.
More possibilities than can reasonably be described.
Changes:
(3.2.5)
– CV Converter: fixed slide overshoot
– Filter: fixed Learn for 3rd parameter
– Multi Osc: fixed phase alignment after polyphony increase
– Pulse Divider: fix to avoid side effects when adding or removing modules
– Trigger Sequencer: fixed keyboard control of step gates
– Voice Select: fixed MIDI control