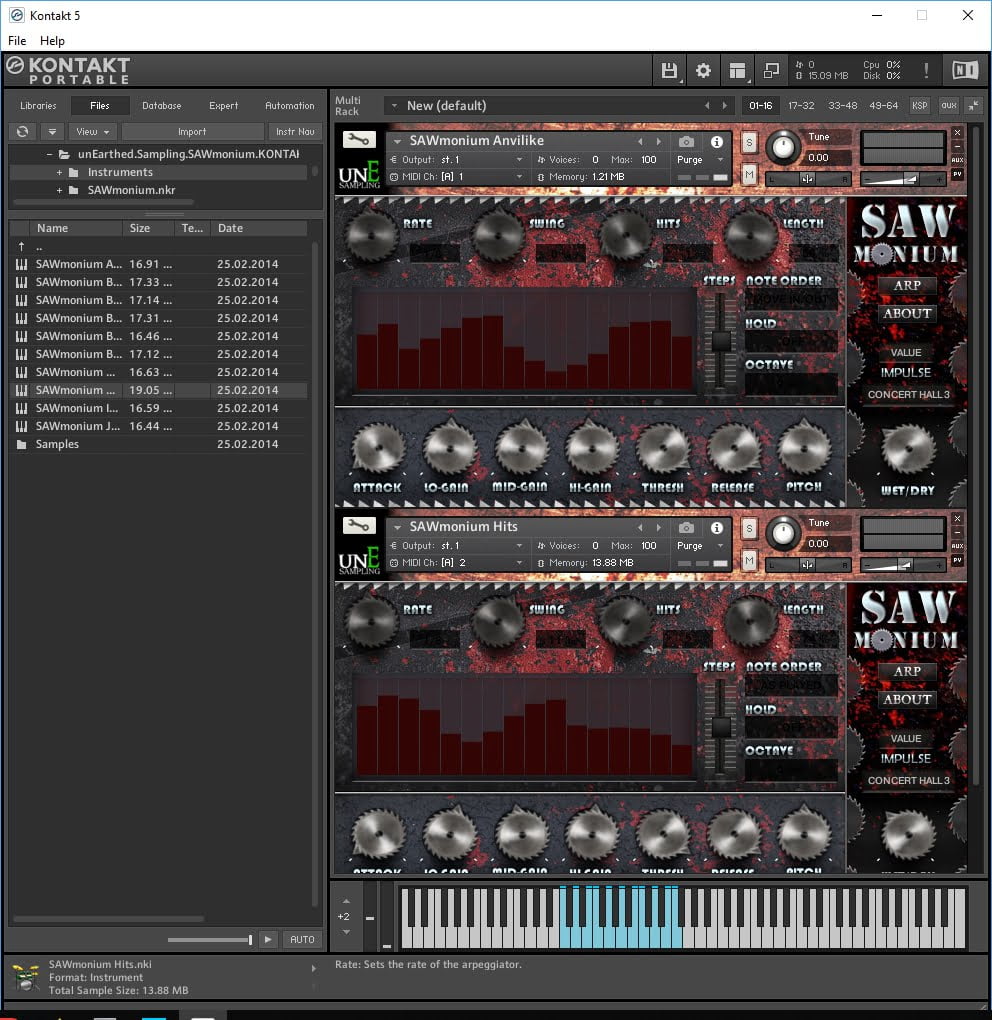 Publisher : unEarthed Sampling
Website : unEarthed Sampling
Format : KONTAKT 4.2+
Quality : 16 bit 44.1 kHz stereo
Description : Conventional cross-cut saw, miter saw, usual hacksaw … who knew what unusual musicality these everyday tools were hiding in themselves? We had a clue and, until we started using the bow of the cello on them and would not hit them, they would remain only for sawing wood, metal or girls in wooden boxes on stage in half. Welcome to our second release … welcome to the horror .. welcome to THE SAWmonium!
SAWmonium contains 10 very unique Kontakt patches, which, as usual, are very cinematic in sound and oriented to horrific, bizarre or even mystical music! We used a cello bow on a saw for wood and a hacksaw to create some very strange and unique effects … some of them are very reminiscent of the strange effects from Jerry Goldsmith of the 60s and 70s. The bow also helped us to create very suitable tones, really terrible growls, and there is one patch that is a definite nod towards Joker motifs of Zimmers from The Dark Knight. The arpeggiator's graphical interface is taken from Antique Metal Percussion (with some modification), giving you full control over EQ, Attack / Decay and Pitch in addition to 13 user pulses to add to these strange sounds the space.
Focusing on genres of horror or science fiction, AMmonium is an avant-garde approach to music and will add your next work or film / game a very unique touch.
Content:
Bowed and struck handsaws
Recorded in a dry studio setting
10 uniquely terrifying Kontakt instruments
The following saws were recorded:
An old rusty and used wood saw
An old hacksaw
A brand new hacksaw
A very used mitre back saw
Bowing the instruments to achieve:
Tons of Bowed FX
Bowed Tonal Staccs
A Tuned / Looped Bowed Sustain patch
Growls
Struck each saw with a concert mallet, Rottan, and traditional Drum Sticks to achieve:
Anvil type hits
Various hits all over each saw
4 X RR for each hit in the HITS patch
Highly (and easily) tweakable GUI
Toggleable Convolution Reverb
Control the High, Mid, and LO EQ tweaks from the GUI
Control the attack and release of each patch from the GUI
Control the PITCH of each patch from the GUI
13 custom convolution reverb IRs, easily selectable via the GUI
Built in Arpeggiator
Cinematic and creeeptastic sound out of the box!
For the FULL version of Kontakt 4.2+

PATCH LIST
SAWmonium Anvilike
SAWmonium Bowed FX
SAWmonium Bowed Staccs Linear
SAWmonium Bowed Staccs Random
SAWmonium Bowed Sustains
SAWmonium Bowed Tonal Shorts
SAWmonium Growls
SAWmonium Hits
SAWmonium Impacts
SAWmonium Jokster (HOLD)
Sponsored Links