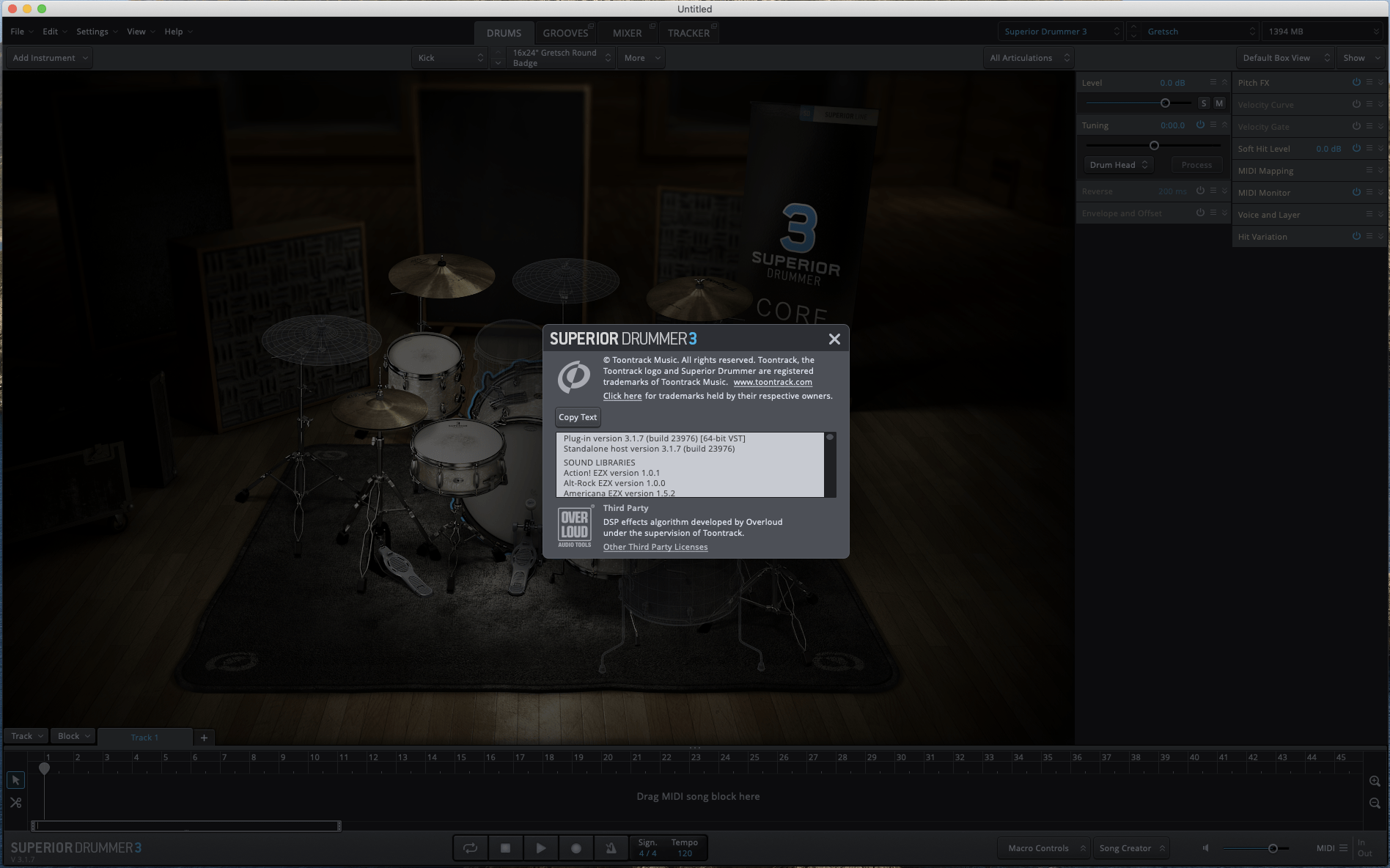 Year of issue: 2020
Version: 3.1.7
Developer: Toontrack
Developer site: www.toontrack.com/product/superior-drummer-3/
Platform: Intel only
Interface language: English
Tablet: No Treatment Required (Team V.R)
System requirements: Mac OS X 10.6 or higher, 64-bit Intel-based Mac with 4 GB RAM (8 GB RAM or more recommended). 64-bit host (with support for VST, AU). Standalone is included.
Plugin format: AU, VSTi
---
Description: Superior Drummer 3 is more than just a drum sampler – it's a bottomless source of creativity. In addition to an extensive library of raw audio material, Superior Drummer 3 features a unique design, streamlined workflow, and many features to create powerful drums on your computer. Welcome to the future.
Factory library:
Part 1: "Basic Sound Library" (Basic library with all instruments, OH Dyn and Amb Ribbon room mics, and snare, kick and toms leaks)
Part 2: "Room Mics 1" (Additional room microphones: OH Cond, Amb Near, Amb Mid)
Part 3: "Room Mics 2 – Surround (5ch)" (Additional microphones for 5.0 surround sound: Front L / R, Center and Surround L / R)
Part 4: "Room Mics 3 – Height Surround (6ch)" (Additional microphones for 11.0 surround sound: Front Height, Rear Height and Rear Height Wide)
Part 5: "Extra Bleed" (Additional "leaks" in microphones)
For the factory library to work correctly, you need to install the update:
Toontrack – Superior Drummer 3 Library Update v1.1.3
Update 27.02.2020 – Update to version 3.1.7
Special thanks to Team V.R, Gоrdоn_Shumwаy and roddy20 !!!
---