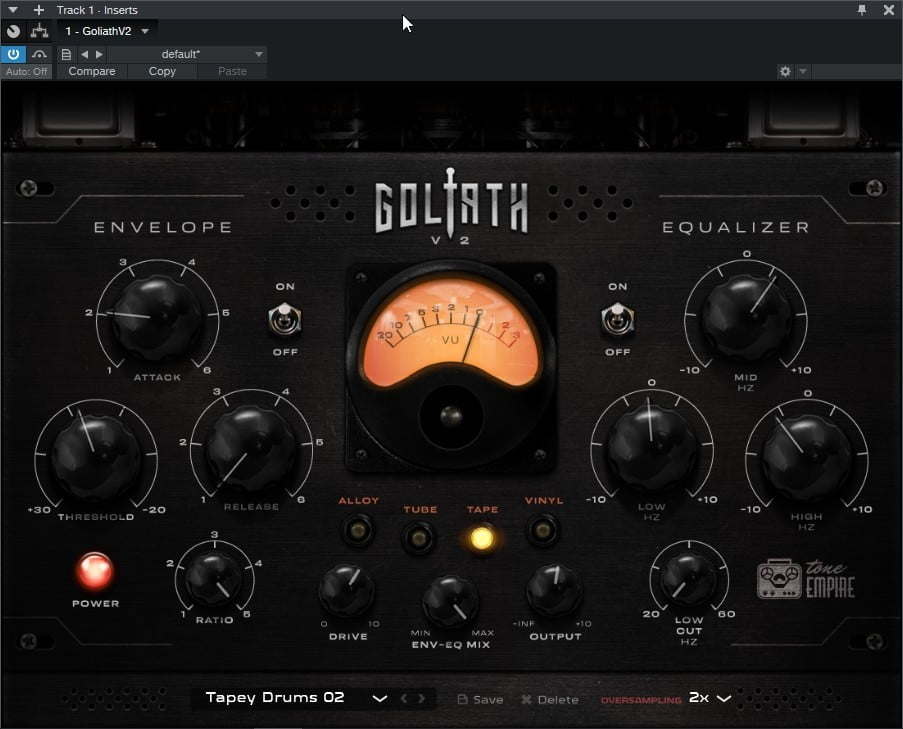 updated: added AAX format
Year / Release Date: 05.2021
Version: v1.5.0
Developer: Tone Empire
Developer site: tone-empire
Format: VST3, AXX
Bit depth: 64bit
Tabletka: present | JustFun598
System requirements: Win
Intel i3 / AMD Ryzen or equivalent
2 GB RAM / 300 MB HD
---
Description: Goliath V2: four analogue saturation circuits with EQ and FET compression
Developer Tone Empire has updated their Goliath plugin to version 2, bringing significant improvements. The new sound engine and the added features represent a significant update that makes its giant even bigger in terms of functionality.
The Goliath V2 combines analog-modeled saturation, EQ and compression sections. The Saturation module has been significantly expanded with 4 processing types – Alloy, Tube, Tape and Vinyl. The audio engine combines component convolution and modeling to recreate real hardware processing chains. Alloy emulates the 70s Neve 1081 preamp / EQ module. Tube simulates a valve processing chain consisting of modern and classic mechanisms. The tape is based on an ATR-700 tape recorder operating at 15 frames per second. The vinyl simulates the analogue mastering chain, ending with a Neumann vinyl cutter sampled right through to dubbing.
The saturation module includes a Drive control to squeeze additional richness out of each simulated chain. In addition, the Envelope section now features a full FET compressor, and the EQ module adds a 3-band parametric equalizer with a low-cut filter. You will also find an Env-EQ MIX control for neatly mixing rich signal with dynamics and EQ modules.
The Envelope section contains an 1176 style FET compressor with threshold, ratio, attack and release. The last three are fixed to several preprogrammed settings chosen by the developer to work with a variety of materials. The ratio adjustment changes from 2: 1 to "All buttons on" to play the 1176 correctly.
Overall, the Goliath V2 is an interesting analogue saturation option. The choice of sampled equipment is unique to the plugin, and you can get some rare sounds with it.
---