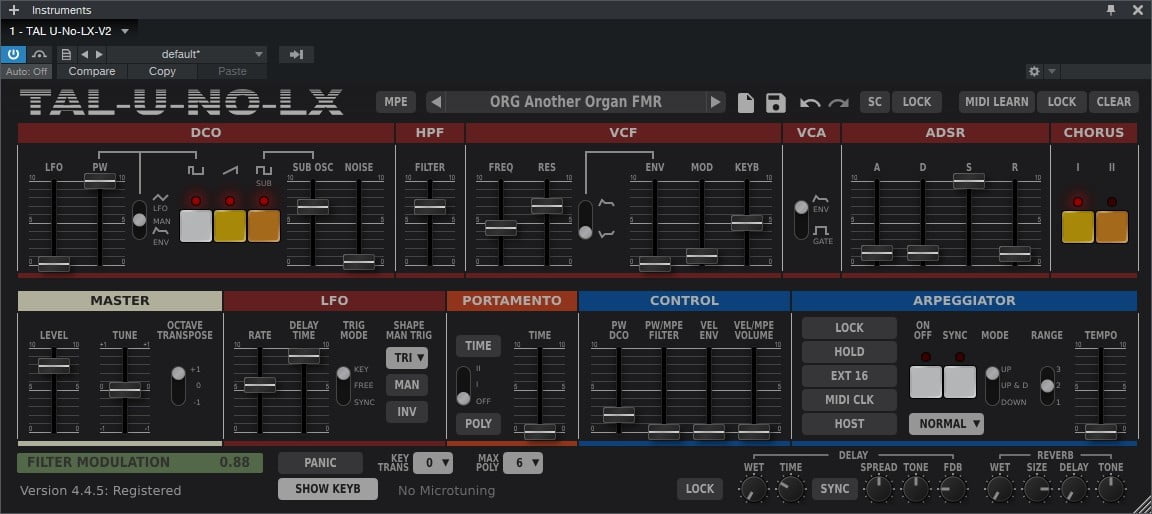 Year / Release Date: 03/25/2021
Version: 4.4.5
Developer: TAL Software
Developer site: Tal-software
Format: VSTi, AAX, AUi
Bit depth: 64bit
Tabletka: present | R2R
System requirements: Windows 7 or higher (64 bit / OSX 10.9 or higher (64 bit) (M1 support). / LINUX: 64 bit / Ubuntu 18 or similar.
---
Description: Togu Audio Line – TAL-U-NO-LX – software emulation of the popular hardware synthesizer with a new sound engine and graphical interface. State-of-the-art zero-delay filters and carefully calibrated controllers make this synthesizer an excellent replacement for an analog device, and provides all the benefits of software.
In addition, the TAL-U-NO-LX supports portamento and has various LFO filter waveforms and some other useful features. An arpeggiator with various sync modes and hold function is also included. Very fast envelopes with smooth roll-off and error emulation give the synthesizer a distinctive sound.
Togu Audio Line – TAL-U-NO-LX Features:
Self-resonating zero-delay filter (24dB LP).
FILTER up to ~ 40 kHz (depending on sampling rate).
Calibrated and tuned after Togu Audio Line hardware devices.
MIDI read / automation for all controllers.
Improved free oscillator alias for authentic sound also with 44'100Hz sampling rate.
Arpeggiator with different timing modes (host, midi clock, not on).
Portamento and Mono Mode.
LFO manual trigger button.
Sustain pedal support.
Up to 12 votes.
New file based preset system for transparent preset management.
Over 300 presets from various sound designers (FMR, Particular – Sound, TAL).
Original equipment "Factory Bank A" is included.
New in version :
Version 4.4.5 / 03/25/2021
Skips presets when using arrow buttons in some hosts fixed.
Minor bug fixes.
UI refresh.
Version 4.4.4
VST2 UI glitch while show / hide keyboard in some hosts fixed.
MIDI output fixed.
Version 4.4.3
Small reverb size produces noise fixed.
Version 4.4.1
Improved preset browser.
Wider tone range for delay and reverb (breaks backward compatibility with 4.4.0 – you may need to readjust the delay and reverb tone settings after the update).
Click at the SC button closes the SC dialog.
Version 4.4.0
Delay and reverb FX added.
Improved SC dialog with random button and lock button.
Undo / redo functionality added.
Improved preset browser.
Linux / Bitwig UI scaling issues fixed.
---