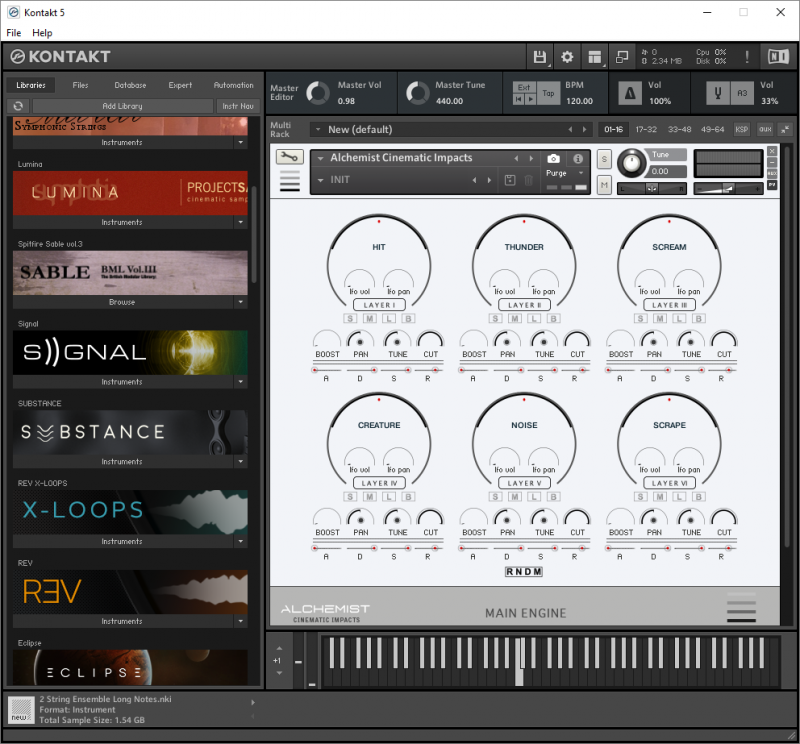 Publisher : String Audio
Website : www.stringaudio.com/alchemist_cinematic_impacts
Format : KONTAKT 5.5.1 +
Quality : 24 bit 44.1 kHz stereo
---
Description : ALCHEMIST Cinematic Impacts is a powerful tool for creating complex cinematic sounds. Each tool consists of 6 layers
Alchemist Engine is divided into four sections: Main, Color, Motion and Effects.
300+ high-quality samples.
6 layers.
151 pre-programmed Snapshots.
Dedicated Main Engine: Individual layer controls for pitch, volume, pan, solo, mute, effects bypass, layer lock, envelope, layer boost and cut, pan and amp LFO send.
Powerful randomize function.
Dedicated Motion Engine: Arpeggiator, Pan and Amp LFO.
Dedicated Color Engine: 65 convolution Impulse Responses, Randomize function.
Dedicated Effect Engine: skreamer, lo-fi, chorus, tape saturation, delay, chorus and distortion (controlled by the modulation wheel.

To display Snapshots, you need to copy the Alchemist Cinematic Impacts folder from the Snapshots folder along the path:
C: Users / Your Name / My Documents / Native Instruments / User Content / Contact
---