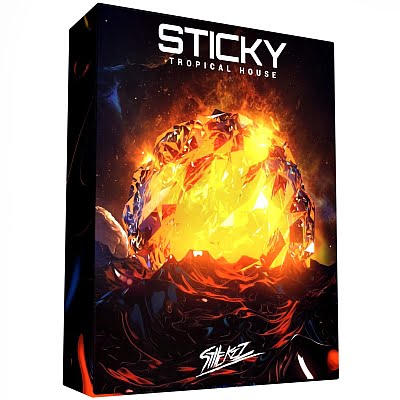 Publisher : StiickzZ
Website : StiickzZ
Format : WAV, MIDI, ABLETON 10+, FL STUDIO 12+, SERUM 1.214+, SYLENTH1 3.031
Quality : 32 bit 44.1 kHz stereo
Description : With these 140 presets, we provide you with all the sounds you need to create your own song in the genre of Tropical House. However, the reason that this package is better than your usual Tropical soundbanks is that we have created a bunch of unique sounds that have not been used in any of the tracks of this genre. Our goal with these unique sounds is to inspire you to create your own sub-genre with these stunning high-quality presets.
Samples : Sticky Tropical House is something you've never heard before. All you need to create a full-fledged Tropical House track is included in this sample package. From ultra-modern barrels, snares, clapping, percussion and quality effects, to inspirational drum loops. In addition, this sample package also contains a bunch of memorable vocal cuts and guitar loops that you can use to create a whole track or just to find inspiration.
Projects : If you are trying to create a Tropical House track, it can be quite frustrating if you do not know where to start. These project files are ideal for starting work with a new genre. Mastering each project file will help you learn structure, sound design, and also mixing a song in the genre of Tropical House. In addition, these project files can simply inspire you to future fireworks.
• An ideal tool for starting work in a new genre.
• Learn mixing, mastering, layering, sound design and arrangement. Remember these methods and use them in your projects!
• Save your favorite samples, presets, effect chains and effect presets to use in your future projects.
• Reverse the entire process of creating a project. Take notes to remember all sorts of nuances and tricks!
Sponsored Links
Content:
• 100 x Presets For (Lennar Digital Sylenth1)
• 022 x (Plucks) Sounds
• 022 x (Leads) Sounds
• 022 x (Basses) Sounds
• 022 x (Chord-Synths) Sounds
• 012 x (Pads) Sounds
• PC & Mac Compatible
• Requirements: Lennar Digital Sylenth1 v3.031 + or higher.
• 40 x Presets For (Xfer Records Serum)
• 05 x (Vocal-Leads) Sounds
• 05 x (Pianos) Sounds
• 05 x (Guitars) Sounds
• 05 x (Flutes) Sounds
• 05 x (Plucks) Sounds
• 05 x (Chords) Sounds
• 05 x (Basses) Sounds
• 05 x (Marimbas) Sounds
• 40 x (Xfer Records Serum Noises)
• 10 x (Xfer Records Serum Wavetables)
• PC & Mac Compatible
• Requirements: Xfer Records Serum v1.113 + or higher.
• 405 x Drum Samples And Loops:
• 030 x Kicks
• 030 x Snares
• 030 x Claps
• 030 x Percussions
• 015 x Hi-Hats – (Closed)
• 015 x Hi-Hats – (Open)
• 015 x Crashes
• 015 x Rides
• 015 x Shakers
• 015 x Tambourines
• 010 x Snaps
• 015 x Percussion Loops
• 015 x Cymbal Loops
• 015 x Snare Rolls
• 015 x Fills
• 015 x Downlifters
• 015 x Uplifters
• 015 x Impacts
• 015 x Ambience
• 015 x Atmos
• 015 x Guitar Loops
• 015 x Vocal Loops
• 005 x Tambourine FX
4 Project For FL Studio And 1 Ableton
Installation of SERUM:
Copy the preset folder to C: Users USERNAME Documents Xfer Serum Presets Presets
with noises in C: Users USERNAME Documents Xfer Serum Presets Noises
with tables in C: Users USERNAME Documents Xfer Serum Presets Tables