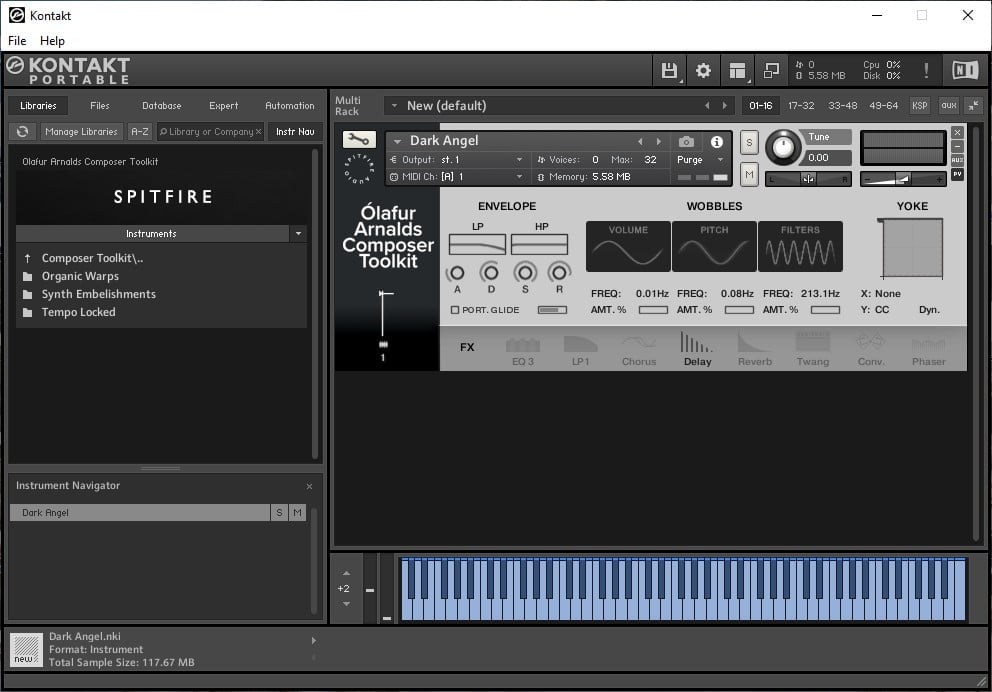 Publisher: Spitfire Audio
Website: spitfireaudio
Format: KONTAKT
Quality: 24 bit 48 kHz stereo
---
Description: Intimate piano for writing melodies
Designed for composers, songwriters and producers, these intimate and deep instruments, created by BAFTA laureate composer Ólafur Arnalds, are recorded at his studio in Reykjavik, Iceland. It is centered around a distinctive felt grand piano, as well as a comprehensive suite of inspiring sound manipulation and progressive synth sounds designed as the artist intended.
Our second Spitfire collaboration with BAFTA-awarded multi-instrumental producer and composer Ólafur Arnalds blends organic instruments with loops and punchy beats to create textured tracks and scores, from ambient to electronic.
So many virtual toolkit libraries focus on the art of production, while the nuanced and beautiful Ólafur Arnalds Composer Toolkit was designed with the author in mind. Ólafur conceived what would be his core set of sounds that will allow him to continue to release original, inspiring and exciting music wherever he is in the world. Spitfire's expert team of technicians, musicians and engineers went down to Ólafur's workshop in Reykjavik, working closely with the composer to capture the essence of his approach and the spirit of his environment.
The Ólafur Composer Toolkit is centered around a 1904 Beckstein antique, which lafur selected after several trials using different strips of felt. This has been carefully prepared over several days to capture the subtle nuances of the softest layers. Thrown through vintage equipment, it was recorded very quietly – the recording levels were so inflated that everyone in the room had to hold their breath for every sound.
The Felt Piano features 4 unique tones; KM84, Coles, Processed and Spaced. The KM84 signal is the pure sound of small capacitors, giving you tight crisp sound. Coles is a mono underdeck signal processed through the Roland Space Echo as a LoFi simulator for sandy lows. The processed signal is a mix from the KM84 with a pair of C12s, Ólafur mixed with a pair of Pultec EQs, then fed through an 1178 stereo compressor to give you the distinctive Arnalds sound. This processed sound was paired with the Spaced sound in the Mixed patch, which Ólafur further processed to create a unique version of his signature piano.
To accompany and complement the felt piano, Ólafur programmed and created various sound manipulations with the original piano and other instruments for instant inspiration. With nearly 100 presets typed in Spitfire's comprehensive Mercury synthesizer, this library will let your musical creativity grow.
Ólafur Arnalds is a BAFTA laureate Icelandic composer and producer (Broadchurch, Kiasmos, Erased Tapes) known for his unique electronic sound. He takes strings and pianos to a new place, processing them with effects and mixing them with loops and drums. His latest albums "For Now I Am Winter" and "The Chopin Project" are in collaboration with classical pianist Alice Sara Ott. Based in Reykjavik, Iceland, Olafur's approach to sound and composition has inspired a new generation to enjoy and create contemporary orchestral music. He gained immense notoriety with a new audience for his BAFTA victory
---