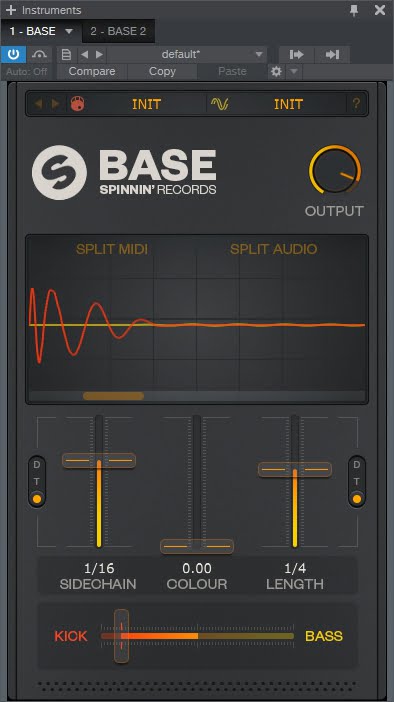 Year / Release Date : 11.2018
Version : 1.1.4
Developer : Spinnin Records
Developer Website : Spinnin Records
Format : VSTi, VSTi3
Digit capacity : 64bit
Tablet : Ne Needed
System requirements : Windows 7 +
Description : We believe that the balance between bass and kick is one of the most important aspects of the dance floor. In many cases, this is the starting point for the track and there will be a difference between what blows up the dance floor and what just doesn't work. To make bass and kick work together is a real challenge for both novice producers and experienced professionals. We figured out how to do this much, much easier:
BASE is a synthesizer that treats bass and kick as a combined musical entity: they are related in terms of volume, spectrum and synchronization with each other, so they should work fine together in your mix. We guarantee that the plugin will make your creative juices flow, and your head will nod approvingly.
The interface is very simple and optimized to get a good bass line, in contrast to the endless settings of the sounds of other plug-ins. Use sound sets to get inspiration and start playing immediately.
Soundset : A meticulously crafted sound of bats and bats is the core of what the plugin is. Use the arrows to switch between them or click on the name of the sound set to open the menu: they are organized by artist, genre and character. You can also combine kick and bass from different sets by pressing the LINK button.
Sidechain : Change the bass sync with the sidechain slider from 1 / 64th note to the eighth note with a dot to go from almost simultaneous playback to super-retardation. Sidechain is related to your DAW's tempo and can be tuned to normal notes, dotted notes and triplets.
Color Slider : Increase the presence of bass and its overtones with this slider.
Slider Length : Determines the length of the note from punch short to infinite. The parameter is related to the tempo of your DAW and can be tuned to normal notes, notes with a dot and trioli.
Mixing: The bottom slider determines the volume ratio of the volume between the kick and the bass. 100% bass will still use kick as a sidechain source.
SPLIT MIDI and SPLIT AUDIO parameters : By default, SPLIT MIDI and SPLIT AUDIO are disabled, which means that both kick and bass are triggered at every midi event, while the kick is synchronized with the bass note. It's great when you just need to get a four-quarter bass line. SPLIT MIDI offers total flexibility in creating more attractive bass lines, literally breaking the midi into three octaves: C-2 for sidechain, C-1 and 0 for kick, and C1 and 2 for bass. SPLIT AUDIO splits audio into two mono tracks: one for bass and one for kick. You can now continue processing and routing on each tool.