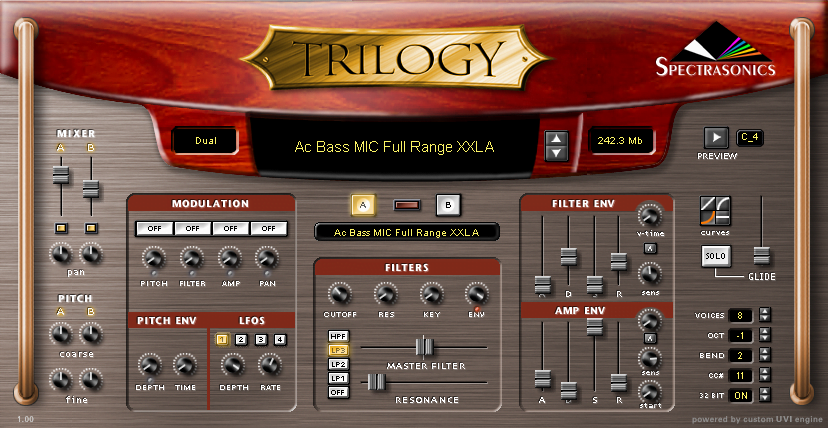 When it was introduced in 2002, Trilogy was the world's first and only virtual instrument dedicated as a total solution for Bass – integrating a large library of Electric, Acoustic and Synth bass sounds with a powerful, yet easy to understand user interface based on the UVI engine. Trilogy garnered many top industry awards and rave reviews and became an industry standard for being The bass virtual instrument. All the famous sounds from Trilogy can still be found in enhanced form within our current Bass module, Trilian – which is based on our STEAM engine.
Features:
Electric, Acoustic and Synth Bass Instrument.
3GB Sound library.
1,000 brand new Electric, Acoustic and Synth Basses, each with dual layers.
Multi-dynamic (up to 8 way) velocity switching multisample articulations.
Innovative 'True Staccato' sample-mapping, for realistic repeated notes.
Minimoog style Legato triggering.
Built-in auditioning system rapid load times.
Easy to use built-in patch management system.
Fully programmable.
Multimode resonant filters for each layer, plus master filters.
Three envelopes per layer for Pitch, Filter and Amplitude.
Matrix-style modulation routing, four LFOs.
Powered by custom 32 bit UVI engine.
Extras. information:
Copy to disk and run Trilogy.exe
In the authorization does not have to be administered.

FL Studio 64bit:
Use the Tools / Manage plugins
Verify with options and Rescan