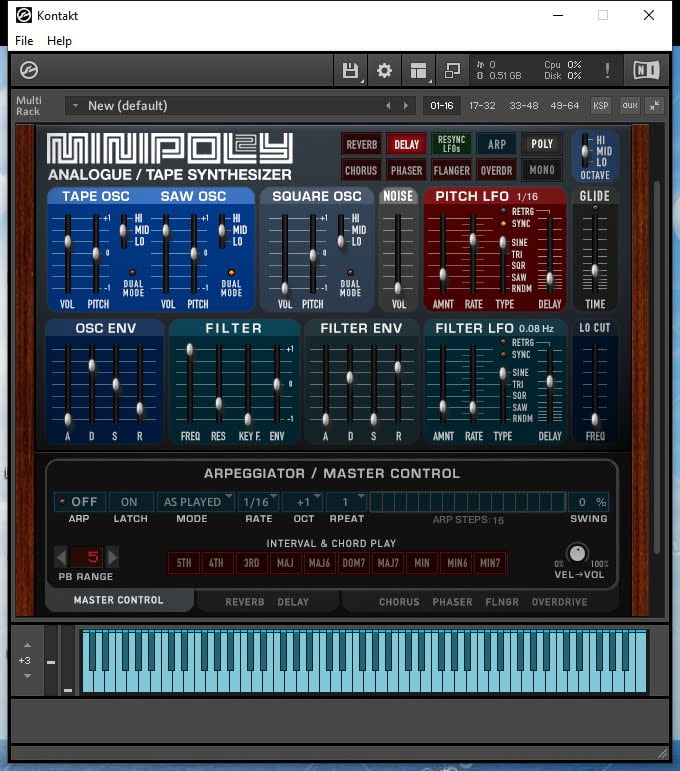 Publisher : Soundtrax
Website : kontakthub
Format : KONTAKT
Quality : 24 bit 44.1 kHz stereo
Description : Minipoly contains amazing analog and tape generator samples, excellent filters, a chord system and six effects.
TAPE SAW OSC are long sawtooth waves recorded for each key on a Roland RE-301 Chorus Echo tape. You can hear the effects of wow and flutter and even ejecting tapes from the deck, which is quite similar to Mellotron. SAW OSC, Square OSC and White Noise are directly recorded mini-miga samples and sound much clearer than "tape" waves.
All generators are mono-wavelengths, but when DUAL MODE is activated (switchable LED for each OSC), a second sample is added to each note, and both waves are strongly panned to LR. This will create a clear stereo field. Mix mono and dual oscillators to control / adjust the width of the stereo sound.
Updated for V2.01 with new chips and a new powerful arpeggiator.
Oscillators

:
– Tape Sawtooth Oscillator
– Sawtooth Oscillator
– Square Oscillator
– White Noise
– all OSC samples perfecty looped
– fine tuning (+ – 100 cent)
– mono or dual mode (two OSCs spread to stereo)
– ADSR
Filter Section

:
– Low Pass Ladder Filter with Frequency Cutoff, Resonance, Key Follow, Envelope Amount, Filter – Envelope
– additional Low Cut Filter
LFOs

:
– Pitch and Filter LFOs
– switch for re-triggered / untriggered mode
– switch for free-floating / tempo sync mode
– controls for LFO amount, rate and waveforms
Arpeggiator / Master Control

:
– powerful Arpeggiator with 9
– polyphonic / monophonic mode
– glide (portamento)
– octave shift -1 to +1
– ajustable pitch bend range and velocity sensitivity
– 10 interval / chord presets
Internal Effects

:
– Convolution Reverb, Delay, Chorus, Phaser, Flanger, Overdrive
– quick and easy FX editing
Presets

:
– 80 presets (Kontakt snapshots)

The post Soundtrax – Minipoly v2.01 (KONTAKT) appeared first on Audioplugin.net.