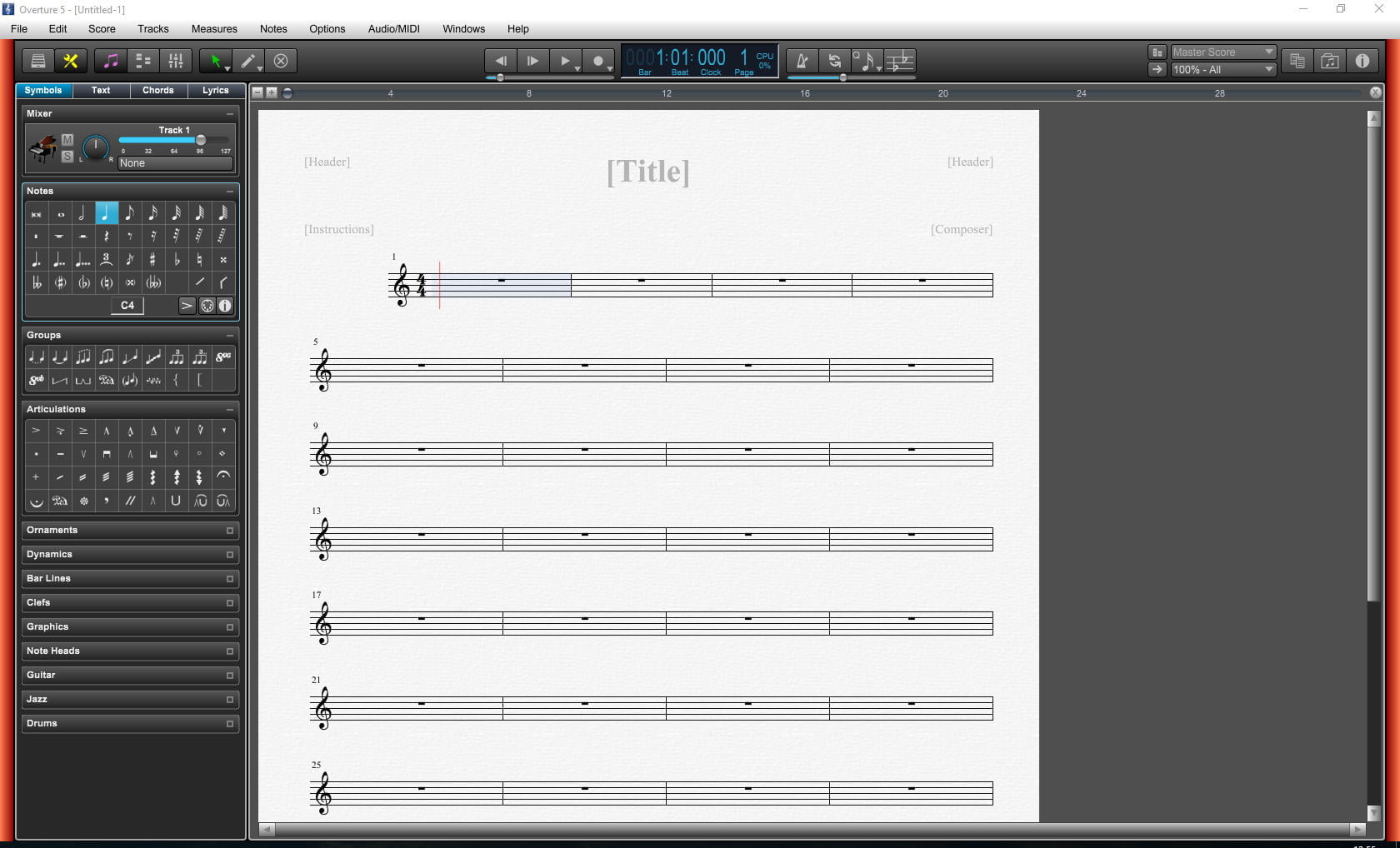 Overture is easy-to-use notation software that's powerful enough for use by professional musicians and composers. You can enter notes quickly on-screen with your mouse or computer keyboard or record a MIDI performance for instant viewing. Overture's intuitive interface puts powerful editing tools and symbol palettes at your fingertips, so you spend time composing music instead of searching through menus and dialogs. Overture is great for demanding composers, arrangers, music educators, and students – those who want the flexibility to create complex orchestral, band, choral, lead sheet, and tablature scores, and do it quickly.
Features:
Easily create professional looking scores.
Full VST instrument and effect hosting.
Hosting for 256 VST instruments and 4 VST effects.
Render audio to WAV.
From the score MIDI editing (velocity, MIDI controller, tempo, program changes.).
Graphical hairpin editing.
Humanization options.
Easily remap MIDI controllers.
All articulations, slurs, expressions can send MIDI keyswitch/controller/channel data.
Graphic Window (piano roll) MIDI editing.
From the score lyric entry as well as a powerful lyric window tool for editing.
Intelligent MIDI in/out routing before the plugin.
Auto-position mouse note entry.
Instrument definitions for popular sample libraries.
Basic MusicXML import.
Save/Load VST racks for template use.
Loads Overture SE/GPO Studio files.
Support for JazzFont.
Solo/Mute from the score.
Chord and Guitar Frame playback.
Powerful library customization options.
Tempo in hundredths.
Powerful Find/Select score search functions.
Auto-correct for ranges and rhythms.
Auto-rests.
Non-metered playback (plays back what's on the score regardless of written meter.).
Notehead cursor.
Tap Tempo.
24-bit audio render.
Automatic articulation/dynamics for a huge collection of sample libraries.
Karaoke file import.