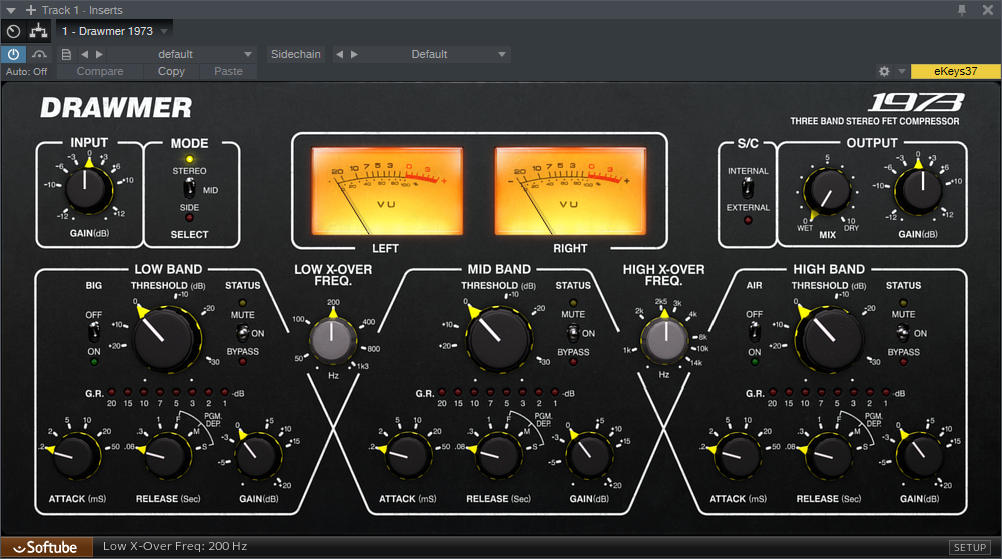 Year / Date of Issue : 05.2018
Developer : Softube
Developer's site : www.softube.com/index.php
Format : VST, VST3, AAX
Bit depth : 64bit
Tabletka : not required
System requirements : Windows 7 +
Description :
The developers claim that they developed plug-ins for those who can not understand multi-band compressors, but want to use their capabilities.
And its "cleverness" is that instead of the mass of complex settings of the analog device, it presents only a few convenient controls.
The developers say that all you need is to "choose one of the 10 presets (in the Styles section), sit in the chair and enjoy the excellent mix sound you got."
In addition, there are some controls for those who do not want to completely rely on ready-made presets. The Amount control determines the degree of processing; the Air switch activates the shelf RF filter; The Mix and Gain knobs control the ratio of the processed / original signal and the output level, respectively.
Sources:
Drawmer 1973.aaxplugin
Drawmer S73.aaxplugin
Abbey Road RS127 Box.vst3
Abbey Road RS127 Rack.vst3
Abbey Road RS135.vst3
Acoustic Feedback.vst3
Active Equalizer.vst3
Bass Amp Room.vst3
Console 1.vst3
FET Compressor.vst3
Fix Doubler.vst3
Fix Flanger.vst3
Focusing Equalizer.vst3
Heartbeat.vst3
Metal Amp Room.vst3
Mutronics Mutator.vst3
Passive Equalizer.vst3
Saturation Knob.vst3
Spring Reverb.vst3
Summit Audio EQF-100.vst3
Summit Audio Grand Channel.vst3
Summit Audio TLA-100A.vst3
Tonelux Tilt.vst3
Tonelux Tilt Live.vst3
Transient Shaper.vst3
Trident A-Range.vst3
TSAR-1 Reverb.vst3
TSAR-1R Reverb.vst3
Tube-Tech CL 1B.vst3
Tube-Tech Classic Channel.vst3
Tube-Tech ME 1B.vst3
Tube-Tech PE 1C.vst3
Tube Delay.vst3
Valley People Dyna-mite.vst3
Vintage Amp Room.vst3
WhiteAmpDemo.vst3
Drawmer 1973.dll
Drawmer S73.dll
Sponsored Links