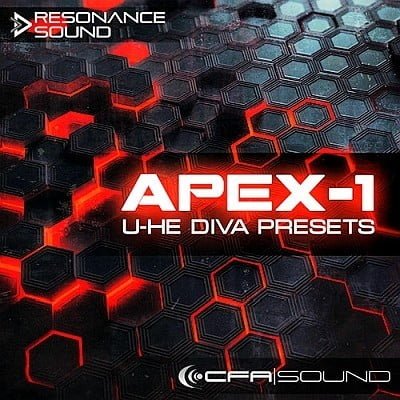 Publisher : Resonance Sound
Website : resonance-sound
Format : SYNTH PRESET (u-he Diva v1.4.3 + (rev 7422)
---
Description : Immerse yourself in the hypnotic world of the melodic House and Techno with the APEX-1 Diva Presets collection from CFA-Sound. Many months of intense sound design have been used to create these 105 high-quality sounds. Taking full advantage of the superior sound quality and u-he Diva features, this set of sounds provides you with an excellent package. Ideal for Deep House, Melodic House and Melodic Techno.
You will find evolving atmosphere sounds, pulsating and cream pads along with inspiring sequences and FX sounds. And of course, deep heavy and warm bass sounds. From percussion to long and moving bass lines, which, of course, are necessary for genres such as melodic house and techno. Following a wide variety of leading and synthesized sounds. Starting from dirty, dark to light and soft.
In addition, you will also find the sounds of melodic sounds of keyboards such as bells, guitar and organs. And yes, once again – a lot of warm deep and analog bass!
In the end, Diva is not only an excellent synthesizer, because it conveys sound and modules of various legends of analog synthesis. With advanced features and modules, it creates a powerful hybrid with supersonic sound quality. An ideal workhorse for anyone releasing music from genres related to House and Techno.
Content :

• 6 Atmospheres
• 29 Basses
• 3 FX Sounds
• 7 Keys
• 10 Leads
• 16 Pads
• 13 Plucks
• 9 Sequences
• 12 Synths
Installation :

Copy the folder with presets to C: ProgramData u-he Diva.data Presets Diva