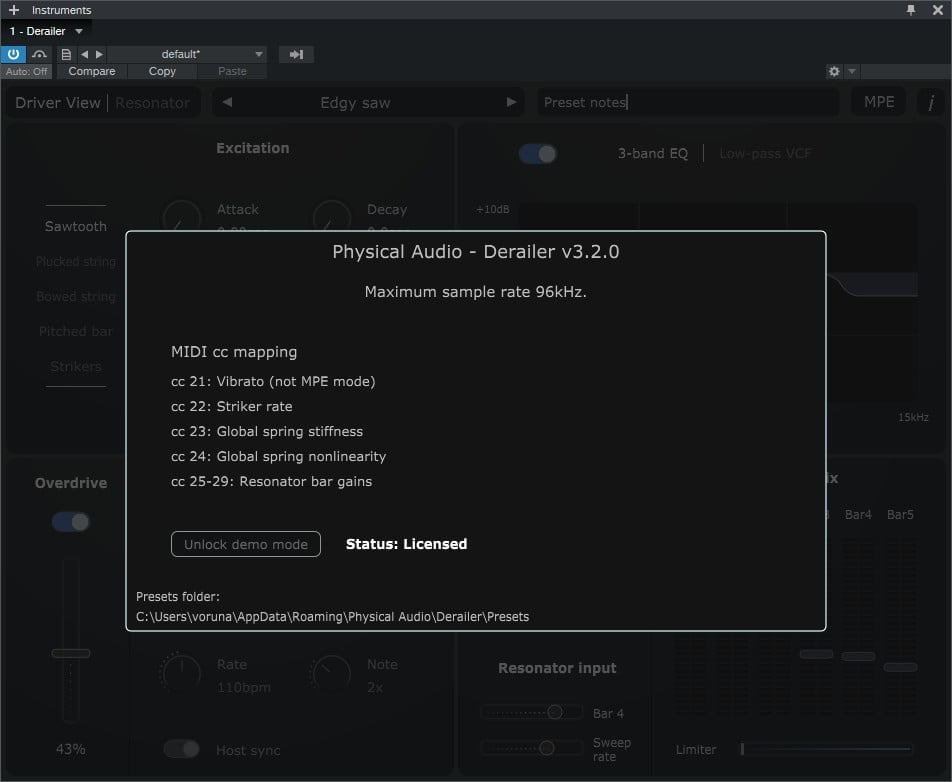 Year / Release Date: 10.2021
Version: 3.2.1
Developer: Physical Audio
Developer site: physicalaudio
Format: VST3, AAX
Bit depth: 64bit
Tabletka: present | R2R
System requirements: Windows 10 (VST3, AAX)
---
Description: Derailer is a physics modeling plugin based on mathematical models of strings, rods and spring connection elements.
Derailer is a physics simulation system with 3 main elements. Strings that can be plucked or bent, metal rods that can be tilted or act as resonators, and non-linear springs that can be used to connect resonators together to form a network. Derailer uses finite difference numerical simulation of these elements in the time domain.
Derailer uses driver and resonator setup to provide a flexible system with a wide range of sounds. The excitation signal can be a sawtooth waveform, a stretched string, a sliding or hitting bow, or a drummer. It then goes through the EQ section and resonant low pass filter, diode clipper, and then through a delay or gate. The resulting signal is then used to drive one of the bands in the resonator network.
The resonator consists of 5 metal rods that can be interconnected using up to 10 non-linear springs. The position of the spring can be moved to change the resonance of the network. Each band has controls for hardness, sustain, tone and mass. Each spring has variable stiffness, dicky and non-linearity.
---