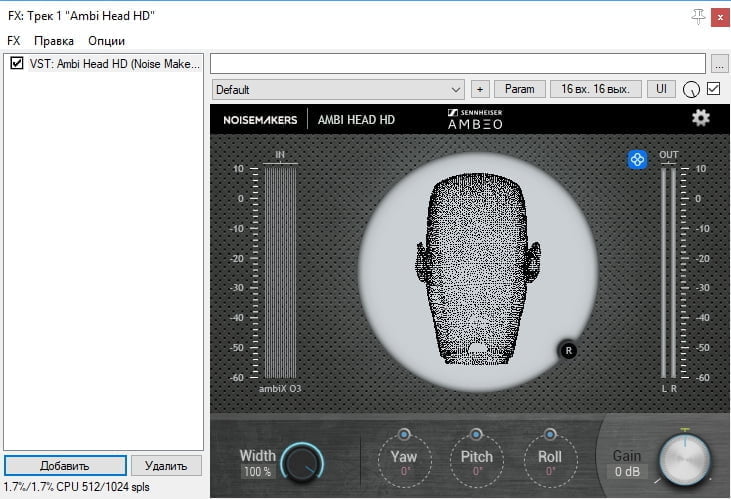 Year / Date of Issue : 06.2018
Developer : Noise Makers
Developer's website : Noise Makers
Format : VST, AAX
Bit depth : 64bit
Tabletka : not required
System requirements : Windows 7 +
Description : A complete set of tools for creating 3D-audio scenes in a minute, ready for embedding into panoramic video and to an exciting experience.
• AMBI PAN HD : Positions the input sound in the 3D scene. Two different perspectives of panning from above or equilateral, offer flexibility in designing complex trajectories.
• AMBI LIMITER HD : This is the peak limiter for volume signals. It allows you to accurately control the output peak level while maintaining a three-dimensional spatial field.
• AMBI HEAD HD : It is a professional plug-in for converting 3D signals into 3D binaural audio. It allows you to manipulate 3D scenes (rotation and control of spatial width) and contains HRTF filters specifically designed for immersion in sound and accurate reproduction.
• AMBI VERB HD : virtual pulse reverb with 30 spaces.
Sponsored Links
SOURCES:
Noise Makers – Ambi Bundle HD v1.1
Noise Makers – Ambi Head.v1.2.1
Noise Makers – Ambi Limiter.v1.0
Noise Makers – Ambi Pan.v1.2
Noise Makers – Binauralizer.v1.4
Noise Makers – Tape One.v1.1