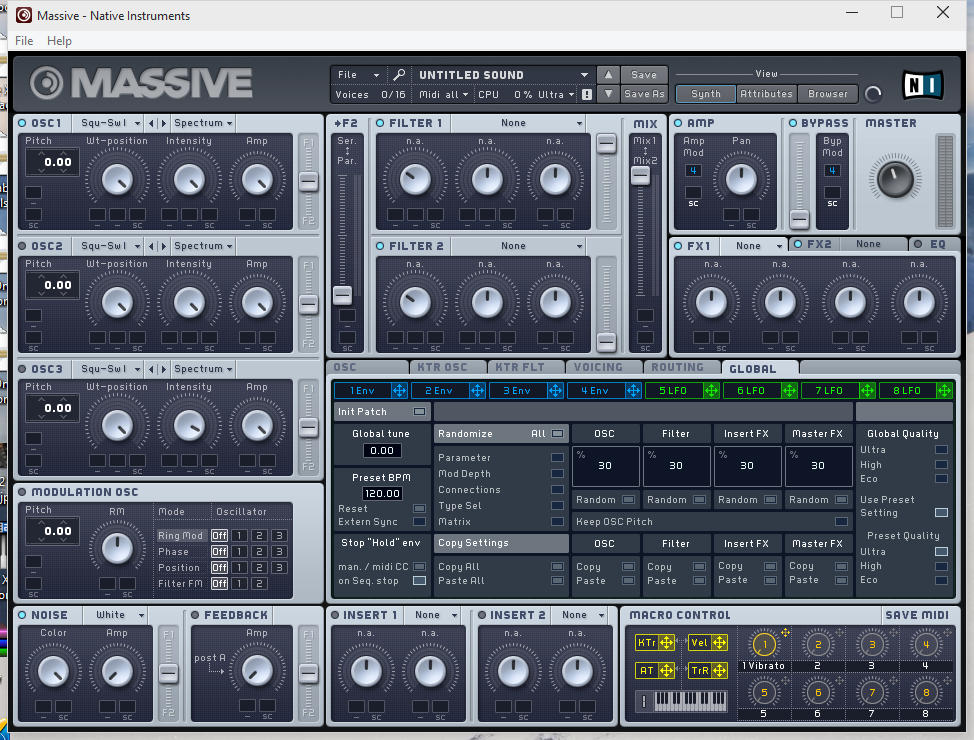 Native Instruments MASSIVE is a sonic monster – the ultimate synth for basses and leads. The analog concept is contrary to modern, cutting-edge sound it produces. High engine provides pure quality, providing undeniable virtue and character to even the most raw of the sounds. The interface is simple and easy to use, ensuring that you will generate MASSIVE sounds of the earth shake from the very first notes.
– The integrated browser facilitates the management KoreSound® KORE-configured presets;
– Quick search and filter functions let you find presets according to specific characteristics and attributes;
– Plenty of special features makes it ideal for a "live" performance;
– Integrated section step sequencers and effects, as well as a highly flexible modulation concept;
– All of these functions are implemented with an eye on usability, so MASSIVE is just as comfortable on stage as in the studio;
– High quality audio engine sets a new standard in quality and performance;
– Flexible signal flow delivers huge range of sounds;
– Wave Scanning oscillators generate both analog and digital audio;
– Innovative and intuitive features allow fast and easy creation of new sounds, doing MASSIVE ideal for both beginners and for experts;
– Easy-to-use buttons with dynamic indicators of the value assigned to the modulation using drag'n'drop function;
– Integrated step sequencers and effects section with 17 master effects and effktami sequential steps;
– Use KoreSound ™ format, ensuring the transparent integration with KORE;
– KoreSound ™ Browser for easy searching of 600 KORE-configured sounds;
– Advanced sequencing and remote features make MASSIVE perfect for a "live" performance;

NOTE:
AAX Plugin is patched: You need cracked AAX Host to use.
This release is update and requires previous versions installed.
However, we included the tool to install the update without that.
Check R2R.txt for further information.
Year / Release Date: 05.2015
Version: 1.5.0
Developer: Native Instruments
Format: STANDALONE, VSTi, AAX
Bit depth: 32bit, 64bit
Medicine: Present
System requirements: Windows 7 or Windows 8 (latest Service Pack, 32/64-bit), Intel Core 2 Duo or AMD AthlonTM 64 X2