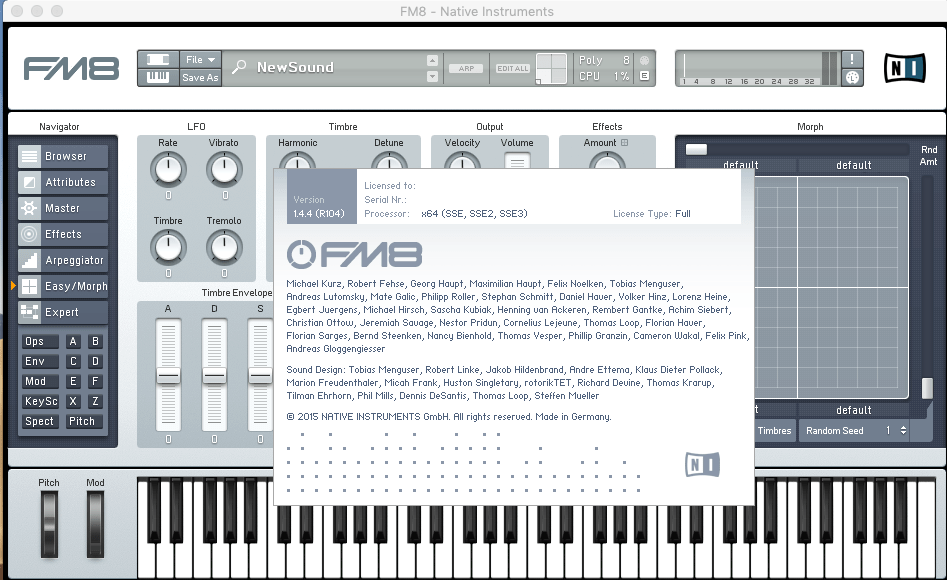 Year of issue: 2021
Version: 1.4.4
Developer: Native Instruments
Developer site: native-instruments
Platform: iNTEL + AMD + M1
Interface language: English
Tablet: files to replace
System requirements: macOS 10.14, 10.15 or 11.2 (latest update)
(Tested, working on maOS Catalina & Big Sur)
Intel Core i5 or equivalent AMD CPU, 4 GB RAM.
---
Description: FM synthesis has played a huge role in the development of musical culture over the past several decades. FM8 presents FM synthesis to the digital domain, as a plug-in. The powerful audio engine achieves unrivaled quality, generating powerful, more energetic sound than ever before. Clearly designed interface, with simple controls that adjust more complex parameters automatically. A lot of things can be edited in one click. FM8 lets you play now! FM8 Offers an unprecedented range of characteristics and effects. Classic metal leads, crystal fantasy, tight bass and captivating rhythmic patterns are at its core. Unique arpeggiator, revolutionary morphing sound, large selection of new effects open up countless new possibilities. The acoustic potential of the FM8 goes far beyond standard FM synthesis. FM8 – has over 960 factory presets. From clean, dynamic percussion sounds to pads, leads, horns and pianos. KoreSound's built-in browser makes finding the presets you want quick and easy.
New in version :
REMOVED 32-bit plugin targets on Windows
FIXED Massive is now macOS Big Sur compatible
FIXED Massive AU crashes upon loading in Ableton Live 11
FIXED Last item in the plugin File Browser is not shown when the list exceeds available space
FIXED Plugin File Browser doesn't display any externall HDs
FIXED Setting autoscaling to 'off' in Ableton Live 10.1 on Windows can lead to UI glitches
FIXED Activating autoscaling in Cubase 11 on Windows can lead to UI glitches
---